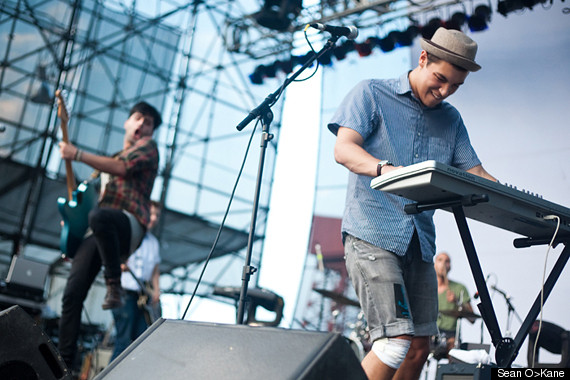 My first trip out to the "Gone To Governors" concert series went off almost flawlessly, a combination of unexpected bonuses that left people catching their breath on contact. The insane sunset and sultry weather deftly provided a staging beyond what could have been expected. By way of comparison, the feel was reminiscent of the Jelly concert series from the past few years in Williamsburg: indie hybrid elctro-fuzz combined with a great new outdoor venue.
Caribou headed the night's bill with Phantogram and The Chain Gang of 1974 rounding out a well mix of indie-psychedelic-electro-art-rock.
True to name, The Chain Gang of 1974 was indie soul rhythm. Kamtin Mohager led the gathering crowd through the latest laptop engineering with a well-worked polish that gave hope for more to come from the Coloradan disco soul maven.
Josh Carter and Sarah Barthel, the duo that make up Phantogram, wired together homemade samples and live hooks that breathed dark static and unpretentious power into the night. Even better than the studio production, Sarah Barthel's vocals trapped the timbre of rhythmic feedback into something out of a dark dream through a tight balance of lush and dire textures on a bed of synthesizers.
Caribou bridged the gap between pop timing, psychedelic noise experimentation, and anticipated rhythm with a heavy nod to the Chicago alt rock sequence from the late 90's. Other than the logistical hiccups associated with transporting a mass of inebriated and expectant fans from one island to the other for a free concert, the Converse and Bushmills Whiskey sponsored inaugural music series is one that should be experienced instead of heard about.
Caribou, Phantogram and The Chain Gang of 1974 at Governors Island
SUBSCRIBE TO & FOLLOW THE MORNING EMAIL
Start your workday the right way with the news that matters most. Learn more