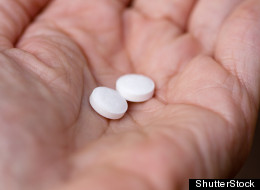 I remember the first time a routine bodily motion created a sudden, alarming burst of pain. That moment was when I realized my era of youthful invincibility was ending.
When you're young and something starts hurting your first thought is, "Gee, when's that going to get better?" When you're old and something hurts you think, "Oh great, when is that going to get worse?"
My moment of "Ouch -- what just happened?" occurred one morning when my daughter was in middle school and we were waiting on the corner for the bus to pick her up. A light drizzle was falling so I held an umbrella to keep us dry. This meant that my elbow was bent at a 90-degree angle. After about five minutes the bus arrived, the drizzling stopped and the sun came out.
As the bus pulled away I lowered the umbrella and let my arm down. A sharp pain shot through my lower back and stopped me in my tracks. "So," I thought, "I'm in such poor condition that holding an umbrella for five minutes has caused a spinal rupture!"
The pain went away after about 30 seconds but the impact on my psyche was permanent. A lifetime free of serious illness and major injury can give a person a false sense of security about health. There's a disclaimer you hear on advertisements for investment firms: "Past performance is no guarantee of future success." So it is with the human body as the years pile on.
I can truthfully say that my interest in staying physically fit began very early. By first grade I was aware of Jack LaLanne because his TV show aired on my local independent station. What I found most intriguing was his ongoing advice to eat Yami yogurt. I had never heard the word "yogurt" before and once asked my mom if she could buy some, to which she replied, "You wouldn't like it."
I was active in sports during high school and college. I helped friends move furniture in and out of apartments and learned how important it is to "lift with your legs" when handling heavy objects. I did a lot of jogging up until about age 30. Then the exercise component of daily life started to taper off, and I think this isn't an uncommon pattern for a lot of people.
Lack of regular maintenance can cause joints, muscles, and other parts of your anatomy to become weak and susceptible to injury, especially when they're subjected to a sudden workload after a long time of non-use.
There are also certain bodily movements that aren't required often in the real world so it's hard to make them part of any workout. The other day I dropped an aspirin tablet and it rolled under my dresser and came to rest against the back wall. There is no exercise machine I know of that replicates crouching down and stretching an arm underneath a dresser.
What I try to do now, every day, is focus on guarding against inactivity. I call it the K-M method, which stands for 'Keep Moving.' Look for opportunities to walk, use stairs once in awhile, jog in place for 90 seconds, anything that will help prevent extended periods of being inert. A relative once looked at me from his sofa and confessed, "I have fallen into a completely sedimentary lifestyle!" Avoiding that sedimentation requires ongoing vigilance.
Lately I've been approached in the supermarket by shoppers older than I am who need help getting items from the high shelves. I'm happy to make the reach for them, but I do it slowly so as to avoid snapping some forgotten segment of connective tissue in my upper torso.
And if I'm out in the parking lot and spot a $5 bill on the ground, I always lift with my legs.
Earlier on Huff/Post50:
Yoga offers a myriad of wellness benefits: flexibility, balance, centeredness, strength, mindfulness and others. Yoga is a great option for aging bodies, as it promotes working within your own comfort zone. Postures and sequences range from gentle and relaxing to more intensive for advanced yogis.

Another way to promote flexibility and overall health is incorporating some simple stretches into your daily routine, be it at home, at the gym or even outdoors. Stretching prevents injury, can relieve back pain and boosts energy. Note: It's important to stretch properly to avoid injury. Check out some good examples of stretches here and these common stretching mistakes.

Biking is a great low-impact, cardiovascular workout, not to mention it's a lot of fun. There are a few ways to incorporate biking into your routine. Joy rides in your free time are always a good option -- alone or with a group. You could consider joining a local bike group or riding to nearby destinations instead of taking the car. Stationary bikes also have great health benefits. Already a cycler? Here's how to get more benefit from your bike ride.

One of the most beneficial exercises is something humans have been doing for centuries: walking. Simple modifications to your routine, like parking further away and walking the extra distance or taking the stairs instead of the elevator, can really add up to boost your overall health. For an even greater benefit, take brisk walks that get your heart rate up.

Pilates is another low-impact exercise that's ideal for aging bodies. It's similar to yoga but puts more emphasis on gaining control and balance of the body by strengthening the core muscles. Pilates can be done in a class or at home with a video or other guide. This piece offers a great run-down of the activity, along with images of some classic pilates stretches and workouts.

Tennis is a classic sport, well-loved for being fun and great for you. It's a strong aerobic workout and helps keep you agile, especially important as you get older. Tennis is also a very social activity -- great for the body, mind and spirit!

Swimming is easy on the body and is also one of the most comprehensive workouts, hitting all the major muscle groups: shoulders, back, abdominals, legs, hips and glutes. If you're getting serious about swimming, it's important to learn proper techniques, but even free-styling in the local pool or outdoors in the summer is a great way to exercise.

Dancing is one of those activities that doesn't feel like working out, but is an incredible aerobic exercise. It's a good option for those that want more physical activity but don't like the gym or in the winter when it's harder to get outdoors. There are a bunch of styles to choose from: ballroom dancing, contra dancing, salsa, ballet, tap, country and others.

As the body ages, running and jogging can take a toll on the joints, knees or back and potentially cause injury. An elliptical cross-training machine is an alternative to running, which still gets your heart rate up but at a lower impact.

You can take a simple walk to the next level by bringing weights along to build strength in your arms and boost the cardio benefits. Strength-building techniques like pushups, squats and lunges are easy to do at home or can be squeezed into buckets of free time throughout the day.
Follow Jeffrey Shaffer on Twitter: www.twitter.com/ShafferJeffrey