Maybe it's because everyone was dressed up and drinking coffee all day, but the mood at Wednesday's official opening of the CFDA Fashion Incubator, the glossy-floored corridor of 12 glass-walled studios in New York City's Garment District, seemed giddy and full possibility--like Open House at the beginning of the school year.
A Welcome from Waris Ahluwalia, Prabal Gurung, Tom Scott, Alice Ritter and Joel Diaz
Jennifer Manko, who designs with Bibhu Mohapatra, was turned out in one of her employer's samples-silky soft grey with a bow that flopped prettily on her collarbone. French designer Alice Ritter, who loves her new studio, but misses her Williamsburg workspace's proximity to Bakeri, brought a box of brioche for the occasion. Waris Ahluwalia spread the love, pinning "Waris ♥'s You " badges on particular passers-by. At lunchtime the CFDA turned it into a pizza party and come nightfall the guys from Public School brought it downtown to Norwood, to make it a real party. But the Incubator isn't just bringing together the coolest kids in school (and a diverse group they are), the program also includes an advisory board that includes lawyers like the dapper Doug Hand, whose firm advises the likes of Phillip Lim, Rag & Bone and Tod's. Hand said he helps designers with challenges like financing, corporate structure and the all-important protection of creative control. He compared the creative concept behind a grey bobble-covered sweater in Tom Scott's showroom to complicated legal language, and said he likes getting a little "creative pixie dust" from the designers while he helps them translate the letter of the law. (Hand said he wasn't a bobble guy himself, but could picture pulling one of Scott's unisex color-blocked sweaters.)
In addition to sprinkling pixie dust on corporate lawyers, the designers at 209 West 38th are spreading it around the ailing heart of New York City's Garment District. Ritter, who produces her collection with a partner in Hong Kong, said she's thinking about making a few samples in the neighborhood. (She also said watching Grey Ant's Grant Krajecki in action is inspiring her to pick up her pattern-making.) Bibhu Mohapatra's pattern-maker stopped by to snap some photos of his dresses on display, and knitwear designer Tom Scott said he's happy his sweater factory is now just a couple stops away on the 7-Train. Natalie Levy and Erin Kelly of Grey Ant are working to shift their factory base from L.A., to New York City, where she said quality is undoubtedly superior.
Here's to new beginnings.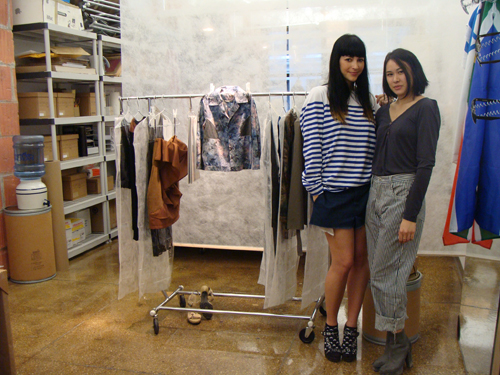 L.A. transplants Natalie Levy and Erin Kelly of Grey Ant
Lawyer Douglas Hand of Hand Baldachin & Amburgey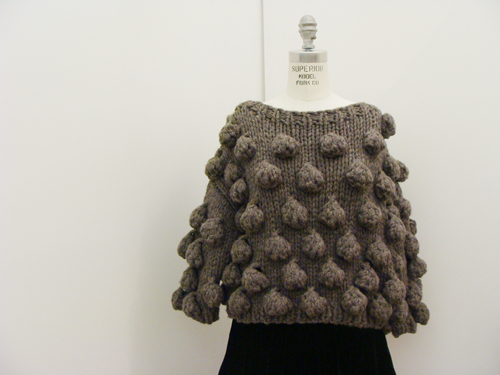 A Tom Scott sweater
Badges at the House of Waris
SUBSCRIBE TO & FOLLOW LIFESTYLE
HuffPost Lifestyle is a daily newsletter that will make you happier and healthier — one email at a time. Learn more