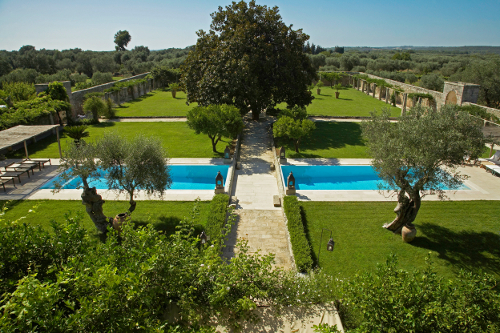 Tuscany is known for its wine, Sicily for its food, and the Amalfi Coast for its beaches, but Puglia has all these -- even if few know about it.
Tucked away in the southernmost "heel" of the boot-shaped country, Puglia (also called Apulia) has a far-flung location and a dearth of top attractions, leaving the region largely undiscovered by Americans. But that's been changing in the last decade or so, thanks in large part to the rise in agritourism and the interest in the region's masserie, or ancient farmhouses, which are being rescued and converted into tourist accommodations.
Masserie (or masseria, singular) range from rustic stone homes to five-star luxury estates with pools and spas. Some continue to operate as full-fledged farms; others have retained just enough land to produce small batches of olive oil or wine. No matter how basic or fancy, masserie offer a glimpse into how Apulians once lived. These fortified farmhouses, built mainly in the 15th to 17th centuries, were constructed of sturdy stucco and stone to withstand attacks from myriad invaders, among them the Turks and Greeks.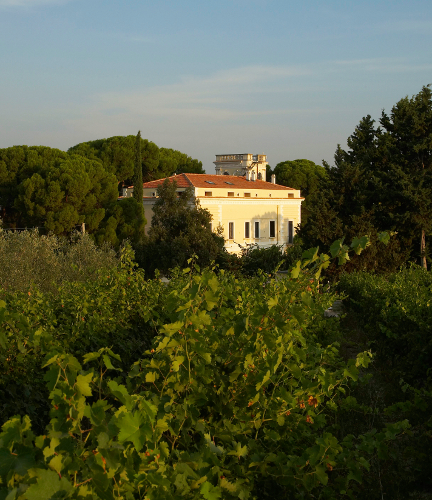 A masseria had everything a family needed to be self-sufficient: a well, cistern, courtyard, house, outbuildings, a chapel, and a tower -- all surrounded by fields planted with grapes and olive, almond, and lemon trees. The homes vary architecturally, but most typical is a blocky, whitewashed, limestone structure resembling something you'd see in Greece -- not surprising considering its proximity. But masserie can range from ornate Baroque to austere Palladian to a pastel-colored, Moorish style to Spanish Colonial.

Since many masserie continue to be family-run, they retain vestiges of those who once lived there -- antiques, photographs, relics in the family chapels. Some are near the ocean, with private beaches, while others are nestled among endless acres of gnarled, 400-year-old olive trees.
But they all have one thing in common: they are isolated -- in a good way. To get around the region you'll need a car or, for the more intrepid, a bicycle.

Fortunately, Puglia's roads aren't clogged with tour buses; it's mainly Italians who flock each summer to the beaches along the dramatic, rocky Adriatic coast. Though the sea is the biggest draw by far, there are other reasons to venture this far south -- the excellent seafood, tasty cheeses, and especially the wine.

Though it's the third-largest producer of wine in Italy, wine tourism hasn't really caught on in Puglia. That's not for lack of good grapes -- you'll find some excellent reds here, primarily Negroamaro and Primitivo -- but because it has been less adept at promoting itself as an important wine region.

There are few organized wine tours here, and, unlike, say, Napa, no maps plotting out a wine trail. In fact, it's rare to find fancy tasting rooms, much less gift shops or regular visiting hours at Apulian wineries, which are mainly family-owned. (This may actually be a good sign, when more time is devoted to making wine instead of marketing it.)

What this means that it will take a bit of effort to create an itinerary and arrange tastings. Most wineries require that you call ahead for an appointment -- at least a week in many cases. (The Feudi di Guagnano winery has taken it a step further, adopting a "When you Want" initiative that allows customers to come to the winery whenever they want -- even at night -- provided they call ahead to reserve their tasting.) Upon your visit, there will likely be some conversational struggles, as English is not widely spoken in Puglia. But what you'll be rewarded with is a far more personal wine tasting experience -- like say, face time with the actual winemaker or the opportunity to taste small-batch vintages that you won't find outside the immediate area.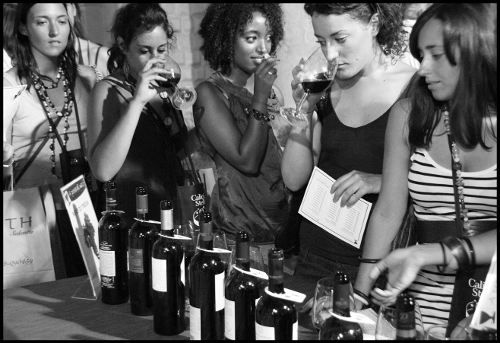 If that's too much effort, there are a handful of loosely organized wine events; the biggest takes place on the last Sunday of May, during Cantine Aperte, which roughly translates to "opened wineries." On this day, wineries across Italy open their doors to the public (this year's event included 800 wine cellars and drew more than 1 million visitors). A similar event takes place on Sept. 18 for the Benvenuta Vendemmia ("Welcome Harvest"), with an emphasis is on the production and harvesting of the grapes, along with guided tours of vineyards and cellars. Of course, there will be plenty to taste, too; some participating Apulian wineries include Castel del Monte, Tenute Girolamo, Feudi di Guagnano, and Martina Franca.
Later this summer is Calici di Stelle, or the night of San Lorenzo, when historical centers and piazzas all over Italy celebrate the summer with wine tastings, samplings of local delicacies and lots of dancing. In Puglia, it will descend on the coastal town of Trani on Aug. 10. Then come winter, wineries reveal their young vintages, called Novello (like Beaujolais, but Italian style), to coincide with the Feast of St. Martin's. For 2011, the festival "San Martino in Cantina" is on Nov. 13; wineries will be open to the public for the tasting of Novello wine as well as other vintages. Wrapping up the year is "Christmas in the Cellar," a weekend of self-guided wine tours, along with group wine dinners, on Dec. 10 and 11. For more information on area wine events, visit the Wine Tourism Movement website.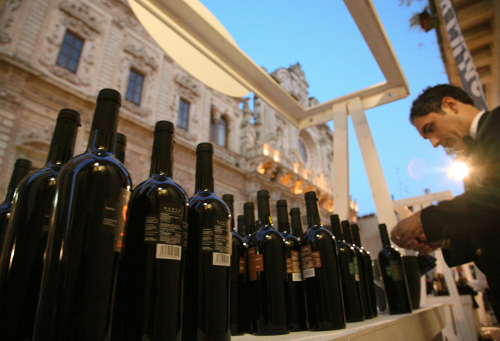 There are hundreds of masserie where you can stay, but here are some recommended properties: Masseria Torre Coccaro dates back to the 1500s; today it's a five-star resort with 39 rooms, including a tower suite with a balcony with views of the Adriatic. It features a beach club, four restaurants (one is at its sister property, Torre Maizza), and a nine-hole golf course. Rates start at 278 euros in the low season, 422 euros in high season. Le Fabriche Masseria in Vigna is a 17th-century estate set on 25 acres of olive trees and vineyards on the Gulf of Taranto. The 18 junior suites begin at 160 euros in the low season, 250 euros in high season.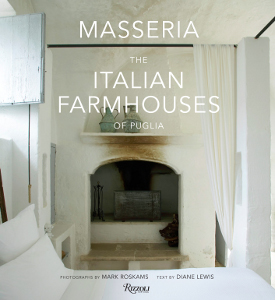 style="float: left; margin:10px">To discover more about the masserie of Puglia, pick up a copy of the recently released coffee table book "Masseria: The Italian Farmhouses of Puglia" (Rizzoli New York, 2011), with text by Diane Lewis and photos by Mark Roskams.
All masserie photographs courtesy of Mark Roskams.
Wine photographs courtesy of Wine Tourism Movement.
SUBSCRIBE TO & FOLLOW LIFESTYLE
HuffPost Lifestyle is a daily newsletter that will make you happier and healthier — one email at a time. Learn more