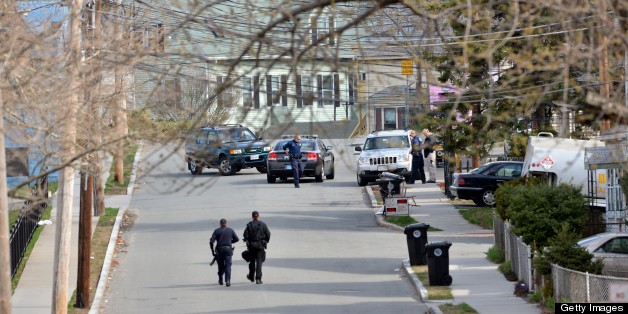 I feel like I'm living in a crime show. I woke up in Newton this morning on lockdown. I was at the Watertown Library yesterday, we ate at Strip T's, a couple blocks from (what we are told is) one of the suspects' house on Marathon Day.
In an interview on Boston's WHDH Channel 7, the suspects' uncle pleaded with Suspect 2 as Dzhokhar A. Tsarnaev, 19, "Everything you believe is false, turn yourself in" and blamed Suspect 1, his 26-year-old brother Tamerlan Tsarnaev, for influencing his younger brother. He attributed their actions more to the idleness of the older Tsarnaev (unemployed, and not in school) than any real ideology -- we have no way of knowing what the truth is.
Chechnya will now be on the tip of the tongues of people who had no idea Chechnya existed until they woke up this morning. As soon as they can pronounce Chechnya, they will be talking about the killers being Muslim (again, according to their uncle). The pundits will be dissecting the Chechen Wars.
While it makes us feel safe, is it truly fruitful to look at the political rationale that madmen make? (Law enforcement of course should look at everything.)
Are the real questions we should be asking, "Why do young men do what they do, and is there any hope in hell of changing that?"
The Boston Marathon Bombing, Sandy Hook Elementary, Rape in Steubenville Ohio, these are just the headlines in the last few months in the U.S. Most violence across the globe is perpetuated by young or youngish men, (sometimes led by older men, and yes, occasionally women) who fetishize guns and weapons, are easily manipulated. While many are forced against their will, some are eager to accept whatever twisted reason they are given to employ violence.
If young men don't fit in, they find an ideology to latch onto, no matter what it is. From Baltimore drug gangs to white supremacists in the UK, to the deranged terrorist being hunted down in our area right now.
What are we going to do about it? And really, what can we do about it?
Lastly and completely unrelated, OyVey -- this is going to hurt immigration reform even though it shouldn't.
HuffPost Readers: Were you or someone you know in the area affected by the bombings or the manhunt? If you have any information to share, or want to tell us what you experienced, email openreporting@huffingtonpost.com. Include a phone number if you're willing to be interviewed. Let us know if you wish to remain anonymous.
SUBSCRIBE TO & FOLLOW BREAKING ALERTS
Don't miss out — be the first to know all the latest and breaking news. Learn more