A year after a military coup toppled the democratically-elected government, a "horrifying" human rights crisis continues amidst economic and environmental decay. Is the U.S. enabling this repression with taxpayer dollars?
One year ago last week, on June 28, 2009, the Honduran special forces - led by U.S.-trained officers, wearing U.S.-issue uniforms and armed with U.S.-made M16s - attacked the home of president Manuel Zelaya, kidnapped him in his pajamas, and after a quick stop at the local U.S. airbase, flew him off to Costa Rica in exile. Honduras hasn't been the same since.
"[It's] a totally different country since the coup," says Dr. Adrienne Pine, a Central American expert at American University in Washington, D.C. In an exclusive interview, Dr. Pine, who was in the capital of Tegucigalpa as an international observer last week, described conditions in the new Honduras as being "horrifying."
"We've now reached a point where it's like we've returned to the 1980's, when death squads killed several hundred people and effectively ended the Leftist movement in Honduras at the time," says Pine, who spent Monday marching with about 200,000 pro-democracy demonstrators in the capital. She believes a heavy presence of foreign observers and reporters was the only reason the police and soldiers, who shadowed the marchers at all times, did not attack as they have in the past. "What we're seeing now is that they're using the same repressive strategies [as in the '80's]," she says. "Even the same people are in charge."
Many experts, including Pine, also believe that the tens of millions of dollars Honduras receives in military and security funding from the U.S. each year is furthering the crisis.
The State Department has publicly denied these charges, but the criticism continues.
"The U.S. is complicit in a number of ways," says Pine. "Most definitely by its silence. And the fact that the [we've] refused . . . to acknowledge the human rights violations, and the targeted assassinations."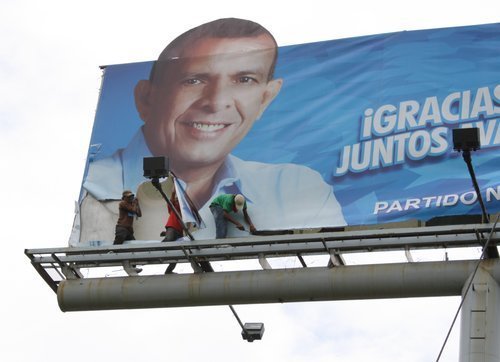 On August 31, 2009, members of the pro-democracy Popular Front of the National Resistance (FNRP) dismantle an election billboard for controversial Honduran president Porfirio "Pepe" Lobo.
International human rights organizations have documented that more than 50 members of the pacifist Popular Front of the National Resistance (FNRP) - a broad, grass roots coalition that arose in response to the coup - have been assassinated by police, soldiers, and paramilitary forces since the coup. Hundreds more have been beaten, and thousands detained illegally, as troops regularly attacked peaceful assemblies with tear gas, rubber bullets, and even live rounds.
Recently, FNRP organizers and their families have been increasingly targeted in mysterious, execution-style slayings. Twenty-four such killings have come in the five months since the inauguration of controversial President Porfirio "Pepe" Lobo, who also supported the coup, and came to power during a heavily-militarized election that saw more than half the Honduran electorate abstain due to concerns about corruption.
Nine journalists have also fallen prey to the death squads under Lobo's watch, prompting Reporters Without Borders to label Honduras as the most dangerous country in the world for journalists. At least five FNRP members were assassinated in June alone; the victims including trade union leaders, farmers, and a teacher.
But despite the alarming reports coming out of Honduras, the Obama administration continues to back Lobo.
"The U.S. strongly supports the democratically-elected government of Pepe Lobo, and its urge to strengthen democratic institutions in Honduras, increase respect for human rights, and deal with major economic and social problems," says a State Department official, who would speak with me only under the condition of anonymity. "Like the [Lobo] government, we feel the emphasis should be focusing on the future . . . and less focusing on the past," the official says.
But for the majority of Hondurans, who refused to vote for Lobo, and for the many countries in the hemisphere that still don't recognize his regime - including Latin American powerhouses like Brazil and Argentina - the problems of "the past" haven't gone away.
"The government that's in place . . . was installed after an illegitimate election that wasn't recognized by the UN or OAS [the Organization of American States]," says Dr. Pine. "This regime is a nothing but a continuation of the coup."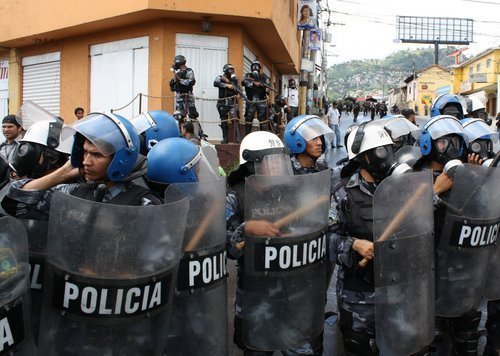 Honduran police cordon off a march in the capital of Tegucigalpa on September 23, 2009.
The situation in Honduras has become so severe that on June 25, 27 members of the U.S. Congress signed a letter [http://hondurashumanrights.wordpress.com/2010/06/25/27-congress-members-sign-letter-on-human-rights-in-honduras/]to Secretary of State Hillary Clinton, expressing their "concern regarding the grievous violations of human rights and the democratic order which commenced with the coup and continue to this day."
The letter urges the State Department to "rise to this occasion" and conduct its own investigation to "make a prompt assessment of what is occurring there with regards to human and political rights."
More than a week after receiving that letter from Congress, the same State Department official says they "are still in the process of deciding" how to address the request from Congress.
"But I'd like to emphasize that the U.S. has been very closely monitoring the human rights situation in Honduras," says the official. "And we have been working with the government of president Lobo to fulfill his commitments to improve the situation."
As proof of his good intentions, the State Department cites Lobo's establishing a "Truth Commission" to investigate last summer's coup, as well as a presidential committee on human rights. But many Hondurans, as well as international analysts, feel these steps are largely cosmetic, intended to mollify President Obama's demands for reform, more than being aimed at actually curbing the violence.
"We know the police and the army have been involved in illegal detentions, torture and murders and now it's at a point where there are very systematic death squad activities being carried out," says Tom Louden, director of the U.S. based Quixote Center, a human rights NGO that monitors events in Central America and Haiti. Louden traveled to Honduras last week as an observer in a separate delegation from Dr. Pine's.
Louden - who has made more than a dozen previous, fact-finding trips to Honduras since the coup, and been tear gassed by Honduran authorities on more than one occasion - says he believes the Lobo administration is "absolutely" behind the death squad killings. And it's allegations like these that spurred the 27 members of Congress to start worrying about their constituents' tax dollars flowing into the Lobo regime's coffers.
The State Department says Honduras is scheduled to receive 51 million dollars of U.S. aid in 2010, and they've requested nearly 68 million dollars from Congress for fiscal year 2011. But, if things don't change for the better in Honduras, that might not happen.
"Without an early and accurate [human rights] report," the Members wrote, "we would be reluctant to see U.S. support for Honduras continue without significant restrictions."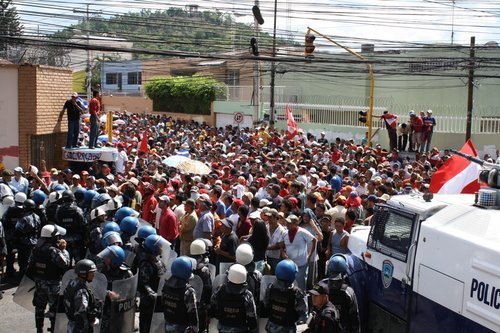 Pro-democracy demonstrators clash with police on September 23, 2009, in the capital of Tegucigalpa.
"Economically, Honduras is now a disaster," says American University's Dr. Pine, who has been an expert witness for dozens of Honduran asylum hearings in the U.S. "The country's finances were gutted by the de facto government," she says, in order to maintain a militarized state. Lobo declared bankruptcy in February.
In addition to the millions spent to mobilize the armed forces against the populace, hundreds of thousands of jobs have been lost, as international investment fell off during the violence that followed the coup. The crippling unemployment is leaving many families with no means of support, even as food and commodity prices rise due to instability. More than sixty percent of the country gets by on less than two dollars a day.
"Progress is dead. And the economy is still getting worse," says top FNRP organizer Juan Barahona, who also marched in the hot summer sun in Tegucigalpa on Monday. "It has become critical. There is no work for anyone. And of course the government of oligarchs does not help at all."

Zelaya had set up food and fuel subsidies for low-income families, financial aid for students, raised the minimum wage, and made steps toward reducing unemployment. But all of that has changed since the putsch.
"It was a classic neoliberal coup," says Pine, referring to the subsequent cuts in government aid and the push toward privatization, which have combined to drive up the costs of essentials like health care and education. "This has really been strangling the Honduran people," she says.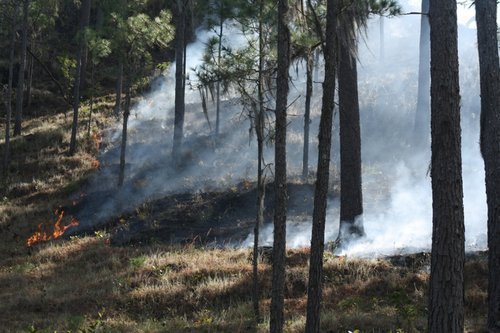 A forest fire in President Lobo's home state of Olancho, on February 25, 2009.
According to some conservationists, the coup last summer has also had a serious, negative impact on the country's long-term environmental outlook. Ecologists report that logging in Honduras delicate, dry pine forests has increased dramatically since the far-right coup - causing dangerous deforestation and local climate change, as the trees are slowly replaced by scrub and savannah.
"The logging trucks run all the time now," says Jairo Gimenez, President of the Environmental Movement of Salama (MAS), which operates in the remote, heavily-forested Olancho region. "And there is always less government oversight - because that's what the logging barons want: to cut fast, for profit now, and forget about the future. Zelaya had passed laws to protect the forests, and even sent the Army to fight illegal logging - but all of that changed when they threw him out."
Zelaya had also passed strict legislation to regulate mining, because of reports that whole communities had been poisoned by tailings from internationally-owned gold and lead mines - but those laws have also come under attack in the post-coup era.
According to Grahame Russell, co-director of Rights Action, a U.S.-based NGO that watchdogs exploitive mining practices in Central America and elsewhere, certain Honduran elites want to see restrictive mining laws overturned because they control the in-country construction and transportation infrastructure, and know they'll profit from lucrative transnational contracts.
"Zelaya obviously was responding to increasing activism, in Honduras and the Americas, to reign in the abuses committed with impunity by mining companies," Russell says. "[Now] mining and investment sectors want the moratorium overturned so that they can make money."
"We know the water's not safe to drink or bathe in," says Carlos Amador, a teacher in the Siria Valley, home of Honduras' largest goldmine, owned by Canada's Goldcorp. On a visit to the Goldcorp mine, THP documented symptoms from mass poisoning in nearby villages that included lesions, hair loss, and mental retardation; the conditions being most pronounced in infants and children. "But this is their home. Where else can they go?" says Amador. "For many poor families, there's just no choice."
Although the Honduran government has run tests on local water tables in the Siria Valley, and denies any contamination from mine tailings - the Honduran State Department refused to release the results of those tests to THP. The Honduran Congress is expected to vote on a new mining law later this summer.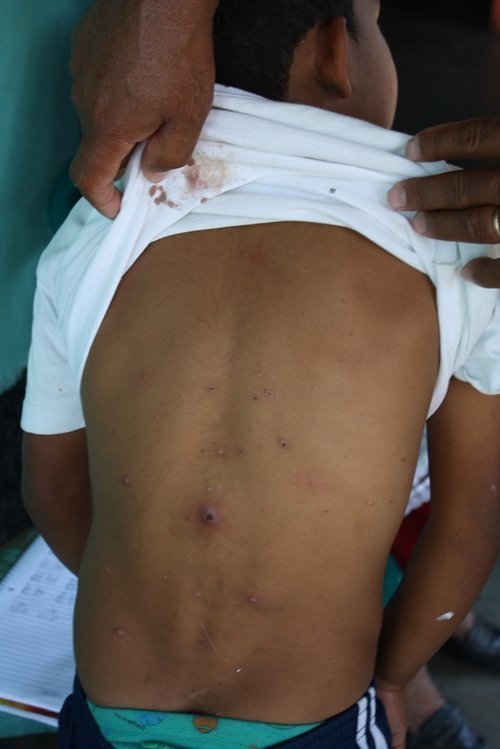 Eduardo Perez, age nine, of the Siria Valley, displays the kind of open, bleeding sores so common here, especially among the children, in the five years since the mine has been active.

U.S. Sanctioning Human Rights Abuses?
"I would say that the U.S. is more to blame than anything else [for the Honduran crisis], because of how avidly it has supported the coup government," says Dr. Pine, who believes that the State Department was unhappy with former president Zelaya's friendly trading ties with Venezuela, as well as his push to convert the U.S.'s Palmerola Air Force base into a much-needed civilian hub. Although unpopular with Hondurans, the airbase is seen as vital to U.S. hegemony. And many foreign policy analysts believe that if Honduras, a long time ally of the U.S., had sided with Venezuela, it could've tipped the balance of power in the region.

"After the coup, the OAS said that Zelaya had to be re-instated without conditions," says Pine. "[But] what the U.S. said was that the de facto government of Micheletti was a legitimate bargaining partner. . . That incredibly weakened Zelaya. But more importantly it weakened the position of all Hondurans who believed in their democracy."
Some experts - pointing to evidence of close ties between the ruling business-military junta and the State Department, as well as the sophisticated, U.S.-style propaganda campaign employed by the coup-plotters, which sought to demonize Zelaya and legitimize the coup - even go so far as to call the U.S. the "intellectual author" of the putsch.
"Honduras is a country where nothing very significant happens in the government without some sort of approval by the U.S.," says Quixote-center director Louden. "We need to stop funding the police and the military [and stop] spinning what's happening to confuse people about Honduras."
But the State Department disagrees.
"I think those charges are completely preposterous," says the State Department official. "We do not have a situation where the government is sanctioning abuses of human rights. There may be human rights abuses committed by individuals who work for [Honduran] law enforcement institutions. I have no specific proof of any such abuses. But in any event we can count on the Honduran disciplinary legal action against those individuals."
But to many in the international community, that's not good enough. They contend that the investigative commissions Lobo assigned to investigate abuses are themselves corrupt. And that maybe U.S. influence is hurting more than it helps.
"Another important factor that has severely undermined the Lobo [Truth] Commission's credibility in Honduras has been the intense involvement of the U.S. administration in its creation and promotion," writes Washington-based Center for Economic and Policy Research analyst Alex Main, in an e-mail to THP. "It has to be remembered that the U.S. administration is not considered to be a neutral actor in the Honduran crisis, especially given its unilateral decision to endorse the national elections in November without calling for the prior restoration of democracy."
For Loudon, culpability runs deeper than failing to call for restoration of basic freedoms in Honduras.
"The people who are [committing these human rights abuses] are trained in the U.S.," he says, referring specifically to the Pentagon-sponsored education programs for the Honduran officers' corps. "[We] continue to provide the model and provide the oversight, for how to best eliminate a social movement."
But, according to the State Department official, instead of being responsible for the killings, the Lobo regime, despite U.S. support, is simply overwhelmed and helpless in the face of rampant violence and crime.
"Honduras's problems are longstanding," says the State Department official, "and a lot of the killings and other intimidation that occurs is not necessarily due to political acts, but it's just part of, unfortunately, the culture of impunity that has developed in Honduras."
Although rising poverty since the coup has led to a sharp spike in crime and murders, other experts observe that comparing the number of Resistance members' deaths, to the overall murder rate, makes it statistically improbable to attribute those killings to chance.
"It's just naïve to think that nine journalists would be killed in the time that Lobo has been president, in specific targeted shootings, and that that would just be a coincidence," says Pine. "In particular when the majority of those journalists were critical of the coup."
Given the severity of the political and economic crisis, many Hondurans say the best path toward reconciliation is to democratically construct a new national charter - something the coup may have been intended to prevent. Zelaya's ouster last year happened just hours before a scheduled, non-binding referendum on the issue of creating a Constitutional Assembly to re-write the outdated Honduras Constitution. The current charter is accused of keeping the nation's resources in the hands of few, elite families and the military - and many in Honduras see the coup as a desperate act to maintain the status quo.
"With the poll on the Constitutional Assembly [Zelaya] was responding to demands from grass roots organizations . . . Most Hondurans joined the Resistance because they felt that their democracy had been robbed from them, not because they felt that Zelaya had been robbed from them."
And that widespread perception could have serious repercussions for those behind the military takeover a year ago.
"In many ways the coup has totally backfired on those who perpetrated it, including the United States," says Loudon, who has lived in Central America for fifteen of the last twenty years. "The feeling was that they would do something that seemed quasi-legal, they didn't kill the president, and they thought that there would be a day or two of protests, and then back to business as usual . . . Instead it served as a kind of awakening, and day after day, week after week there have been protests, and they have been unable to erase the memory of what happened."
Dr. Pine concurs that Honduras is still a long way from business as usual. "What happened last year was a paradigm shift. . . Suddenly, the way Hondurans put it, the masks came off. They recognized that the authorities were violently repressing them all along. They recognized that the democracy they thought they had, was a farce."
A new, more participatory democracy is one of the core goals of the FNRP - a goal for which more than 50 of them have died.
"We have been struggling since June 28, 2009, to have a Constitutional Assembly," says Resistance leader Barahona, who was a trade union leader in Tegucigalpa before the coup. "To have an Assembly is indispensible because the responsibility for creating a new Constitution lies with the people, and only with the people."
Barahona says the FNRP - which is a broad coalition made up of unionists, teachers, students, human rights NGO's and indigenous groups - has in two months collected more than 600,000 petitions demanding a Constitutional referendum. Well on its way to collecting 1.2 million by Honduras Independence Day, on September 15th, when the FNRP plans a peaceful march on Congress to present the signatures.
"Because the government no longer serves the people, this is the only way we have to express ourselves," Barahona says.
One year after the coup, the Honduran capital was still heavily militarized, with armed checkpoints stationed on the major highways. The massive columns of pro-democracy demonstrators and international observers marched peacefully, sang songs and danced around the soldiers and police.
"There are a huge number of people here from around the world," says Pine, "and they came because they were so inspired by the Honduran Resistance. They see this as one of the few places in the world where people are really coming together to demand radical change, a re-founding of the nation, and really re-thinking these basic concepts, like, 'What do we mean by democracy?' They're having these conversations on a societal level that are so profound, and then really fighting for them. And that's been such a source of inspiration."
And if the repression of that inspirational movement continues, it could have long-term consequences, both for the people of Honduras, and for Obama's legacy in Central America. Because Honduras is so dependent on U.S. aid, many believe the Obama administration could easily force an improvement in democracy and human rights.
"With sanctions, if we had wanted to, we could've turned the coup around in two days," says Pine, who wrote her dissertation on Honduras. "If the U.S. had really cut off aid . . . that could have forced a lot of things. But I don't the U.S. has a lot of interest in human rights in Honduras, and certainly not in democracy . . ."
But even though it's taking heavy flack on this issue, the State Department seems to be holding firm.
"I think we need to recognize that change in Honduras is going to come slowly. The country went through a very difficult and traumatic period last year and the divisions in Honduran society are very deep . . . For our part the U.S. will continue to support the government of president Lobo as it carries out its efforts to deal with Honduras's problems."
That "take-it-slow" attitude puzzles many experts, especially given the urgency of the economic situation, and the loss of human life.
"It's our money that is killing Hondurans," Pine says. "That blood is on our hands. And if we are not speaking up against that, then we are the ones responsible."

SUBSCRIBE AND FOLLOW
Get top stories and blog posts emailed to me each day. Newsletters may offer personalized content or advertisements.
Learn more