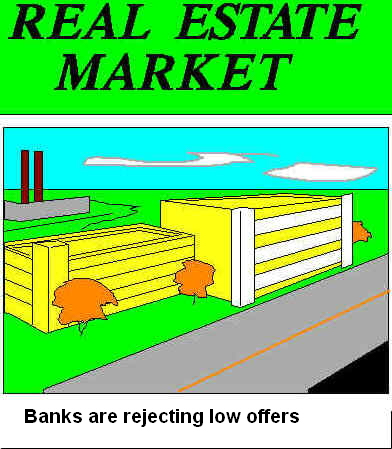 "A rolling loan gathers no loss" was the play on words often used throughout the savings and loan association debacle during the 1980s. Back then it was the way that financial institutions delayed reporting problem loans. The devious technique allowed thrift institutions to stay afloat a bit longer.
The thrifts would extend loans in hopes that magic would happen; turning bad loans into good ones if they waited long enough. But the foundering lenders eventually failed and the government formed Resolution Trust Corporation to dispose of defaulted assets at bargain prices.
That was then. Now industry jokesters call it "extend-and-pretend," a different euphemism for the same resistance to taking action. Once again, lenders are making believe that defaulted-loan problems will go away if they wait long enough. They also hope that regulators buy into their chicanery long enough to keep them from reclassifying bad loans and requiring them to raise more capital -- or worst case, close them down.
Speaking about regulators, I was invited to a March meeting in the Tampa Bay area of Florida where three bank regulators with the Office of Comptroller of the Currency were among the speakers. I was interested in hearing their message to the bankers in the audience regarding problem loans.
But the host told me that the OCC regulators objected to my being there after they found out that I write a business column for the Sarasota Herald-Tribune. Consequently my invitation was withdrawn.
Meanwhile, Allen Horton e-mailed me asking, "Can you point me in the direction of where I can find listings of commercial mortgage default lists?" Horton is with Tennessee-based Jireh Investment Group, LLC. "I want to obtain owner information of owners of commercial property that are headed for default or are already in default."
Like many investors, Horton is trolling for deals while prices have bottomed out. But lists are not useful to buy distressed assets from banks because they are extending due dates on loans and holding on to foreclosed properties in hopes that prices will improve later on.
Can I get them (lists) from a commercial broker?" he asked.
According to an article in Multifamily Executive magazine, opportunity investors are looking for a 25 percent return and there is too much money chasing too few deals. The banks are pricing the properties too high and would rather hold on longer.
Sure, commercial brokers have lists. But property acquisition professionals and dealmakers compile their lists based upon relationships, not names that are readily available for purchase from trade magazines and list brokers.
So I suggested to Horton that he join the trade associations where lenders, property owners and real estate investors are members. For example, if he were interested in acquiring shopping centers, the International Council of Shopping Centers would be a good choice. Like all trade associations, ICSC has national conventions, regional events and opportunities to volunteer, an excellent way to get noticed.
Building Owners and Managers Association, National Association of Office and Industrial Properties and National Apartment Association are also trade associations for mingling with income-producing property professionals.
The Encyclopedia of Associations lists all trade associations and gives contact information. Joining is the best investment you can make to get ahead in whatever your industry is.

Jerry Chautin is a volunteer SCORE business counselor, business columnist and SBA's 2006 national "Journalist of the Year" award winner. He is a former entrepreneur, commercial mortgage banker, commercial real estate dealmaker and business lender. You can follow him at www.Twitter.com/JerryChautin
SUBSCRIBE TO & FOLLOW THE MORNING EMAIL
Start your workday the right way with the news that matters most. Learn more