Last month, Country Music Television (CMT) debuted the eighth season of the Dallas Cowboys Cheerleaders: Making the Team. One of the longest running series on the network, viewers gain an exclusive glimpse inside the grueling, often emotional, real-life selection process of the Dallas Cowboys Cheerleaders squad. The show brings the audience where no woman or man has gone before: into the locker room, on the sidelines, in the rehearsal rooms and private homes. And according to executive producer Eugene Pack, the show appeals to a diverse audience which includes Miranda Lambert, Tony-winning stage and star Betty Buckley and SNL legend Laraine Newman.
"The show is comfort food," says CMT's vice president of development Melanie Moreau. "It represents the pursuit of the American dream for these girls and the show has genuine characters coupled with great dancing and endless one-line zingers from Kelli Finglass (Dallas Cowboys Cheerleaders director) and Judy Trammell (head choreographer)." And sometimes a Dallas Cowboy Cheerleader can even become a celebrity. Adds Moreau, "Melissa Rycroft started as a Dallas Cowboy Cheerleader and went on to be a star in her own right." This season, as yet again hundreds of women compete to make the 45-member team, I asked Moreau for the inside story.
How would you describe the show?
The Dallas Cowboys Cheerleaders: Making the Team is a docu-series which follows a group of hopefuls as they endure rigorous auditions, training camp and endless rehearsals for a chance to became part of the Dallas Cowboys Cheerleaders squad.
How grueling is the practice schedule?
The girls rehearse five nights a week. Rehearsal starts at 7 and runs until 11, but many get to rehearsal at 5:30 because they are expected to learn 50 dances in eight weeks. The pace of learning is very fast. They practically learn a new dance every night and are expected to come back the next day ready to perform it.
And you have very strict standards once someone makes the team.
Being a Dallas Cowboys Cheerleader goes beyond being fit and a good dancer. They are considered ambassadors for the Dallas Cowboys Cheerleaders in everything they do. A lot is expected of these young ladies. They need to know about the Cowboys and NFL history and must also keep up on current national and international news. They are expected to be able to hold a conversation with everyone from hotel doormen to a military general to former presidents. They have to pass an extremely hard written test [on the Dallas Cowboys Organization, cheerleaders history, the National Football League, current events, and dance terminology]. If they do not pass, they are not allowed to go on appearances. They are expected to be extremely poised and articulate.
What have been some of your favorite moments from the show?
There have been so many but I always love the moments between Kelli and Judy. A few seasons ago, Kelli was having a tough time getting one of the girls to understand what it really meant to be poised. So she brought in the book What Jackie Taught Us, by Tina Santi Flaherty. It was hysterical.

During the age of staged "reality" TV, many people may not realize how real the show is, that these women are actually competing. Why was that always important to demonstrate that?
From day one we wanted to stay true to the authentic process these girls go through to make the team because we wanted our viewers to see the process for what it really is - incredibly challenging, life-changing and intimidating. It is a real competition and yet the girls are all super supportive of each other. You can feel a true sense of camaraderie. The girls rehearse together and help each other learn the intricate dance moves. If someone is struggling they usually buddy up and help one another. They support each other through the tough criticism and physical soreness. They are cheerleaders for each other. Many live together and share their lives. They give each other tips on nutrition and what works and what doesn't in terms of being the complete package as a Dallas Cowboys Cheerleader.

What surprises you?
It's always surprising how many girls come back year after year after being cut the year before. And I believe a lot of people don't realize how hard these girls really work to make the team and accomplish their lifelong dream of being a Dallas Cowboys Cheerleader. The girls work for months training before auditions. They work on their solo presentations and getting their high kicks up to Dallas Cowboys Cheerleaders standards. They have to be in top shape to make it through camp. All the girls say they have never experienced anything as mentally exhausting or physical taxing as training camp. Learning 50 dances in a summer is extremely difficult. Dealing with injury and setbacks can take you off your game, so they need to be mentally tough.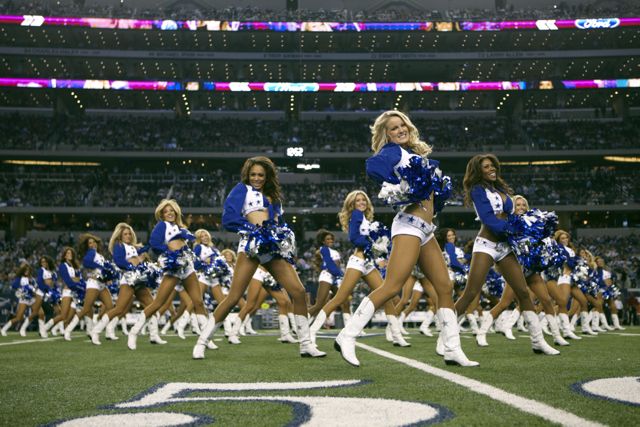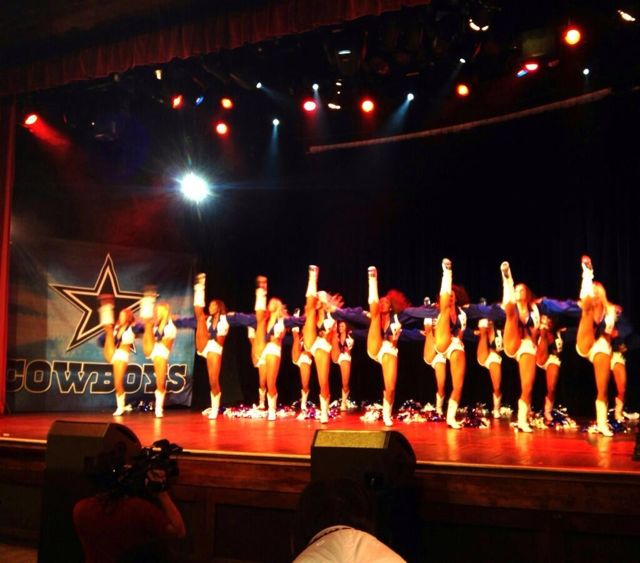 All photos used with permission
SUBSCRIBE AND FOLLOW
Get top stories and blog posts emailed to me each day. Newsletters may offer personalized content or advertisements.
Learn more