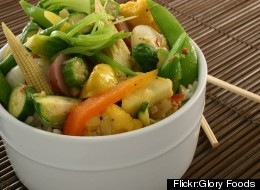 If I offered you a plate of steaming low-sodium food, chances are your taste buds would quickly retreat, imagining boiled potatoes, steamed broccoli, and a flavorless meal. For one. That's because salt has become synonymous with good taste, good food and, as a result, a full life. Which is why so many people who are told to cut back for health reasons resist the charge. But after living on a salt-free, low-sodium diet for almost a decade, I can guarantee that low-sodium does not have to mean a life of making colorless meals at the kitchen stove by yourself.
Whether you've been told to cut the salt, wheat, nuts, or any other ingredient, the misconception remains the same: If you have dietary limitations, your culinary life will suffer. And that might be because most information on how to approach a special diet focuses on the "cannots" rather than the "cans." Which, no wonder, leaves patients feeling deflated versus inspired.
But let's replace each no with a resounding yes. And since May is Hypertension Month, let's rewrite the 10 commandments of keeping a low-sodium diet (or any special diet for that matter) and focus on how to keep the foods and activities you love while putting your health first.
Rewriting The Low-Sodium Rules
Have you checked out the spice aisle lately? Sure, there are a myriad of salts available -- sea, kosher, truffle and lavender. But it's not the only jar on the shelf. Spices, seeds, herbs, and saffron threads -- there's a rainbow of flavor beyond the white stuff. And removing the salt will not limit your choices; it can actually expand your flavor profile. It gives new cuisines and spices a chance to shine. Because when you remove one ingredient from your list, you're forced to discover the other options you never thought to explore. Flickr photo by bossco

It's true that packaged and prepared foods constitute 75 percent of the sodium that Americans consume -- which, on average, adds up to a daily overintake of 3,436 mg. But here's the good news: A number of no-salt added and low-sodium products can be found in markets and online. And more are coming every day. Roasted tomato purees, curry and BBQ sauces, pickles, individual microwave rice bowls, and even pizza-making kits already exist, making low-sodium breakfast, lunches, and dinners easier to prepare. Flickr photo by bradleygee

Although we all would love to cut back on aimless eating, it's nice to have treats on hand for a midday snack attack, beyond just fruit and vegetables. And with salt-free chips, rice crackers, pickles, and individual peanut butter packets in the market, it's easy to fuel up while keeping to your low-sodium diet. Flickr photo by juli ryan

Of course you can always order steamed vegetables and grilled meat and know that you're eating a safe, low-sodium meal. But that's not why you made the reservation, put on your "good" shirt, and headed out on the town. So first, get over the notion that your needs are a nuisance to the restaurant. Then, give the kitchen staff a call ahead of time to let them know about your needs. And be sure to bring a chef's card with you, which lists all the things you can and cannot eat, so the server may pass it back to the person creating your meal. That way, they'll feel ready and inspired to make a picture-worthy plate of food. And don't forget a thank you note. Loyalty, flattery, and gratitude go a long way. Flickr photo by Glory Foods

It's definitely more difficult to find low-sodium options when the food is "fast." But it isn't impossible. What it requires is relationship building. Is there a burger or a pizza joint you wish you could eat at? Then go make a special visit to talk to the manager and tell them about your restrictions. See if, together, you can come up with a plan, like calling a day ahead or storing your own special sauce in their refrigerator, that works for their production line and your diet needs. Flickr photo by Nick Sherman

You can make almost anything, without salt, from scratch. Which, depending on the dish, may take some time. But low-sodium cooking does not have to mean hours in your kitchen. As long as you have the tools (immersion blender, rice cooker, cuisinart, slow cooker) you can make 30-minute meals, one pot dinners, and dishes that practically cook themselves. Flickr photo by Food Thinkers

Low-sodium food doesn't need excuses; it can be brag-worthy. That's because cooking "without" requires creativity and the use of ingredients and food combinations that may be unfamiliar to many of your family and friends. It inspires you to use color, texture, and to break the rules in traditional recipes. Which, together, are the elements that make any meal impressive and memorable. Flickr photo by rlcasey

It's easy to grab a fulfilling lunch with coworkers, a snack at the airport, or a bite while moving from point A to point B, all while keeping to your low-sodium needs. The trick? Keep things like salt-free spice blends, nuts and seeds, dried fruit, and even individual packets of tahini or peanut butter with you at all times. That way, if you're stuck with limited choices of a simple salad or steamed bowl of rice, you have everything you need to bump up the flavor and McGuiver a more interesting meal. Flickr photo by edtechie99

You may think that a language barrier means one low-sodium challenge that's impossible to cross. But by applying the same creativity and proactive attitude to your eating in foreign countries, you can still dine safely and well. Do your research ahead of time and search blogs for restaurant recommendations and tips that relate to the country you plan to visit. Whether it is a tour guide, a friend, or the hotel concierge, enlist a local to help you navigate the food options. And as added backup, have that chef's card translated so that, just like back at home, you can ensure the kitchen gets all the information they need to prepare a healthy meal for you. Flickr photo by syasara

Did I get your attention? Well, salt-free bacon may not exist... yet. But the point is, with creativity and savvy substitutions, anything is possible. Sushi, soy sauce, shellfish -- even if you have to skip the real thing, it doesn't mean there aren't really satisfying and impressive ways to mimic the foods and flavors you love. Or do the things you love. Or live the life you love. And to turn those dietary restrictions into something special. Flickr photo by sxld
For more by Jessica Goldman Foung, click here.
For more on diet and nutrition, click here.
Follow Jessica Goldman Foung on Twitter: www.twitter.com/sodiumgirl