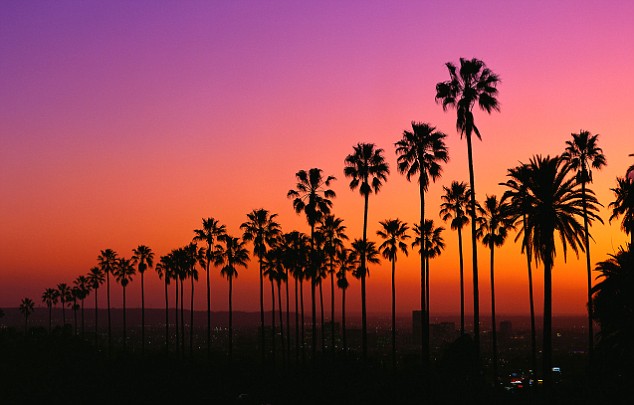 Let's be honest. No matter how cool we think we are, spotting a celebrity is always a talking point. Yet, for millions of tourists that visit LA each year, I'm never surprised when I hear, 'I was there for a week and saw no one! Where are they?!' Believe it or not, there is an art involved (plus good timing), so you can walk away from LaLa Land with more than just tchotsky-looking souvenirs.
1) TIMING IS EVERYTHING: Plan your trip accordingly. Typically the months of June and July are slower if you want to catch a TV star. Most shows are on hiatus until early August, so actors find themselves out of town shooting movies, or vacationing on the coast of Italy (i.e., Sofia Vergara). More so, the BEST time to see Ryan Reynolds or Jennifer Aniston is during Awards season (typically January through March). Grab lunch at the trendy new Culina restaurant at the Four Seasons Los Angeles during Oscar weekend, and you'll be guaranteed to whisper, 'Is that who I think it is?'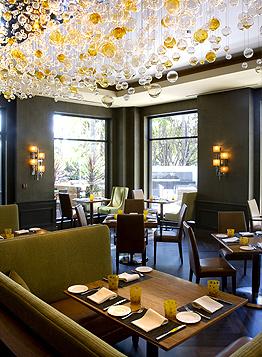 2) FORGET THE IVY: If you've never been there, it is definitely worth it to walk by or grab a pastry. But it's no longer the hotspot it was in its heyday. Now you'll find yourself among reality stars and the cosmetically-enhanced housewives of Beverly Hills. (Not that there's anything wrong with that. After all, it is GREAT people-watching). If spotting an A-list movie star is what you're after, schedule a late dinner (8pm or later) at any of the following: Boa Steakhouse, Cut, Red-O, Pizzeria Mozza, Cecconis, The Tower Bar, or Katsuya.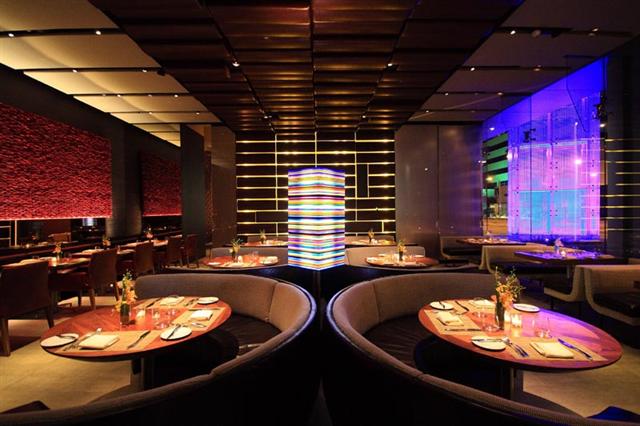 3) SKIP TRAVEL SIZE TOILETRIES AND VISIT YOUR NEAREST DRUGSTORE: That's right. You won't find this tidbit in the Zagat's Guide to LA. Hang out long enough at the Rite Aid in Beverly Hills and you're bound to see stars like Ashton Kutcher (pharmacy), Mark Wahlberg (candy aisle), Kimberly Stewart (cosmetics) or the legendary Sidney Poitier (cold & flu aisle).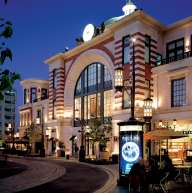 4) THE GROVE & WESTFIELD CENTURY CITY: As if you needed an excuse to shop at LA's most exclusive boutiques, here's more reason to stroll the tree-lined outdoor shopping meccas. If you plan on visiting The Grove, the optimal time is between the hours of 7 and 10pm when Dancing with the Stars is in session. Oftentimes, celebrities and their dance partners will swing by several of the Grove's restaurants for a post-show bite. And don't forget the ultra-popular holiday season when celebrities bring their kids to frolic in the fake snow. As for Century City, your best bet is the AMC Theatres on the second floor. If you ever want to see Tom Cruise watching well, Tom Cruise, then this is it.
5) THE PUMPKIN PATCH: Celebrities have assistants for everything, but one thing they always like to do themselves is visit the Mr. Bones Pumpkin Patch with their kids. Since relocating to Doheny Blvd., you're almost guaranteed a Courteney Cox and Coco sighting, or Heidi Klum and Seal entertaining their brood of kids. Picking out a pumpkin has never been so glamorous. Obvious FYI: October only.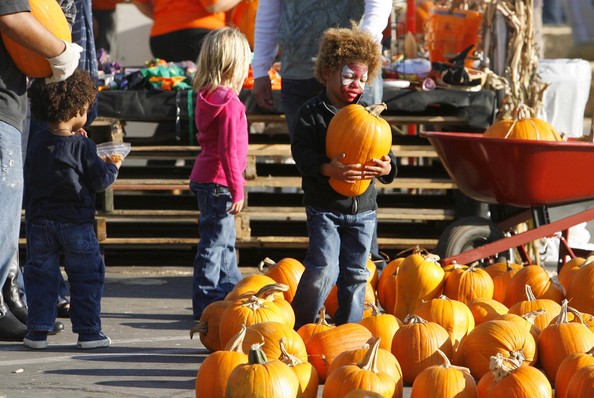 6) BARNEYS NEW YORK: For exclusive shopping you can't find anywhere else, stick to the cosmetics counter and shoe department at Barney's New York. Katie Holmes and Suri make regular appearances.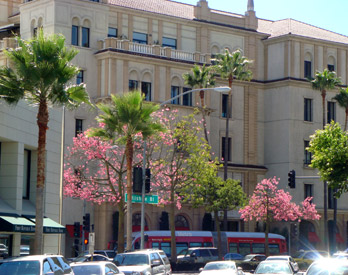 7) COOK AT HOME!: Don't expect Halle Berry to show up in an apron and chef's hat. Instead, look for her and Nahla in the produce aisle of Bristol Farms in Beverly Hills. Celebrities will often hit their neighborhood grocery store to stock up on whatever their personal chef won't let them have (just kidding -- I think). Hit up Vicente Foods in Brentwood, Gelsons in West Hollywood, Ralphs in Calabasas, or Bristol Farms in Beverly Hills, and you'll be able to sneak a peak into a star's grocery cart.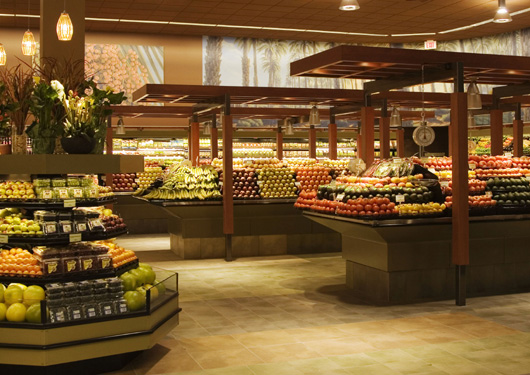 8) CUP O' JOE: Hit up Entourage hotspot Urth Caffe (side note: if you're wondering why Urth is always featured on the HBO comedy series, it's because the producers own it) for an organic espresso or colorful seasonal fruit. In Santa Monica? Don't miss laidback hot-spot La Grande Orange for an amazing breakfast on the patio, and the most delicious English muffins you'll ever taste. It might almost make you forget that Christian Bale is sitting next to you.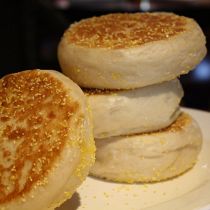 Above all though, when you meet one of these so-called celebrities, take a moment to really think about the appropriateness of the moment. If they are dining with their kids, wait till they are heading out the door to make an introduction. If they are on their phone, let them finish the conversation before interrupting. And most importantly, keep it brief. Tell them you admire their work, but don't bring up that your cousin's best friend is acquaintances with their stepbrother. Just be genuine and sincere, and you're pretty much guaranteed to leave LA with a souvenir better than any fake Oscar trophy you could pick up on Hollywood Blvd.
Culina (www.CulinaRestaurant.com, 300 S. Doheny Drive, Los Angeles, CA 90048, 310.860.4000)
Katsuya (www.sbe.com/katsuya, Numerous Locations)
Cut Beverly Hills (www.wolfgangpuck.com/restaurants/finedining, 9500 Wilshire Blvd., Beverly Hills, CA 90212, 310.276.8500)
Boa Steakhouse (www.boasteak.com/balboa/index.htm, 9200 Sunset Blvd., West Hollywood, CA 90069, 310.278.2050)
Red-O (www.RedORestaurant.com, 8155 Melrose Ave., Los Angeles, CA 90046, 323.655.5009)
Pizzeria Mozza (www.mozza-la.com, 641 N. Highland Ave., Los Angeles, CA 90036, 323.297.0101)
Cecconi's (www.CecconisWestHollywood.com, 8764 Melrose Ave., Los Angeles, CA, 90069, 310.432.2000)
Tower Bar (www.SunsetTowerHotel.com, 8358 Sunset Blvd., West Hollywood, CA 90069, 323.848.6677)
Rite-Aid Beverly Hills (www.RiteAid.com, 300 N. Canon Dr., Beverly Hills, CA 90210, 310.273.3561)
The Grove (www.TheGroveLA.com, 189 The Grove Drive, Los Angeles, CA 90036, 323.9000.8080)
Century City Mall (www.Westfield.com/CenturyCity/, 1801 Avenue of the Stars, Los Angeles, CA 90067, 310.203.9078)
Mr. Bones Pumpkin Patch (Open the month of October; 702 N. Doheny Drive, West Hollywood, CA 90069, 310.276.9827, www.MrBonesPumpkinPatch.com)
Barneys New York (www.Barneys.com, 9570 Wilshire Blvd., Beverly Hills, CA 90212, 310.276.4400)
Bristol Farms (www.BristolFarms.com, 9039 Beverly Blvd., West Hollywood, CA 90048, 310.248.2804)
Gelsons (www.Gelsons.com, 8330 W. Santa Monica Blvd., West Hollywood, CA 90069, 323.656.5580)
Vicente Foods (www.SanVicente-Brentwood.com/Vicente-Foods, 12027 San Vicente Blvd., Los Angeles, CA 90049, 310.472.5215)
Ralphs (www.Ralphs.com, 4754 Commons Way, Calabasas, CA 91302, 818.223.0284)
Urth Caffe (www.UrthCaffe.com, 8565 Melrose Ave., West Hollywood, CA 90069, 310.659.0628)
La Grande Orange (www.LaGrandeOrangeSM.com, 2000 Main Street, Santa Monica, CA 90405, 310.396.9145)
SUBSCRIBE TO & FOLLOW LIFESTYLE
HuffPost Lifestyle is a daily newsletter that will make you happier and healthier — one email at a time. Learn more