Doesn't anyone in the blogosphere care about sex anymore? Take poor Roxxxy the sex robot for example (please). While the blogosphere's newest obsession -- comparing the iPad to everything from the iPhone to the Kindle -- has been burning up the internet, no one has bothered comparing the tricks the iPad can perform to the tricks Roxxxy can turn.
For those of you who don't follow the latest advances in A.I., let me fill you in. Roxxxy the sex robot was unveiled earlier this year at the annual Adult Entertainment Expo and was recently made available for purchase through its website truecompanion.com (bummer about the domain Marc Cohn). WARNING: I don't suggest visiting this website unless 1) you are of legal age, 2)you haven't recently eaten and 3)you want to lose faith in humanity.

"She doesn't vacuum or cook, but she does almost everything else," said her inventor, Douglas Hines. Well sure Doug, if you count "not moving" as "everything else." And while I'm not surprised that the man who created a sex robot would be a misogynist, I am surprised that he has such poor taste. Roxxxy is hardly a babe. In fact she looks like a cross between Kathy Griffin and a chimp.

Thankfully her specs are more impressive. Roxxxy includes pattern and voice recognition software, a wireless connection and comes pre-installed with five "personalities" -- all for the low, low price of $6,495. So how does iSex stand up against iPad?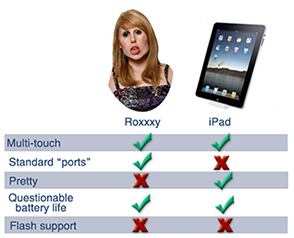 Looks like a tie. Somehow I'm guessing iPad will prevail.
SUBSCRIBE TO & FOLLOW THE MORNING EMAIL
The Morning Email helps you start your workday with everything you need to know: breaking news, entertainment and a dash of fun. Learn more