THE BLOG
20 Reasons To Fly To New York this Fall
We heart NYC every day of the year, but there's a bumper crop of stuff to eat, drink, see and do in the city this season. Here are our top picks. - Geraldine Campell and Soomin Shon
---
1. Dinner-and-a-movie has had a makeover at Williamsburg's new three-screen NIGHTHAWK CINEMA. Expect table service, a menu of film-inspired entrées and novel snacks by Michelin-starred chef Saul Bolton -- even the popcorn's been shaken up: it's served with cotija cheese, lime juice and cilantro.
2. Mezcal, anyone? There's a new place to sip Mexico's top tipple (tequila is like so last year): HOTEL AMERICANO, the first north of the border project from Mexican hotel purveyors Grupo Habita. The northwest Chelsea hotel sports a perforated metal exterior, there's a cowhide-clad lobby and a bar with an impressive stock of mezcal and bedroom amenities include custom alpaca throw blankets.
3. At the KIEHL'S SPA on the Upper East Side, get your groom on amid contemporary art. Treatment rooms are swathed in murals by Curtis Jenkins and David LaChapelle, the men's grooming area has custom-made chairs by motorcycle guru Paul Cox and hallways are papered in creative collages. Guests surf iPads while they wait for their bespoke facials.
4. Sasha Petraske, who kicked off the New York speakeasy cocktail trend with Milk & Honey over a decade ago, has touched down in Tribeca. SILVER LINING (75 Murray St., 212/513-1234) lurks in the dimly lit basement of a 154-year-old mansion, and has well-spaced, white linen-covered tables that allow for unimpeded foot-tapping to pianist Tadataka Unno's solos. The Rye Fizz might just be the city's best.
5. Sprawled over the entire sixth floor of MoMA, DE KOONING: A RETROSPECTIVE is a wildly ambitious exhibition that presents the artist as an ever-evolving genius whose work, even in dementia, was experimental and revisionist. And be careful where you put those fingers--the nearly 200 works are also wildly expensive: The whole collection is worth an estimated $4 billion.
6. Fancy a side of people watching with your roast chicken? Chef John Delucie has followed scene-y Downtown joints the Waverly Inn and the Lion with an Upper East Sider: CROWN. And he headed up there with an all-star team in tow-- the executive chef hails from Gotham Bar and Grill, the pastry guru cut her teeth at Gramercy Tavern, and the sommelier is a Daniel alum.
7. It took some persuading, but Daphne Guinness--English eccentric, heiress, style icon--finally agreed to showcase her expansive wardrobe at the MUSEUM AT F.I.T. You don't have to be design student to appreciate the sartorial sensations on display -- spiked Alexander McQueen boots, a chainmail-like hooded robe by Gareth Pugh, and Karl Lagerfeld's feathered jacket for Chanel -- just have an interest in fierce fashion.
8. Hotelier Vikram Chatwal's latest, Dream Downtown, continues to generate buzz -- and not just for its alluring, cheese grater-like exterior. The Chelsea hotel just opened a subterranean nightclub by Rose Bar's Nur Khan. THE ELECTRIC ROOM, an intimate, wood-paneled spot with Union Jack sofas, Marilyn Mintner artwork and custom-made mirrors, brims with a who's who of the film and fashion worlds.
9. Chef Taavo Somer's rustic eatery, ISA, is worth braving the hipster-packed L train to Williamsburg, Brooklyn for. And it's not just its woodsy good looks that are drawing Manhattanites over the East River: The 40-seat tavern's adventurous menu includes sardines with a side of their fried skeletons, succulent pig's tail and whole roasted calamari.
10. Part-coffee shop, part-gallery, part-lifestyle store, the Lower East Side's zeitgeisty LOST WEEKEND brings together Blue Bottle Coffee, tees and hoodies by SoHo designer Saltbox, Malin + Goetz bath products, and rotating art exhibits. Currently on display are Patrick McMullen's photographs of New York society in the 1980s.
11. In a former tenement building on the Lower East Side, the TENEMENT MUSEUM opened its three-years-in-the-making, 11,000 square foot visitor's center last month, with a new gift shop, theater and education center. Go for the Tenement Talks, free discussions with bold-faced authors, historians and politicians -- Calvin Trillin and Eliot Spitzer are coming soon.
12. Brooklyn's Beer Table has the city's quirkiest selection of brews -- and matching tasting notes from owner Justin Phillip: He describes Bayerischer Bahnhof Berliner Weisse as "lemon zest, hazy, delicious dishwater." Now, Manhattanites can get their fix at BEER TABLE PANTRY in Grand Central Station. There are six regional picks on tap, nearly 100 bottles, plus assorted sundries: Loaves from Scratchbread, Rancho Gordo beans and Marmite.
13. Move over, Katz's Deli: Chef Mathieu Palombino's all-American BOWERY DINER looks set to provide stiff competition for the Lower East Side deli bar renowned for its over-sized corn beef sandwiches and "I'll have what she's having." Palombino, whose irreverent pizza pies have made Motorino a neighborhood staple, will take on reubens, milkshakes and hash at his new spot when it opens this month.
14. The West Side Highway has gone cabaret with the opening of WESTWAY, a new club from the people behind the Jane Ballroom and Shine. The windowless space occupies the former Westside Gentleman's Club and stays true to its racy routes with glittery walls, brass stripper poles and Go-Go dancers. And if you're feeling brave you, too, can take to the stage: Patrons -- tattooed artists, Daisy Duke-clad preppies, models -- shake their thangs way into the wee hours.
15. New York's flea market trend just keeps on giving -- now even ritzy Bergdorf Goodman has got in on the game with 5F FLEA, a weekly set-up that peddles vintage Oliver Peoples eyewear, House of Gods band tees and flirty frocks from Tibi. You can even go punk rock and get your jeans studded by the What Goes Around Comes Around team.
16. For one weekend only every Fall it's open sesame on some of New York's most exciting private residences, architectural landmarks and otherwise closed-to-the-public spaces. This year's OPENHOUSENEWYORK tours on October 15 and 16 include behind-the-scenes looks at the third (still undeveloped) section of the High Line, the United Nations and World Trade Center 7.
17. BEECHER'S HANDMADE CHEESE is to fromage what Mario Batali's Eataly, just a few blocks south, is to la dolce vita. The 8,000-square-foot Chelsea space, which comprises a cheese-making factory, retail store and restaurant, makes 15 different varieties in house and sells some 75 American-made artisanal cheeses. Try the washed-rind Flatiron, exclusive to the New York location.
18. Forget the Nutcracker: This fall, BACCHAE, a contemporary dance-driven spin on the classic Greek play by Euripides, makes its world debut at the Joyce. The Chelsea theater also hosts the Suzanne Farrell Ballet this season, and for something more playful, check out the Houston Ballet's performance to the music of Bobby McFerrin and Yo-Yo Ma.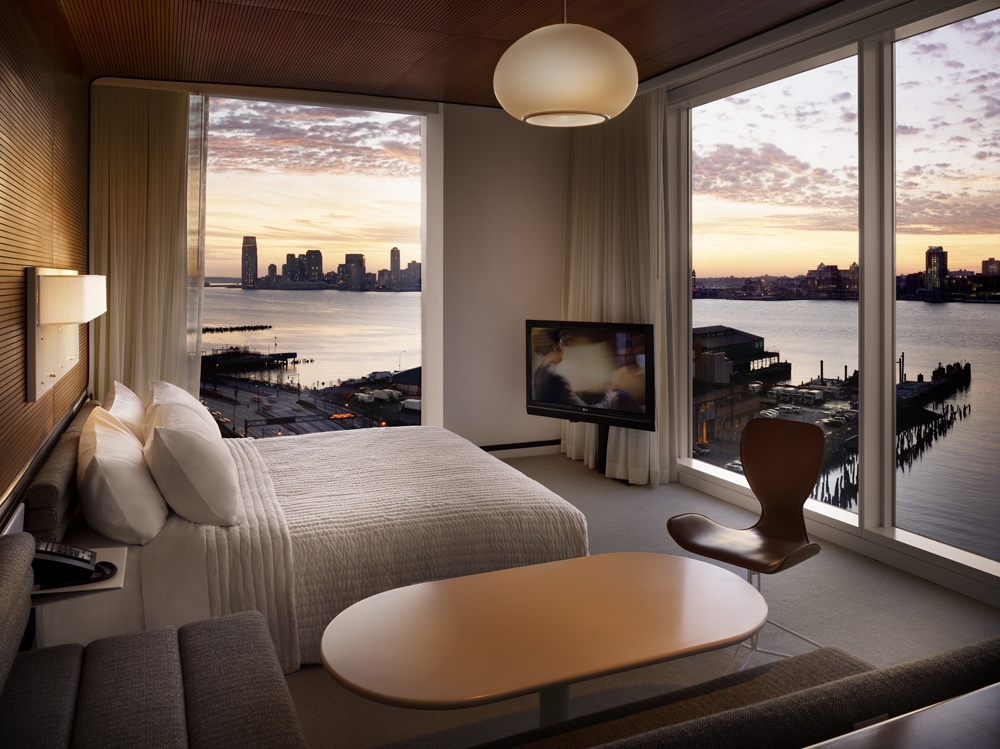 19. The NEW YORK FILM FESTIVAL kicked off last Friday with Roman Polanski's Carnage, about the interaction between two sets of parents who meet over a schoolyard scrap. We can't wait for the centerpiece of the two-week-long fest, the world premiere of My Week with Marilyn, a film within a film chronicling the 1957 movie The Prince and the Showgirl, starring the luminescent Michele Williams on October 9th.
20. It's the city that never sleeps (see above) but if you book one of our hotels you'll at least have a fighting chance. Whether your style is classic or contemporary, subdued or supersized, JETSETTER has something for you.
For more New York City spots - at amazing prices - check out Jetsetter.com.