C & C Catch-Up
Cultural & Charitable Catch-Up
_______________________________
The Jazz Foundation's Loft Party, "A Time To Kill", "12 Years A Slave", The Abbey Theater at Irish Arts, Dr. Eli Wiesel, Nick Brandt's "Across The Ravaged Land" at Hasted Kraeutler, Hedy Klineman's Buddhas at Tibet House, East Berlin at National Arts, The American Indian College Fund at Ramscale, The New York Women's Foundation at Le Cirque, "Haute Cuisine", James Wines receives the Lifetime Achievement Award from President Obama, Village Halloween Parade...
Text and All Photographs © Jill Lynne, October 2013
Perhaps the most ecstatic music experience I've had since Woodstock, occurred this past weekend at the Jazz Foundation's extraordinary Montreux Festival, 22nd Annual "Loft Party"...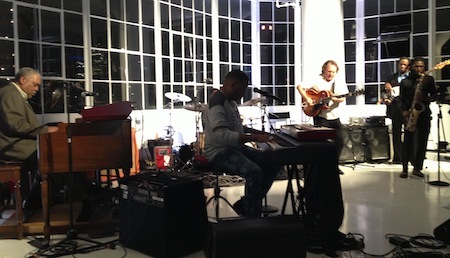 Davell Crawford (keyboard), Thaddus Richard (organ), Brian Seeger (guitar), Mark Brooks (bass) & Joe Dyson (drums)
The amazing talent, Jazz musicians, ole-time Gospel and Blues Singers and young players -- jamming together -- with an impassioned intensity -- had me rocking out of my veritable skin until Midnight.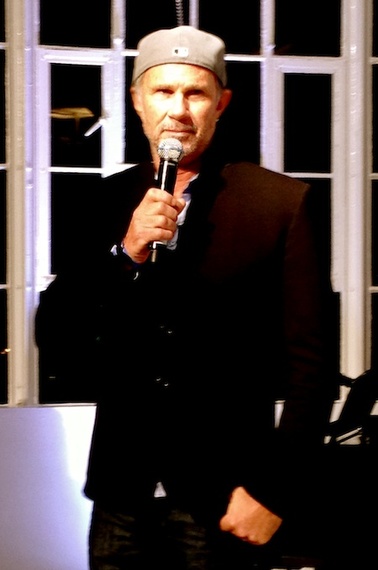 Chad Smith of the Red Hot Chili Peppers
This extraordinary annual Benefit event, sponsored by Parmigiani -- the maker of fine Swiss Time pieces -- was held at the iconic (MPD) Meat Packing District's Starrett-Lehigh Building, 601 W26th street building (spotlighted in a special documentary), and included performances by Bettye Lavette -- The "Great Lady of Soul." Harlem's own Sweet Georgia Brown ("The Last of The Red Hot Mamas"), Manu and The Devil Blues, Shuggie Otis, Geoffrey Menin, Saron Clark, the Kenny Barron Trio, Lizzie and The Makers, Jesse Carolina and The Hot Mess...with appearances by Melvin Van Peeble's, Chad Smith of The Red Hot Chili Peppers...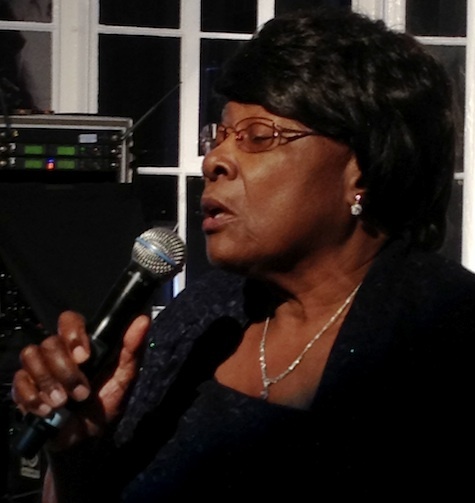 The sonorous sounds of Essie Mae Brooks
Beyond the festivities the Jazz Foundation serves a vital mission.
As the beautiful Wendy Oxenhorn, Director of The Jazz Foundation of America notes, "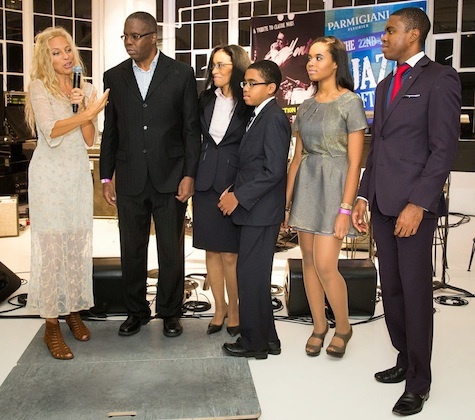 Jazz Foundation President, Wendy Oxenhorn, with Foundation Grant Beneficiaries -- the Conley Family; Terence, Judith, Christopher, Joralyssa & Brandon
"We save the very people who paved the way for Rock 'n Roll, R & B and Hip Hop. The "copy-rights" to use Jazz and blues was not protected, so these songs were appropriated by everyone; from Elvis, and Hendrix through the Rolling Stones. The Jazz Foundation's mission is to be there for those Musicians, keeping them from eviction, homelessness and hunger, developing music programs in schools, providing opportunities for creative work and thus instilling hope and purpose."
Wendy, herself a musician (specializing in the Blues Harmonica) was nicknamed "The Barefoot Baroness' by Quincy Jones for never wearing shoes backstage.
One of the many things I adore about NYC is the seeming randomness with which one encounters art -- fabulous improvised Jazz Bands jamming in Washington Square Park, or "Songs From The Stoop" being recorded by a neighbor, 'round the corner from my WV (West Village) home.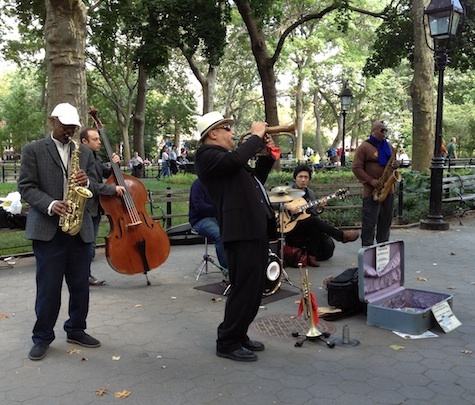 As in the music tradition of this enclave, fab and free, Rasheed & The Jazz Collective Jam in Washington Square Park www.RiffSlinger.com.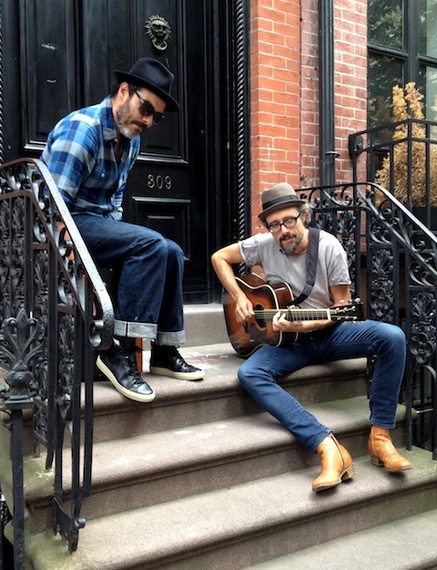 Musician Richard Julian is recorded by a Producer Neighbor is traveling globally developing "Music From The Stoop"
This Autumn Season, I feel beyond blessed dining at the NYC's feast of fabulous Arts.
There is a profound outpouring of Art based on the discourse about America's troubled history of slavery and the ongoing issue of Race. Although undoubtedly progress has been made since the noble efforts of Reverend Martin Luther King and the Civil Rights Movement, our country is still haunted by this shameful past and consequent challenges.
From Dr, Henry Louis Gates Jr. new erudite PBS Series, "The African-Americans: Many rivers To Cross" through "A Time To Kill", the new play at Broadway's Golden Theater. Based on the 1989 best-selling novel by John Grisham -- which in 1996 was also adapted into film -- this courtroom drama is deeply thought-provoking.
The title "A Time To Kill" is taken from "To Everything There Is A Time" in Ecclesiastes, and prophetically reflects the central question of the play.
Set in small-town Mississippi, the story is centered on the horrific rape of a 10-year-old black girl, and the legal and human repercussions. Well-cast, with fine performances by Fred Dalton Thompson, John Douglas Thompson, Sebastian Arcelus, Tom Skerritt, Ashley Williams... adapted by Playwright Rupert Holmes and directed by Ethan McSweeny, this cerebral play is ultimately, hopeful.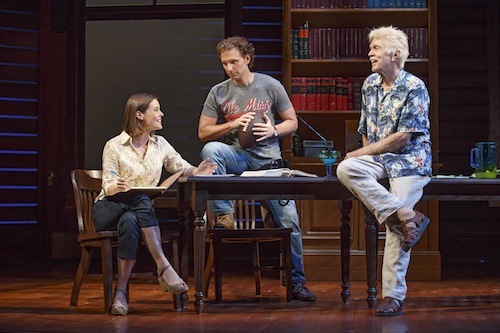 Ashley Williams, Sebastian Arcelus & Tom Skeritt in "A Time To Kill"
(c) Carol Rosegg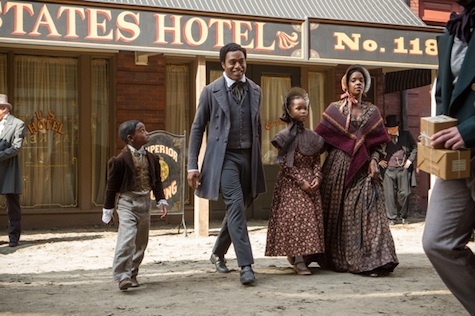 The Prosperous Solomon Northrop (brilliantly enacted by ChiwetalEjiofor) with his Family in Upstate New York
"12 Years, A Slave", the unforgettable new film by Steve McQueen tells the true story of a New York-based successful, free black man -- Solomon Northrup. Abducted and sold into slavery, the film excruciatingly chronicles Solomon's horrific treatment (as well as that of other slaves) in the pre-Civil War South.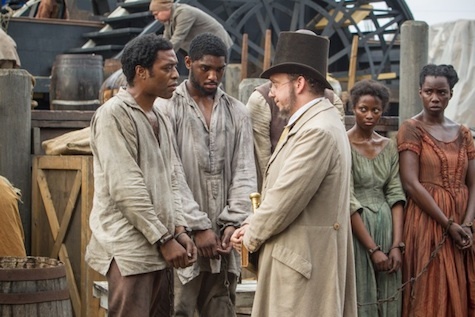 Shackled and Chained Slaves at a Southern Slave Market
The unrelenting brutality is staged in a manner that envelops the audience as terrified witnesses.
"12 Years, A Slave "is an important story, excellently acted by Chiwetal Ejiofor as Solomon, Michael K Williams, Michael Fassbinder... but definitely not for the faint-of-heart.
A serendipitous NYC experience led Moi to meeting a charming Irish visitor who is on the Board of Ireland's historic Abbey Theater. Inspired by ancient theatrical roots, the modern Abbey -- which is considered Ireland's National Theater, -- was founded by the celebrated W.B. Yeats and Lady Gregory in 1904.
Inquiring if she (Catherine Byrne) might watch my pooch -- HRH Prince Shadow-Fluffer-Nutter-Woofer-Snapper -- while I dashed into The Integral Yoga Health Food Store ... Voila! Yours truly is invited to the opening of The Abbey at the Irish Arts Center Theater -- which I know through Georganne Aldrich Heller, President of Irish Theater and Film Production -- who also sits on their Board.

Aiden Connolly, Director Irish Arts Center, Flach Mac Conghail, Director, The Abbey Theater, Eamon Morrissey, Writer & Performer "Maeve's House", Anne Morissey (wife of Eamon) and Ambassador Noel Kilkenny, Consul General of Ireland -- all enjoying the beautiful viewsfrom the Consul's balcony, at the celebratory after-party,
The impressive premiere of "Maeve's House" written and performed by the 80 year-old Eamon Morrissey, is the story of Maeve Brennan (1917 - 1998), Emigrating from Ireland to Washington, and then New York, Maeve grew to be an important writer of short stories and a memorable contributor to the New Yorker. Curiously both she, and later Eamon both were brought up in the very same Dublin house.
Our world is oh-so-interconnected!
At Chelsea's Hasted Kraeutler Gallery, "Across The Ravaged Land" showcases Photographer Nick Brandt dynamic, large Black and White images. Offering a portal into the destruction of East Africa's wildlife. Brandt's wonderful animal portraits are shadowed by disturbing visuals -- of disfigured elephants -- whose tusks have been amputated for ivory commerce, and the "Trophy" heads of Lions and Buffalos. The exhibition is compelling, a plea for the humane treatment of all animals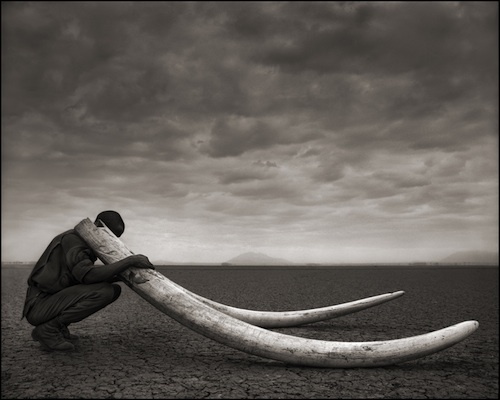 Ranger with Tusks of Killed Elephant, Amboseli 2011; © Nick Brandt 2013.
Admirably, Nick Brandt has developed a Foundation aspiring to counter these ravages -- The Big Life Foundation.
Operating on the ground, collaborating closely with local communities, a partner to NGOs, national parks and government agencies, Big Life Foundation seeks to protect and sustain East Africa's wild lands and wildlife, including one of the greatest populations of elephants left in East Africa...

Big Life is the only organization in East Africa coordinating anti-poaching teams on both sides of the Kenya-Tanzania border, recognizing that sustainable conservation can only be achieved through a community-based collaborative approach.
For additional information and to contribute, please go to:
https://biglife.org/about-big-life/our-mission.
Artist Hedy Klineman has opened a beautiful exhibit "Buddhas in the Garden" at the Tibet House Museum (22 West 15th street). Klineman's mixed-media, colorful paintings are infused with upbeat spiritual imagery. A portion of the proceeds is being donated to the inspirational work of Tibet House.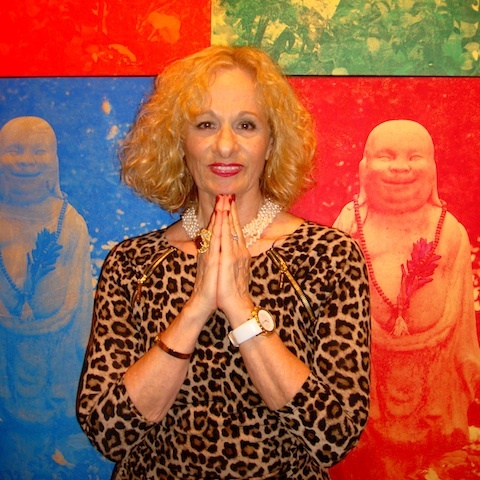 Artist Hedi Klineman with her Painting from "Buddhas In The Garden"
To learn more about the exhibition, and donate to Tibet House, please visit:
www.TibetHouse.US
An exhibition of Visual Artists from East Berlin "East Berlin; Film, Fashion Fotography", at Gramercy Park's National Arts Club, brings a burst of vital fresh energy. An opening highlight was the live interaction -- via new tech -- of an East Berlin-based Punk Band with the enthralled New York audience.
Some have suggested that Berlin may be the new epicenter for the Arts.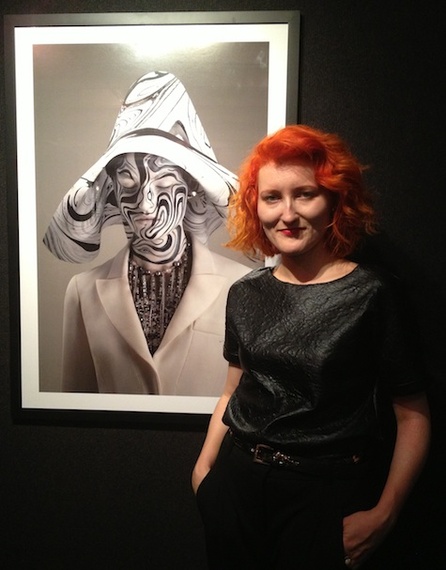 East Berlin Artist with dynamic Art-Photography at The National Arts Club
Recently The American Indian College Fund celebrated its strategic work at a Fundraising Luncheon at Westbeth's Ramscale.
Presided over by Gail Bruce (the Co-Founder) and her Producer husband, Murray Bruce, the event highlighted the need for ongoing support for the education of Native Americans -- particularly on reservations.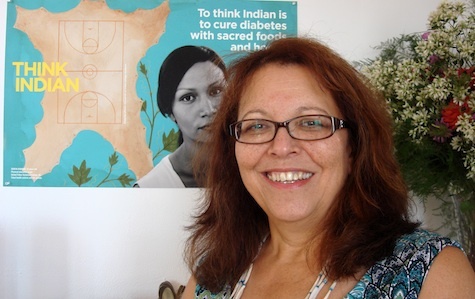 The new Director of The American Indian College Fund, Cheryl Crazy Bull, at the Ramscale Benefit Luncheon
The American Indian College Fund traces its roots to the civil rights and American Indian self-determination movements of the 1960s, when tribal leaders took control of higher education in order to reverse centuries of misguided and failed federal education.
In 1989, tribal college presidents recognized the need to establish an organization raising private-sector funds for these colleges and scholarships for their students complementing the efforts of the American Indian Higher Education Consortium. The American Indian College Fund was established in 1989 in New York City.
To learn more and donate, please visit:
http://www.collegefund.org
This past week we attended a lovely Luncheon at Le Cirque for The New York Women's Foundation. Hosted by Board Member, the stylish Jean Shafiroff, with presentations by Board Member (and Mayor Bloomberg's Significant Other) Diana L. Taylor and CNBC's Melissa Lee, the Event honored Fashion Designer Carolina Herrera.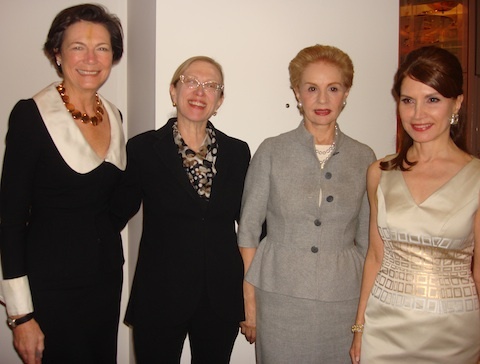 At Le Cirque's New York Women's Foundation Luncheon; Board member Diana L. Taylor, Curator Valerie Steele (MFIT: The Museum at the Fashion Institute of Technology), Honoree Fashion Designer Carolina Herrera and Hostess Jean Shafiroff
The New York Women's Foundation® is a cross-cultural alliance of women, a voice and a force for change. The Foundation identifies and funds innovative organizations and programs that are change agents -- empowering women, girls and families toward long-term economic security, individual transformation, and systemic change. NYWF mobilizes leaders and community partners as philanthropists.
For additional information and to donate, please visit:
www.nywf.org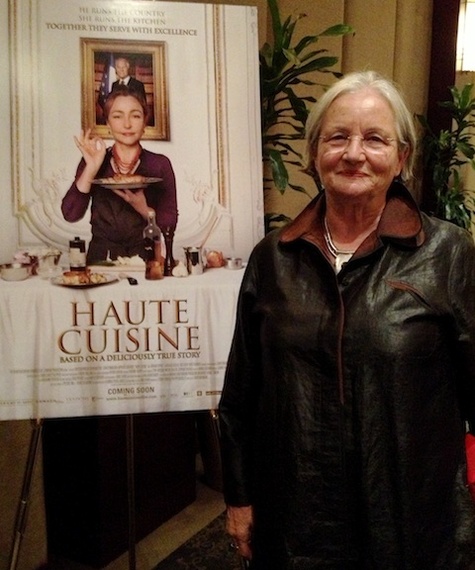 "Haute Cuisine" Film Poster with the extraordinary French Chef featured in the documentary-style narrative.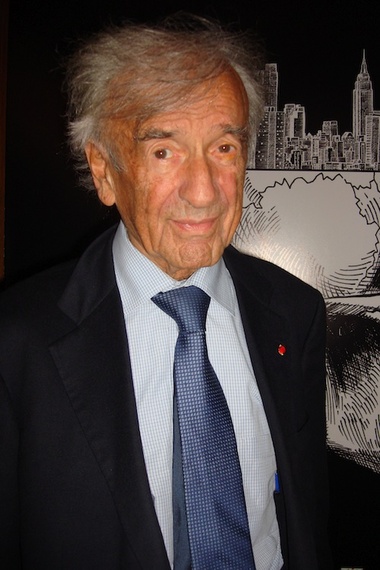 The Inspiring Nobel Peace Prize Recipient, Dr. Eli Weisel, at the recent Book Launch of his friend Dr. Michael Alexiadas, at the Griffis Club
Finally...
Congratulations to our friend, the Artist, Architect and Designer, James Wines for being honored by President Obama with the well-deserved 2013 Hewitt National Lifetime Achievement Award in Design.
Wines, the Founder of SITE -- is considered a forefather of Environmental Design and Sustainable Communities. He has lectured in over fifty-two countries on "green" topics, published over 22 books, monographs and museum catalogues.
James Wines illustrious career has resulted in the design of sustainable buildings, community spaces environmental art works, public spaces and interiors -- worldwide.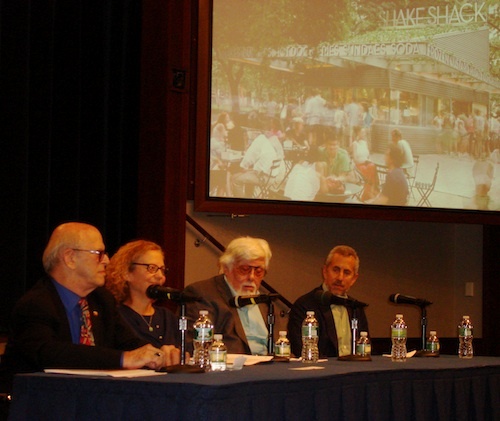 Lifetime Achievement Award-Winning Designer/Architect James Wiese (of SITE), on a recent Archtober Panel, with Debbie Landau, President of Madison Park Square Conservancy, Restaurateur Danny Meyer...sit below his prototypical design of Shake Shack
James Wines and I first met -- over a decade ago -- when I -- a life-long "Greenie" -- was curating an Exhibition of "Sustainable Design" for Felissimo, the first upscale Environmental Boutique, in NYC.
Happy Halloween!
I remember back to the very first Village Halloween Parade in 1974. Organized by Artist and Set Designer Ralph Lee in association with the Theater for The New City, there were but a small number of us Villagers who assembled in the Courtyard of Westbeth.
The idea was to create a mile-long theatrical event of masked performers, giant puppets and musicians that moved through the streets, and to populate elements of the environment along the way with additional flamboyant characters. Through other theatrical productions, Lee had accumulated over 100 masks and giant puppets, all of which were put to service in the first parade.
It was extraordinary!
As we paraded through the winding streets, there was the sensibility of a thoroughly participatory medieval pageant.
Today the tradition continues, although more as a spectator event.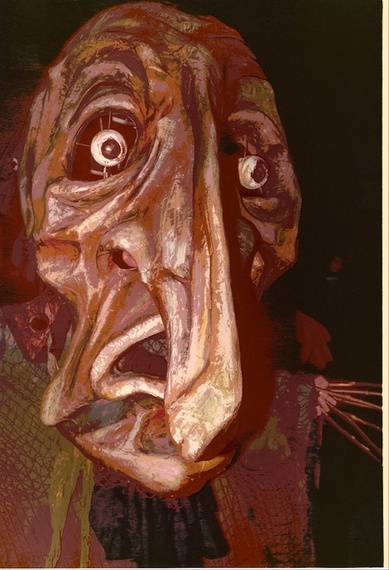 A Towering Figure is Carried in The First Village Halloween Parade, 1974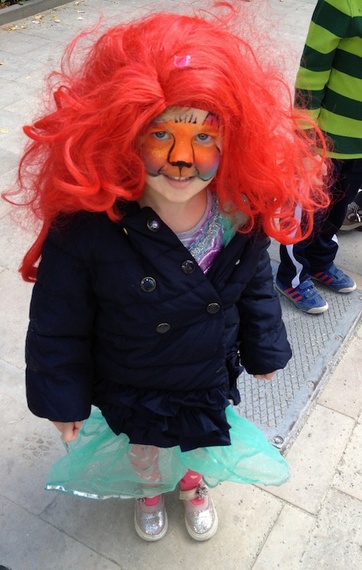 Annual 2013 Children's Halloween Celebration at Bleecker Street Playground
For additional information & to Donate please visit:
www.BleeckerPlayground.org
All Photographs (c) Jill Lynne, October 2013
All Photographs may be Purchased from:
JillLynne1@mac.com
www.JillLynne.com