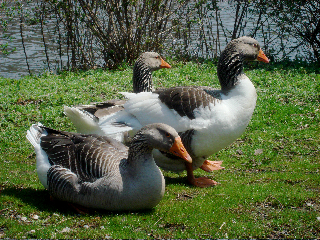 Southampton ducks enjoying the inclement weather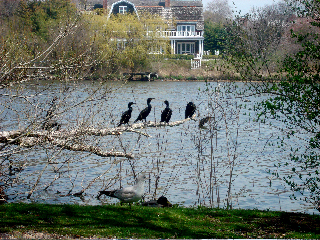 Blackbirds guarding a Southampton home
Settled in 1640, one of the world's favorite international warm-weather playgrounds, the very special town of Southampton, is gearing up for its super busy summer season. Known for the beautiful ocean beaches with wonderful dune vistas, charming restaurants and boutiques, art galleries and its fabulously chic, star-studded busy social season, I recently visited to catch up on all (well...some). The weekend also featured several torrential "days for the ducks"...
I stayed at the idyllic Southampton Inn (91 Hill Street / 800.832.6500) -- so conveniently located at the edge of town -- a location from which you can walk just about anywhere. It was Easter, and the Inn's 90 Rooms -- despite gloomy weather -- were filled to capacity with globetrotting families, a film crew and Manhattanites desiring a hideaway respite.
Everything was charming and impeccably clean. Sleeping on those new oh-so-purrr-fect Tempur-Pedic mattresses and the gentle quiet of the place ensured sweet dreams. Easter Brunch, held at the inn's in-house restaurant, "OSO", with fresh individually prepared omelets, gravlax and freshly baked muffins, was delicious. Morning Continental Breakfast, served in front of the fireplace, was friendly and fun with an opportunity to chat with other guests.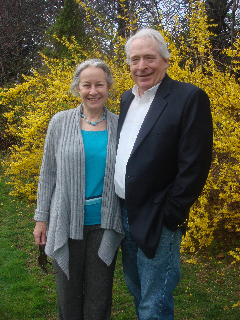 Southampton Inn's gracious proprietors -- Dede Gotthelf and Terence Moan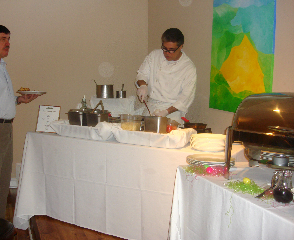 Easter brunch personalized omelet-making
Unfortunately, the weather was still too cool for a dip in the large turquoise pool. However, we did enjoy basking in a few stray rays on the colorful classic Adirondack chairs dotting the large lawn.
The delightful and gracious proprietors, the husband-and-wife team of Dede Gotthelf (GM) and partner, lawyer and developer, Terence Moan, preside over everything with cheer and a savvy, watchful eye.
While there I was treated to two gastronomic pleasures -- the first at the restaurant/lounge, 75 Main (but of course, located at 75 Main Street), and the second at The Plaza Café, directly across the street from the inn.
75 Main was not only delicious, but so much fun. The rectangular bar soon filled with couples and singles enjoying each other. We savored the flavorful herb-crusted tilapia and sesame-crusted tuna. Then joined in with friend as the lively crowd boogied to the super sounds of "The 70s Dance Band". The owner, Zach Erdem, arrived, as a young man, to the USA with but a few dollars and a bigger dream. Voila!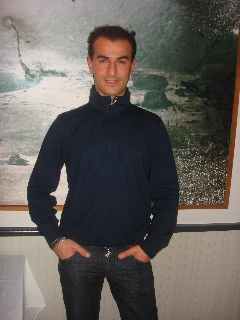 Owner Zach Erdem, 75 Main restaurant/lounge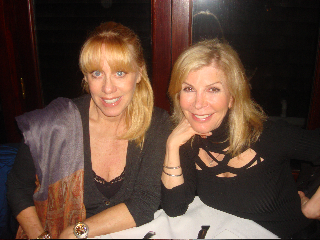 Designer Regina Kravitz and cineophile Caroline Lieberman
At The Plaza Café, I feasted on one of the most unique and memorable dishes -- Chef Douglas Gulija's seafood shepherd's pie -- succulent rich in flavor and overflowing with large lobster sections and shrimps -- two of my most fav foods.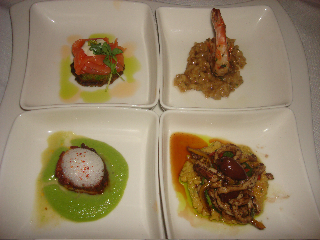 Delectable appetizers at The Park Cafe
We visited the Jobs Lane fine jewelry boutique of my namesake "Jill Lynn". In fact, when she first opened her boutique I received many an email asking why I had not invited a disgruntled associate to "my" opening. Here we viewed a peaceful scene -- Jill's mother watching her children while she crafted her special jewelry -- much of which is custom-designed. I particularly loved the "Best Friend" canine collection -- through which she generously supports one of my favored charities -- ARF -- the Animal Rescue Fund.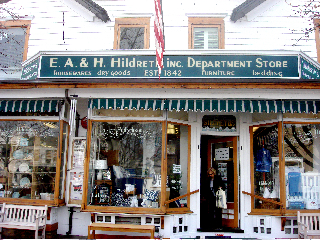 Hidreth's 1842 historic Main Street department store -- now featuring updated chic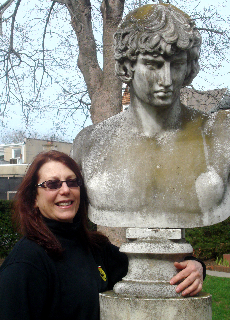 Lorie Meg Karlin, owner Managed Capitol Brokerage, in Parish Art Museum garden
In fact -- as in Palm Beach, where many of the posh Hamptonites winter -- Southampton has traditionally been, and promises to be, one of those special locales where much of the money is raised for important charities. These yearly events bring out old and new wealth -- depending on the cause -- from Southampton Hospital through Lydia's Angels, beginning as a small donated-handbag benefit to honor a young friend, a premature victim of cancer.
In nearby bustling Sag Harbor, we visited then newly-opened inspiringly love-ly Bay Street Urban Zen shop. Created by designer -- and leader -- Donna Karan to showcase not only her magical fashion and home furnishings, but also wonderful global objet d'art.
Gabby Karan at mom Donna Karan's Urban Zen shop in Sag Harbor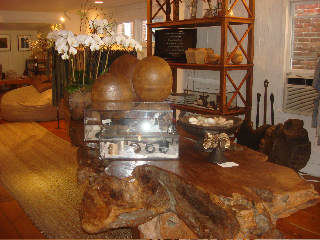 Objet d'Arte in Urban Zen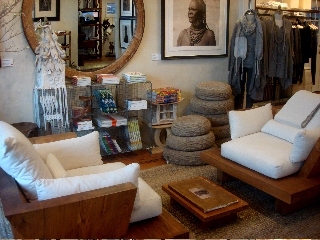 Home furnishing at Urban Zen
Karan's Urban Zen Center in NYC's West Village supports a program of spiritually-infused activities and world-betterment events.
Fortunately Gabby Karan (Donna's daughter) was there to showcase her new, adjacent, light-infused restaurant -- Tutto Il Giorno -- soon to also open at 56 Nugent in Southampton.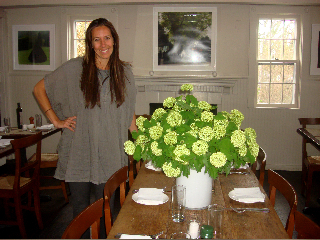 Gabby's adjacent new restaurant, Tutto Il Giorno (also soon to open in Southampton)
Much of the most special social life occurs beyond the high hedges in the mansions of the rich and famous, and also in the charming shake-shingled second homes of New Yorkers. And so I visited the wonderful home of dear friends Isabel and Jack Biderman. Colombian-born Isabel Barnard-Biderman is a renowned Latin American art dealer, while Jack is credited as being one of the pioneers of the fabric rayon. Jack is also known for his food alchemy, splendid super quick meals and lengthy multi-course sumptuous dinner parties, soon to be shared in his forthcoming book Cooking For Isabellita.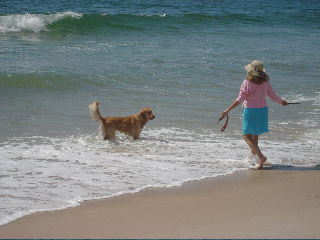 Isabella Barnard-Biderman playing on Southampton beach with dog Neruda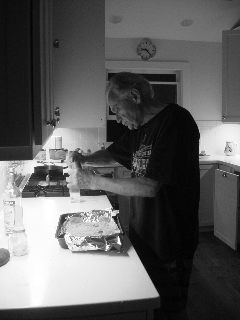 Jack Biderman, author of forthcoming book, Cooking For Isabelitta, cooking at home
We also visited the Southampton famous Parrish Museum of Art, with its outdoor colonnade of classical sculptural busts, the Rogers Memorial Library housed in a large, classic Southampton town house, and the charming historical home/museum of Thomas Halsey. Built in 1648, it is the oldest house in the village of Southampton.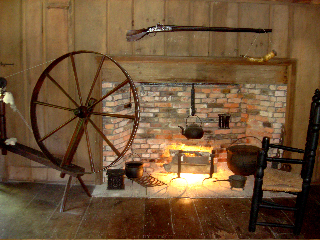 Spinning wheel and kitchen cooking fireplace in 1648 museum/home of Thomas Halsey
With memories of past Southampton summers' fun, I bid a fond, if a reluctant farewell, and promised a white seagull I would return ASAP.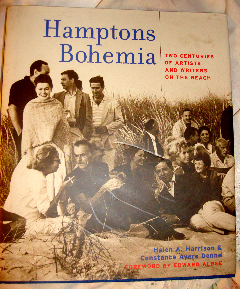 The Bohemian artist's long historical tradition in the Hamptons
For a calendar of upcoming events and activities visit The Southampton Chamber Of Commerce. at 76 Main Street -- 631.283.0402 -- SouthamptonChamber.com.
Visit www.JillLynne.com / email JillLynne1@MAC.com
Text & Photos Jill Lynne, May 9, 2011
SUBSCRIBE TO & FOLLOW LIFESTYLE
We're basically your best friend… with better taste. Learn more