In The Matrix, Martin Place in Sydney's CBD is a boundary between different realities, like the rift in space and time that runs through Cardiff in Torchwood, and the wardrobe that's the gateway to Narnia. It's where Morpheus takes Neo to show him the illusions the machines are feeding the human race.
But Martin Place also breaks down the illusions in actual Australian life. Mark Twain, when he visited Sydney, said Australian history reads like 'beautiful lies.' One of the most enduring lies was that when the first Europeans came to Australia in the late 1700's, they found an empty country. It's since been revealed that the indigenous Australians, who had been here for around 60,000 years, had a remarkable nomadic civilization and one of the earliest and most complex spiritual systems. When the recently deposed Australian Prime Minister, Kevin Rudd, took office in 2007 he made a symbolic gesture of apology to indigenous Australians for the injustices they'd suffered, and his speech in Parliament was shown on a large screen in Martin Place.

The rock band Mental As Anything's humorous songs reveal the melancholy and anxiety at the heart of the easy going nature of Australia's people. Their singer, Martin Murphy, took the stage name Martin Plaza. (Martin Place was briefly renamed Martin Plaza in the 1970's).
When Charles Darwin visited Australia in 1836 he took a trip to the Blue Mountains, outside of Sydney where an encounter with a platypus started him formulating his theory of evolution. It was adapted to its environment in ways similar to the European water rat but was an entirely different species. Why would God create two different species that fulfilled the same purpose, Darwin wondered? While he was in Sydney he sent letters and papers home to England from the General Post Office in Martin Place. He would have walked past the place where the phone box from which Neo makes his final speech in The Matrix would be located. And he could have made the same speech as Neo:
"I don't know the future. I didn't come here to tell you how this is going to end. I came here to tell you how it's going to begin. I'm going to hang up this phone and show these people what you don't want them to see. I'm going to show them a world without you. A world without rules and controls. Without borders or boundaries. A world where anything is possible."
Adjacent to Martin Place is the Mitchell Library whose collection includes papers, artworks and artifacts from the European explorers and early settlers. Many of them were bamboozled by the strangeness of Australia's flora and fauna. William Govett, surveying the Blue Mountains at around the time Charles Darwin was there, sketched a koala that looks part chimpanzee and part small European brown bear. When the Natural History Museum in London displayed a drawing made of a kangaroo by a naturalist who was part of Joseph Banks's team on Captain Cook's Endeavour in 1770, the curator said: "
Although you can recognise the drawing is a kangaroo it is not very accurate. He's trying as an artist to make sense of the beast. Something like a kangaroo is an extremely weird creature if you're used to European wildlife."
Joseph Banks likened the kangaroo to a greyhound.
"In gathering plants today, I myself had the good fortune to see the beast so much talked of, tho but imperfectly; he was only like a greyhound in size and running, but had a long tail, as long as any greyhounds; what to liken him to I could not tell, nothing certainly that I have seen at all resembles him," he recorded in his Endeavour Journal.
There must be two or three souvenir stores on every city block in Sydney's CBD and many of them display bizarre representations of Australian fauna that could have been conceived by confused explorers or conceptual artists. There are Swarovski-like crystal koalas playing violins and saxophones. Jeff Koons-like ceramic salt-and-pepper shaker kangaroos and koalas. Nordic-inspired blonde wood koalas and wombats that resemble polar bears. And creepy feline kangaroos and koalas that have yellow cats eyes and seem to be made from the pelts of cats. But in the last year there have been exhibitions of remarkable artworks by contemporary artists who accurately portray Australian animals and also comment on the way they're perceived in commerce and society.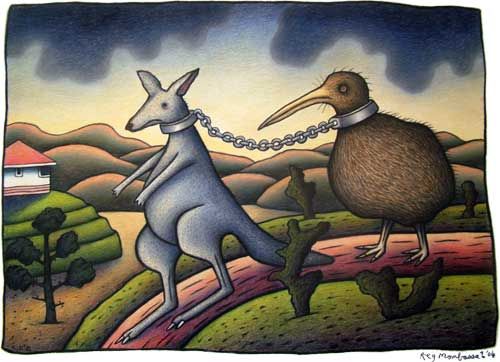 Metaphysical Proximity. (2004) by Chris O'Doherty aka Reg Mombassa. Courtesy Watters Gallery
I can imagine a curator in a couple of hundred years going through the Mitchell Library's collection and pulling together the animal portraits of the artist Chris O'Doherty aka Reg Mombassa. He's both a musician and an artist. He was a member of Mental as Anything and now has a band called Dog Trumpet. He's become our Homer, the person everyone goes to when they need a myth. He makes regular paintings and art that's used on shirts by the surfwear company Mambo, huge inflatable animals for the closing ceremony of the Sydney Olympics, protest posters for community groups, and the cover of the Australia Day issues of newspapers in Melbourne and Sydney. He's created an Australian Jesus who is mild, and a little nervous and just wants to be liked, and whose disciples are indigenous animals. He's drawn kangaroos and koalas passed out drunk beneath a beer tree and a mythical sporting hero, the kangarewe, who is part kiwi, kangaroo and sheep, wearing a woolly jumper and holding a football.
The European settlers wanted to make Australia into a version of Europe, bringing in sheep and cattle and establishing grazing lands, and importing rabbits and foxes. In his book Future Eaters, the palaeontologist and biologist Tim Flannery writes of the growing realisation of the unique way nature works in Australia.
"For biologists are finally understanding that evolution in Australia is not driven solely by nature 'red in tooth and claw'. Here, a more gentle force -- that of coadaptation -- is important. This is because harsh conditions force individuals to cooperate to minimise the loss of nutrients, and to keep them cycling through the ecosystem as rapidly as possible. Thus, entire ecosystems have evolved in Australia that, when untampered with, recycle energy and nutrients in the most extraordinarily efficient ways. Aboriginal people have long understood this and have shaped their culture accordingly."
And we have a growing understanding of the extraordinary qualities of the some of the Australian animals: the koala's having an efficient use of energy through evolving a small brain. Of the kangaroo, Tim Flannery wrote:
"So breathtakingly different is the kangaroo that if it did not exist we'd be unable to imagine it: hopping being as marked a departure from running as the orbital engine is from piston and crankshaft, and every bit as efficient."
But we are starting to truly understand and appreciate Australian animals as they're coming under threat. There's a room at Sydney's natural history museum, the Australian Museum, that's both a memorial and a cautionary tale. It shows how habitats are being threatened by clearing and indigenous animals are being overwhelmed by invasive introduced species like the canetoad. When plush Australian animal toys are sold at souvenir stores they often have a prominent "Made in Australia" label that's a line drawing of a kangaroo. The display at the Australian Museum shows that many of the swing tags could also carry the words "endangered", "threatened" and "vulnerable". There's a heartbreaking black and white film of a Tasmanian Tiger (Thylacine), taken in a zoo in the 1930's when the last one died. There's not even a taxidermy of a Thylacine at the Australian Museum. The synthetic fur on the model Thylacine's nose is worn thin from people touching it, in the way that Cary Grant's footprints are worn nearly smooth outside of Grauman's Chinese Theater in Hollywood from people standing in them.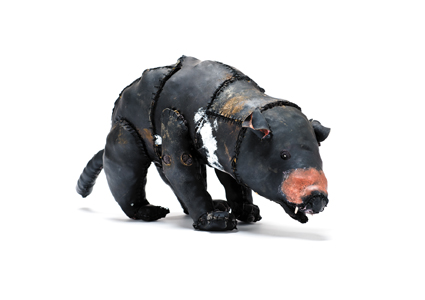 Tasmanian Devil by Vicki West. Photograph Australian Museum.
Last year the Australian Museum and the Object Gallery staged an exhibition called Menagerie of Contemporary Sculptures of Australian Animals by Aboriginal and Torres Strait Islander Artists. Many of the artists used traditional materials and styles, but they were also powerful pieces of contemporary art. Tasmanian artist Vicki West's sculpture of a Tasmanian Devil was especially effecting because we're watching it slip from our grasp, threatened by facial tumors that are spread because they bite one another. The Tasmanian Devil has been misrepresented in Warner Brothers cartoons, and it's rarely seen in souvenir stores because it resists being made cute and fluffy. But Vicki West's sculpture captures the charm and great character of the Tasmanian Devil.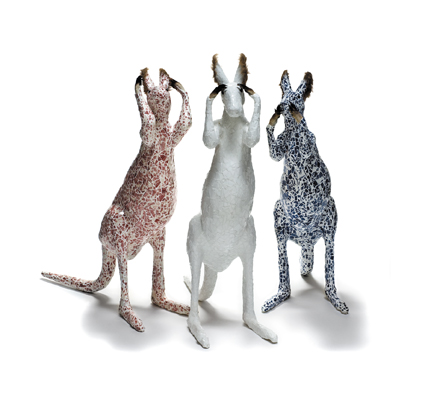 Danie Mellor. Photograph Australian Museum
Many of Australia's European settlers brought with them plates and vases decorated with figures from Greek and Roman mythology made by the company of Charles Darwin's grandfather, Josiah Wedgewood. The Mitchell Library collection contains medallions Josiah Wedgewood fired from clay taken from Sydney back to England. Some of Danie Mellor's refined and exquisitely beautiful artworks are a counterpoint to these Wedgewood pieces. On plates he's represented Australian animals with the classical grace of mythological creatures. The kangaroo is Australia's national animal.
"Large kangaroos are today so commonplace that most Australians have long ceased to wonder at them," Tim Flannery wrote. "Some even regard them as pests. Yet they are, in my opinion, the most remarkable animals that ever lived, and the truest expression of my country -- not because they appear on everything from the coat of arms to the national airline, but because they have been made by Australia."
Danie Mellor's sculpture of three wise kangaroos -- who see no evil, speak no evil, and hear no evil -- in the Menagerie show, seem as if they could have been decorated with shards of smashed Wedgewood plates, uniting contemporary, classical, indigenous, and European mythologies.
SUBSCRIBE TO & FOLLOW CULTURE SHIFT
Every Friday, HuffPost's Culture Shift newsletter helps you figure out which books you should read, art you should check out, movies you should watch and music should listen to. Learn more