The opening of a branch of Reverse Garbage in Taylor Square in Sydney's inner eastern suburbs is evidence of what mathematicians describe as a chaotic system becoming ordered. Reverse Garbage was founded in 1975 in the suburb of Marrickville and passes on materials -- rolls of paper, tiles, carpet squares, art supplies, fabrics -- that people can re-use. They took an early lead in recycling and reusing computer equipment. Any materials and parts that can't be put back into working machines are turned into art supplies: In their Flickr set is snappy circuit board jewellery. But the store in Taylor Square, which opened two weeks ago, in a building that will eventually be the hub for a new bicycle sharing system and set of bike paths that are being constructed by the City of Sydney, anchors the increasingly popular concept of re-use in Sydney's culture.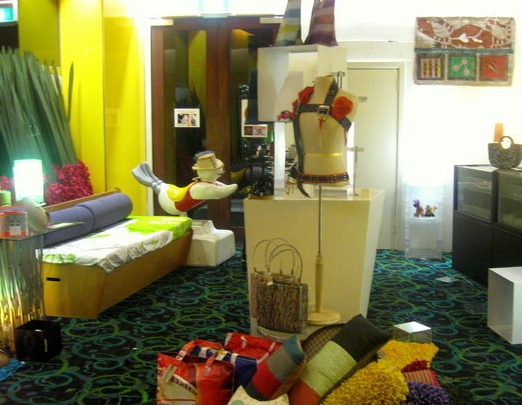 Reverse Garbage in Taylor Square, Sydney. Photo by Reverse Garbage
In March Reverse Garbage tweeted about people visiting the Marrickville store for supplies to make costumes for the Gay and Lesbian Mardi Gras parade which runs along Oxford Street past Taylor Square. The City of Sydney's public library branch in Kings Cross had a display of Mardi Gras costumes from previous years. The exuberance and extravagant detail of the costumes reminded me of an exhibition of 18th century clothing I'd seen at the Fashion Institute of Technology gallery in New York that had been curated by Harold Koda, currently with the costume institute at the Metropolitan Museum and the late Richard Martin. I wandered around the exhibition with Richard one day while he described the puns and symbolism in the clothing, and it was possible to see a similarly witty symbolic language in the Mardi Gras costumes on stands on top of the bookshelves in the library. From a distance they looked dazzling and opulent and up close many of the fabrics and materials proved to be ordinary.

The atmosphere at the Reverse Garbage store in Taylor Square is goofy and tending towards art. There was a metallic humanoid figure that reminded me of an Anthony Gormley sculpture. I bought an issue of National Geographic from 1976 with an article about Joseph Banks's voyage to Australia with Captain cook in the 1770's. It seems an unbreakable rule that any great thrift or recycling store will have a plentiful supply of National Geographics. I can imagine the earth being destroyed and all that will survive will be cockroaches, jars of the Australian breakfast spread vegemite, and tidy piles of National Geographics.
The neighbourhood is in flux. There are still some gay bars and bookstores but many storefronts are shuttered. One of two independent cinemas has just closed. There's a prominent art school and many artists, musicians, designers and writers live in the area. At each end of Oxford Street there's a beacon of fresh life and new worlds. At the city end there's a three year old music venue, the Oxford Art Factory, that was inspired by Andy Warhol's "Factory." It stages music from all genres and readings by authors. I recently saw Dirty Three guitarist Mick Turner performing with Laughing Clowns drummer Jeffrey Wegener. Mick's animated artworks and road movies were screening while they played, and he was selling metal boxes of art cards with a CD.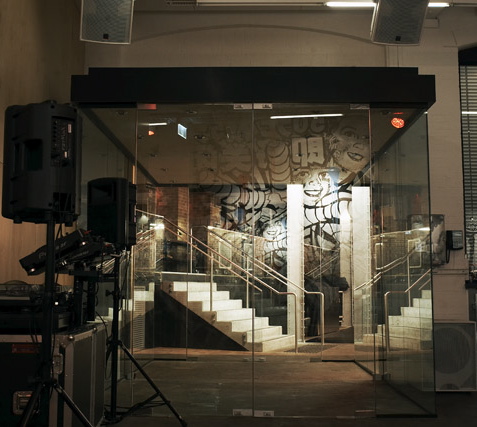 Oxford Art Factory. Photo by Oxford Art Factory.
At the other end, where Oxford Street joins with roads leading to the beach, there's a bookstore called Ariel. As old media businesses -- cinemas, record stores and bookstores -- close, neighbourhoods lose texture. Tom Waits once said: "What I do is kind of abstract. I break a lot of eggs. And I leave the shell in there. Texture is everything." The Twitter timeline contains a rich vein of new life in the arts but what does that mean to a city when that life isn't immediately visible on the surface? I find that I increasingly use Ariel as a substitute for reading the arts editions of the weekend newspapers. There's no texture in them, they increasingly seem like marketing guides, with the music reviews shrinking in size and concluding with human versions of Amazon's collaborative filtering algorithm that suggests new purchases. If you liked this record, the Sydney Morning Herald's reviews say, you might also like these. At Ariel I see posters for new theatre productions and books tied to shows. I always discover something unusual or odd when browsing, like the fact that the acronym H.A.L, for the computer in 2001: A Space Odyssey, is made up of the letters that precede I.B.M. In the alphabet, and that a sound recording technology, the phonautograph, has been discovered that predates Edison's by two decades.
And Ariel makes books seem like the most interesting objects imaginable. Some of the stock is a commentary on the continuing relevance of books themselves. Ariel stocks a range of the more experimental bindings published by McSweeneys. The San Francisco newspaper, Panorama, McSweeneys published is on the shelves among the books. One weekend several issues of the New York publication Visionaire that radically re-invents the form of the book, were open on the table where folio editions are placed for easy browsing. There was the collection of Visionaire pop-up books and the vinyl picture discs with the battery operated car / phonograph needle. And a few months ago DJ Spooky signed copies of his personal history of sampling, Rhythm Science, which has a CD with it, and a hole punched through the centre of the book like a vinyl album. It was part of a series of books Peter Lunenfeld commissioned for the MIT Press. Peter is now with UCLA but at Art Centre in Pasadena in the early 1990's he hosted the Southern California New Media Working group where pioneering digital artists came together to demo their work. He considers books "theoretical fetish objects".

Rhythm Science by DJ Spooky
I discovered the book Requiem for a Species by Australian author Clive Hamilton at Ariel.
"In the face of the evidence of climate disruption, clinging to hopefulness becomes a means of forestalling the truth," he writes. "Sooner or later we must respond and that means allowing ourselves to enter a phase of desolation and hopelessness, in short, to grieve. Climate disruption will require that we change not only how we live but how we conceive of our selves; to recognise and confront a gap between our inner lives - including our habits and supposition about how the world will evolve - and the sharply divergent reality that climate science now presents to us."
There was a climate change exhibition at the natural history museum, the Australian Museum last year. One of the wall panels said:
"Try doing something instead of buying things, as services are nearly always lower in emissions than goods. Going to a concert is better than buying a CD, and a trip to the Museum doesn't produce as much greenhouse gas."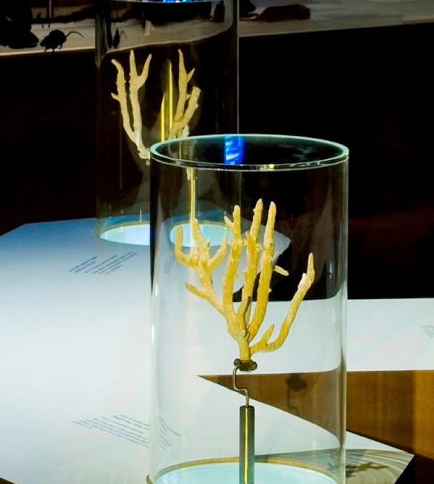 Climate Change Exhibition Photo by Carl Bento / Australian Museum The Sydney Theatre Company is re-thinking the way that performances are staged and the company operates. It's installing solar panels and rainwater capture systems, tracking the way materials are used to reduce waste, including set design and the amount of energy used during performances, and bringing the discussion about the environment directly into the programme in a crisply intelligent and natural way. On August 23rd the palaeontologist and biologist Tim Flannery will be speaking. He's become our sentinel on climate change and his book The Weather Makers sounds alarms but also offers practical solutions. A few days ago I picked up a Sydney Theatre Company brochure at Ariel. It mentioned a screening of a documentary called The Future Makers, directed by Maryella Hatfield.
"The Future Makers tells the story of eminent scientists in Australia who are leading the way on the world stage in renewable energy. Some are designing a future based on models in nature. Others are creating a sustainable energy model for a 21st Century economy."
Marcus Westbury created a project called ReNew Newcastle. The commercial centre of the industrial city outside of Sydney had fallen on hard times. He worked with local real estate agents to rewrite contracts, making vacant buildings available on affordable short rolling leases, to artists, designers and craftspeople. The premises were painted and wi-fi made available. He has a weekly column in the Melbourne newspaper The Age, where he thinks out loud about how to find a common ground between old, fixed systems and new life. He talks about how emerging artforms like video games and street art can find a place alongside what he calls the "heritage arts" opera and symphonies. He points out that funding methods need to change. In Australia the funding is from the 1970's, he wrote in The Age this week.

"It's time to think beyond the funding paradigm, to ensure the tax system, intellectual property laws, social security regulations, compliance costs in the built environment and other policy areas take into account the realities of contemporary cultural production. Australia needs to ensure that contemporary Australian culture is prioritised, funded and resourced at least as well as heritage arts, and that its policy priorities are elevated to at least the same level."
He observes that new artists may be entrepreneurial, selling their works through Etsy to people all around the world, perhaps while working part-time in a profession unrelated to their art. He presents the city itself as the most important material to be reused, and thinks out loud about how city planning and safety regulations might be rewritten to allow more flexibility to allow consideration of individual cases. When turbulent change is happening the debates are heated. He sees this as valuable dynamism, proof of the life of the city, and that what needs to happen is that a practical compromise can be found between the aims and requirements of people with wildly different viewpoints that respects tradition but can allow for disruptive innovation.
SUBSCRIBE TO & FOLLOW CULTURE SHIFT
Every Friday, HuffPost's Culture Shift newsletter helps you figure out which books you should read, art you should check out, movies you should watch and music should listen to. Learn more