When President George W. Bush left office, only 22% of the country's citizens approved of his leadership. President Obama enjoys an approval rating of 50%, a respectable number. In Iran, Venezuela, and China, press have reported on approval polls of the leadership.
So when an independent poll conducted in Morocco found that 91% of citizens approved of their king's leadership, many expected the country to rejoice in the news. But when popular glossies TelQuel and Nichane published the results, they found 100,000 copies of the magazines seized by the Ministry of Communication. Communications Minister Khalid Naciri told The National simply that "the monarchy is not the centre of a public debate."
This latest incident comes on the heels of a number of high-profile cases of censorship in recent years in the country: In 2006, Nichane was banned and its writers brought to court after publishing a series of street jokes that picked on religion and the monarchy. And 2008 saw the country's first arrest of a blogger, Mohammed Erraji, for criticizing the king's charitable practices.
Digital activists aren't having it.
In response to the banning of TelQuel and Nichane and later, French daily LeMonde (which published the results of the poll despite a warning not to), Moroccan activists created an online campaign entitled, "Je Suis Un 9%" or "I'm a 9%," using a hashtag on Twitter (#9pcMaroc) to discuss and promote their cause. As blogger Omar El Hyani explains in a post on his blog, the campaigners aren't necessarily against the king, rather, they are opposed to restrictions on their freedom of expression.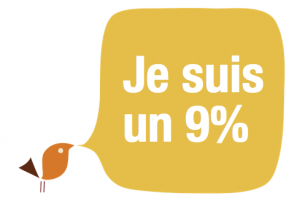 Moroccan bloggers show solidarity with this "I'm a 9%" Twitter icon.
"Of course the campaign and those who participated in it can not be scientifically considered representative of Moroccans as a whole," said Blogger and Twitter user Hisham, "but what I'm quite sure about is that the campaign and the energetic response to it, shows without the shred of a doubt that whilst the majority supports and adheres to the royal family and the person of the monarch, they are eager to see the existing system evolve so that they at last can be considered as adults, capable of expressing themselves responsibly without having an intrusive government lecturing them on what they should watch, read, say or hear."
While the campaign picks up steam on Twitter and in the blogosphere, it is not without dissent. As Ted Scheinman and Aaron Wiener point out in the Online Journalism Review, a "rival group" has sprung up on Facebook entitled the "100 Percenters" with a manifesto in which they praise the king for having "the courage to accompany his people bit by bit in changing their traditions."
Blogger Anas Alaoui, creator of the 9% campaign's logo, doesn't disagree that the path toward change and democracy is a long one. But, he says, " the debate is how to marry our actual political system, our way of life with principles such as Human Rights, Freedom of Speech and Democracy. The path is difficult. The path is long but hey, the 21st century motto is 'Yes we can,' isn't it?"
This Blogger's Books and Other Items from...
SUBSCRIBE AND FOLLOW
Get top stories and blog posts emailed to me each day. Newsletters may offer personalized content or advertisements.
Learn more