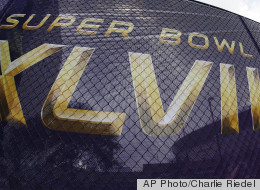 As a public service to those who know that the Super Bowl is being played but wonder what all the fuss is about, here is Outsports' annual "Super Bowl for the Clueless," a gay guide to the big game.
What: Super Bowl XLVII (that's 47, for the mathematically challenged among you) will be held Sunday, Feb. 3, and pits the Baltimore Ravens (13-6) from from the American Football Conference against the San Francisco 49ers (13-4-1) from the National Football Conference. The Las Vegas oddsmakers have made the 49ers a 3½-point favorite, showing how close the game is expected to be. The two teams did not play in the regular season.
Where: The game will be played at the Mercedes-Benz Superdome in New Orleans. This is the first time the city has hosted the game since Hurricane Katrina.
The people of New Orleans are mighty pissed-off at NFL commissioner Roger Goodell, who suspended New Orleans Saints coach Sean Payton for the season and unsuccessfully attempted to suspend some players after finding out that they had paid bounties to injure opposing players. In fact, New Orleanians are so upset that various floats at the pre-Mardi Gras Krewe du Vieux parade depicted Goodell engaging in various sexual acts. One float, dubbed "Super Hole XLVAG," had the commissioner being eaten by a giant vagina. Another showed him screwing a barnyard animal. I assume Goodell will have a taste tester when he ventures into the French Quarter.
Kickoff/TV: The kickoff is set for 6:30 p.m. EST, shortly after Alicia Keys sings the national anthem. You can bet in Vegas on whether Keys' version will last longer than 2 minutes and 15 seconds. The bookie who set the bet told SB Nation, "Whenever a singer announces they will do their own rendition of the anthem, it complicates the situation, because it usually runs much longer. You are never sure what to expect." You can also get 5-to-1 odds on whether Keys will get booed.
The game will be broadcast on CBS, with Jim Nantz doing the play-by-play and Phil Simms doing the analysis. Simms was a cute blond in his days as the New York Giants' quarterback, and he has two sons, Chris and Matt, who have carried on that legacy. Neither is as good a quarterback as their dad, but they certainly are hot.
Fashion note: The 49ers are the designated home team and will wear their red jerseys and gold pants. The Ravens will wear white with purple trim. Teams wearing white have won six of the last seven Super Bowls. The 49ers' logo is a classic "SF," while the Ravens have a stylized bird on their helmets; both work for me.
Nude fashion note: If Ravens defensive back Bernard Pollard had his way, the game would be played in the nude (and see the TV audience soar). From The New York Times:
Pollard's confidence reveals itself in the locker room, where he has no qualms about being naked. He will conduct full interviews in the nude. Pants are the enemy. When local journalists gave Pollard their "good guy" award after the 2011 season for being accommodating, they presented him with a pair of boxer shorts, in the hope that he would wear them. His own teammates have encouraged him to use a towel or two.
Quarterbacks: Two guys named Colin and Joe will be under center. Colin Kaepernick was on the bench for the first half of the season for the 49ers, until starter Alex Smith got hurt. When Smith recovered, he stayed on the bench, because Kaepernick had brought an explosive dimension to the 49ers' attack. In a playoff game against Green Bay, Kaepernick set a record for rushing yards by a quarterback, but he is also a threat throwing the ball. His body is adorned with tattoos, mostly religious ones.
Kaepernick, who is 6-foot-4 and weighs 230 pounds, has an interesting background, being a mixed-race child adopted by German-American parents in Wisconsin. As a fourth grader he wrote an adorable letter to himself that has proved prophetic:
I'm 5 ft 2 inches 91 pounds. Good athelet. I think in 7 years I will be between 6 ft -- to 6 ft 4 inches 140 pounds. I hope I go to a good college in football Then go to the pros and play on the niners or the packers even if they aren't good in seven years. My Friend are Jason, Kyler, Leo, Spencer, Mark and Jacob



Sincerly

Colin
In contrast, Joe Flacco is kind of dull, a traditional "pocket" passer, but one who has been brilliant in the playoffs (eight touchdowns and no interceptions). Maybe the most interesting thing Flacco has done is participate in a Baltimore "polar bear" swim, diving into frigid Chesapeake Bay. Both Flacco and Kaepernick seem like good guys, so there's no rooting interest either way for me.
Quarterback pet angle: Kaepernick has a pet turtle, Sammy, who weighs 115 pounds.
The coaches: In case you haven't heard, the coaches are brothers. John Harbaugh coaches the Ravens, and Jim (younger by 15 months) coaches the 49ers. Their mom said she hopes the game ends in a tie and bristled when a caller on a media conference call suggested that she likes Jim better. She calmed down when the caller turned out to be John. Jim was a generally successful NFL quarterback, while John never made it past college football. John is considered the less loopy of the two, at least if sideline antics and press conferences are an accurate guide.
The fans: The Ravens don't have a rich history, having existed only since 1996, when they moved from Cleveland. But the city was passionate about the Baltimore Colts, who moved to Indianapolis in 1984, so fans there know their football. Swimmer Michael Phelps, a Baltimore native, is the best-known Ravens fan, and he showed up at the AFC championship game sporting a new grungy look. Two of my brothers and a nephew are huge Steelers fans, so they hate the Ravens as a matter of course (the two teams are bitter division rivals), but I have not found the Baltimore fan base to be that obnoxious.
The 49ers used to have annoying, entitled fans (that's what winning five Super Bowls in 13 years will do), but this is their first trip to the Super Bowl since the 1994 season, so their fans there are a little more humble. A new gay sports bar, Hi Tops, opened in the city last year, and it made the pages of Sports Illustrated when the magazine ran a photo of two gay male patrons making out after the 49ers won the NFC championship.
The gay angle: It's hard to go wrong with either team when it comes to gay acceptance. At Outsports we have written a ton about Ravens linebacker Brendon Ayanbadejo and his outspoken support for gay rights. He is the most consistently vocal athlete supporter on the issue and said he wants to use the Super Bowl platform to talk about LGBT rights. He told the Baltimore Sun:
I see the big picture. There was a time when women didn't have rights, black people didn't have rights, and right now, gay rights is a big issue and it has been for a long time. And so we're slowly chopping down the barriers to equality. We have some minority rights we have to get straight and some gay rights, then we'll be on our way.
Ayanbadejo has the support of management, including team president Dick Cass, who told him, "We're not an organization that discriminates." Ravens center Matt Birk, who is retiring after the Super Bowl, has taken the other side on same-sex marriage, though he has not been anywhere near as vocal as Ayanbadejo.
The 49ers are the first NFL team to produce a video for the It Gets Better project (though two players, linebacker Ahmad Brooks and nose tackle Isaac Sopoaga, now claim that although they knew they were participating in an anti-bullying video, "they didn't realize the aim of the production was to fight the bullying of lesbian, gay, bisexual and transgender teens," and as a result, the video has been pulled from the It Gets Better website). Coach Jim Harbaugh said last month that he would welcome an openly gay player and treat him the same as any player. Owner John York and his co-owner and wife Denise DeBartolo York have made frequent trips to gay bars in the Castro to woo LGBT fans. "That is an absolutely good opportunity to be able to meet fans," York told the San Jose Mercury News in 2008 of the annual tour he makes through the Castro. And it's "a fair bet" that no NFL owner goes as far as he does to cultivate gay and lesbian fans, he told the paper.
Meanwhile, the 49ers' defensive back Chris Culliver has said some awful things to shock jock Artie Lange about having a hypothetical gay teammate: "I don't do the gay guys, man. I don't do that. ... We don't got no gay people on the team. You know, they gotta get up out of here if they do. Can't be with that sweet stuff. ... Can't be ... in the locker room." It was the big story for the media midweek and probably caused some people to root for the Ravens. Culliver has since apologized, and the team took the comments seriously and condemned them.
Entertainment: Speaking of a gay angle, Beyoncé is the halftime entertainment this year, though I am so out of that musical loop (I'm more into indie alternative) that I couldn't name a song she has done without looking it up. There are unconfirmed reports that she will team up with Destiny's Child bandmates Kelly Rowland and Michelle Williams. I, for one, won't be riveted, but a lot of you will be. Last year I was at an all-gay Super Bowl party, and during Madonna's halftime show the house was dead quiet. Minutes after she had finished, two thirds of the crowd bolted.
The big question, on the heels of her lip-synched rendition of the national anthem at President Obama's recent inauguration, is whether Beyoncé will lip sync on Sunday. There might be more tweets sent out about this than for the game itself.
The commercials: The Super Bowl commercials get more overhyped each year, which is odd, because you can go on tons of sites to see the commercials days before the Super Bowl (which kind of ruins the element of surprise). CBS is raking in the cash, charging as much as $4 million for a 30-second spot. Bad news: The annoying E-Trade baby is back with a 30-second spot.
For the eyes: Hot is in the eye of the beholder, and for my money the 49ers are the hotter team. The hottest player, backup quarterback Alex Smith, might not even play, but the shot of him in an ice tub is still one of my favorite sports photos ever. I also love Kaepernick's smile and the studliness of tight end Garrett Celek, backup receiver Chad Hall and linebacker Patrick Willis.
As for the Ravens, rookie kicker Justin Tucker is a super-cutie (an Outsports reader took a photo of Tucker adjusting himself; scroll down halfway on the page), while quarterback Joe Flacco has smoldering looks. I'm also partial to safety Sean Considine and receiver Anquan Boldin, while readers have noted the look of tight end Dennis Pitta.
Best body on the Ravens: With players wearing helmets and bulky uniforms, it's not always easy to tell who has a rocking bod, but Ayanbadejo loves flaunting what he's got, and I can't blame him.
Best body on the 49ers: Vernon Davis. Ridiculous.
The game: The pointspread is small for a reason: These teams are evenly matched, and any outcome would not be a surprise. That's been the trend of the past nine Super Bowls, all of which were within a touchdown or less in the fourth quarter.
On offense, the 49ers will employ what they call the "pistol," an offensive formation that gives Kaepernick the option to run, hand the ball off or pass. It is very difficult to defend, especially for teams that are seeing it for the first time. The Ravens played the Washington Redskins this season, and the Skins employed a similar offense with rookie quarterback Robert Griffin III. Baltimore did not do a good job in stopping the Redskins, losing 31-to-28 in overtime. However, the Ravens were missing several key defensive players in that game who will play against San Francisco, and all of them will play against the 49ers.
The 49ers' key offensive weapons are Kaepernick, running back Frank Gore, receiver Michael Crabtree and tight end Vernon Davis. Receiver Randy Moss has been generally quiet this season, but he still has the speed to get deep, and I predict that he will score a touchdown in the game. On defense the Ravens are led by the annoying Ray Lewis, who talks God at the drop of a hat. I loved Houston Texan Connor Barwin tweeting, "Ray Lewis is going to make [Tim] tebow look like an atheist the next two weeks." Paul Kruger developed into a terrific pass rusher, while linebacker Terrell Suggs and safety Ed Reed are veteran stars who can make plays.
On the flip side, the Ravens employ a more conventional offense. They have become more unpredictable with their play calls since Jim Caldwell took over as offensive coordinator, and Flacco has thrived. The Ravens throw the deep passes very well, and that will pose a problem for the 49ers, who have had trouble rushing the passer the past month, which exposes their secondary. The Ravens' key weapons are running back Ray Rice, receivers Torrey Smith and Anquan Boldin and tight end Dennis Pitta.
The 49ers have a terrific defense, but it has sprung some holes late in the season, not getting as much pressure on the quarterback and giving up a lot of big plays. The Smiths (Justin and Aldon) key the defensive line, while linebacker Patrick Willis is the defensive leader.
Special teams could be a factor. Justin Tucker has been clutch all season for the Ravens as a kicker, but his 49ers counterpart, David Akers, has been erratic, missing a bunch of kicks. If the game comes down to Akers needing to make a field goal, 49er fans will not be able to watch.
The pick: I see a back-and-forth affair as the Harbaugh brothers try to outguess each other. In 2001 Tom Brady was a second-year backup who replaced an injured Drew Bledsoe and kept the job when Bledsoe got healthy. Brady led the Patriots to a Super Bowl win in New Orleans. In 2012 Colin Kaepernick was a second-year backup who replaced an injured Alex Smith and kept the job when Smith got healthy. Kaepernick has now led the 49ers to a Super Bowl in New Orleans. History repeats itself: 49ers 24, Ravens 20.
Also on The Huffington Post:
Straight Professional Athletes Who've Come Out In Support Of LGBT Rights
Former Baltimore Ravens linebacker, Brendon Ayanbadejo, has been a vocal long-time supporter of marriage equality. The football player blogged about same-sex marriages for The Huffington Post in 2009, made a video for Marylanders for Marriage Equality, and donated Ravens tickets to the cause, which drew criticism from Baltimore County Delegate Emmett Burns Jr. in late August.

Chris Kluwe, Minnesota Vikings punter, lashed out at Baltimore County Delegate Emmett Burns Jr. in a letter of his own. Kluwe asked in his letter, "How does gay marriage, in any way, shape or form, affect your life?"

Hudson Taylor, a three-time all-American wrestler from the University of Maryland, (and HuffPost Gay Voices blogger) started his foundation, Athlete Ally, which encourages "all individuals involved in sports to respect every member of their communities, regardless of perceived or actual sexual orientation, gender identity or gender expression," in January 2011. Athlete Ally teamed up with GLAAD and they recently announced that the NBA is the first major sports league that will receive sensitivity training from Taylor's organization.

Detroit Tigers starting pitcher Justin Verlander said in a CNN interview: "I don't think one of our players would be scared to come out. We got 25 guys, it's a family, and our goal is to win a World Series," Verlander said in the interview. "What your sexual orientation is, I don't see how that affects the ultimate goal of our family."

Retired New York Ranger Sean Avery caused a splash last year when he became, what's believed, the first pro athlete to voice support for gay marriage in New York. Since then, Avery teamed up with fellow ally, Hudson Taylor, joining in Athlete Ally's message of combating homophobia in sports.

Henrik Lundqvist is the goaltender for the New York Rangers. The 2012 Vezina Trophy winner for the best goaltender, Lundqvist backstopped Sweden to a 2006 Olympic Gold Medal. Off the ice, Lundqvist has been named to People Magazine's 100 Most Beautiful People List. When asked about his work with the "You Can Play Project," Lundqvist said: "For me, it's obvious that everyone should have the same rights and ability to play the game. It doesn't matter race or sexual orientation."

Australian rugby player David Pocock says he will not marry until gay marriage is made legal Down Under. "We've moved forward on so many issues and this is the next progression," Pocock said while appearing on the Australian Broadcasting Company TV show "Q&A" in August.

Michael Irvin, former Dallas Cowboy and NFL Hall of Famer, appeared on Out magazine's cover last July. Irvin spoke out for LGBT rights and marriage equality, citing his late gay brother's passing. He also said he would support any athlete in the NFL, NBA, NHL or MLB who comes out.

Donte Stallworth, former Baltimore Raven and teammate of Brendon Ayanbadejo, showed his support on Twitter, tweeting a string of messages for marriage equality and LGBT rights.

Boxing champion Floyd Mayweather Jr. tweeted his support for gay marriage, backing up the President after Obama made his own endorsement announcement in May. On the other hand, Mayweather's rival, Manny Pacquiao, said he believes marriage is between a man and a woman.

Argentinian boxer Sergio Martinez made a video for the "It Gets Better Project" last March. The 37-year-old Martinez was bullied himself growing up and helps others who have been the victims of bullying.

In true Charles Barkley fashion, the NBA Hall of Famer has been a long-time supporter of gay marriage and gay rights, making tongue-in-cheek (yet admirable) comments as early as 2006. Barkley said on-air last year, "God bless the gay people. They are great people." And in response to Sean Avery's advocacy, Barkley added he'd have no problem playing with an openly gay teammate.

Claude Giroux is the captain of the Philadelphia Flyers. In 2012, he was ranked the 3rd best player in hockey by The Hockey News. The 25-year-old superstar was also the coverboy for EA Sports NHL 2013. Nicknamed "G," Giroux appeared in a PSA for the "You Can Play" Project in 2012.

When Phoenix Suns president and CEO Rick Welts came out to NBA all-star Steve Nash, he said he'd support Welts. Soon after, Nash made a video for HRC's New Yorkers for Marriage Equality campaign, saying he's proud to be a part of a growing group of athletes speaking out for gay marriage.

Although he hasn't explicitly said anything about gay rights, retired three-time NBA champion Rick Fox, appeared as a guest judge on "RuPaul's Drag Race" season four. Plus, his former ex, Vanessa Williams (gay icon, at least to Raja, Drag Race season three winner) was also on the show the season before. If this isn't a sign of LGBT support, what is?

Cleveland Browns player Scott Fujita first voiced his support for gay marriage in 2009, reacting and agreeing with fellow NFL colleague Brendon Ayanbadejo. Two years later, Fujita continued his LGBT advocacy, taping a PSA for the HRC's Americans for Marriage Equality initiative.

"Let [gay people] go through what [straight people] go through," said John Salley, former Detroit Piston bad boy, who made light of his support for gay marriage on Good Day LA back in 2010. Recently, Salley appeared alongside fellow former NBA player Rick Fox on RuPaul's Drag Race" season four, another reason to love the charismatic b-ball player.

When Argentina became the first Latin American country to legalize same-sex marriage two years ago, homegrown NBA star Manu Ginobili threw in his support.

One very active straight ally is Ben Cohen, an English rugby world cup champion, who retired to start The Ben Cohen StandUp Foundation, which "supports organizations, programs and people that advance equality for the LGBT community and help for at-risk youth by standing up against bullying." Cohen recently stripped down to his underwear to benefit his organization and spoke with Huffington. in August. He said, "No one should have to tolerate that [bullying], no matter what your sexual orientation, the color of your skin, your size or the color of your hair is."

Michael Strahan, retired New York Giant and new co-host of "LIVE! with Kelly and Michael," made a video for HRC's New Yorkers for Marriage campaign. He said, "I feel it's unfair to keep committed couples from being married."

Popular soccer player Cristiano Ronaldo said, "We must respect the choices made by anyone, because, after all, all citizens should have the exact same rights and responsibilities," when asked about the passage of gay marriage in his home country of Portugal in 2010.

The sports-entertainment world of wrestling has had its fair share of homophobic culture in the news. Though there have been anti-gay remarks made by John Cena, CM Punk and Michael Cole, Jesse Ventura, former Minnesota governor and wrestler, has lent his support for gay marriage. Ventura, who appears alongside his wife, Terry, in a video for "Minnesotans United for All Families," an initiative asking voters to say no to a 2012 constitutional amendment that says marriage is between a man and a woman. Ventura said, "Government should not be telling people who to fall in love with."

Former NBA star, Isiah Thomas, poses with his son for NOH8, a campaign that advocates gay marriage and LGBT rights. Other pro athletes who've participated: football players Nic Harris, Antonio Cromartie and Isaac Keys, all-American wrestler Hudson Taylor, and soccer player Mike Chabala.

Vancouver Canucks Manny Malhotra and Jason Garrison marched with the "You Can Play Project" in Vancouver Pride 2012. The players, along with Canucks mascot Fin, marched with the Cutting Edges, an all-gay hockey team. Malhotra, who described himself as "thrilled" to be there, stated: "It's paramount that equality in sport, and beyond, becomes the norm. Everybody has the right to play the game they love." Note: An earlier version of this slide stated that the Canucks were the first North American team to march in a pride parade. However, the Chicago Blackhawks marched in the 2010 Chicago Pride Parade.

Last May, NBA players Grant Hill and Jared Dudley made a PSA announcement for the "Think B4 You Speak" campaign, where the athletes denounce using the word gay to mean "dumb" or "stupid." The video was a three-way partnership among the NBA, GLSEN and the Ad Council.

The San Francisco 49ers became the first NFL team to make a video for the "It Gets Better Project," in August. Other sports teams who have made videos include L.A. Dodgers, Philadelphia Phillies, Tampa Bay Rays, Baltimore Orioles, Boston Red Sox, Chicago Cubs, and the San Francisco Giants.

Zdeno Chara has a reputation as hockey's biggest, meanest, toughest player. The captain of the 2011 Stanley Cup Champion Boston Bruins, Chara was named hockey's best defenseman in 2009. In his PSA for the "You Can Play Project," Chara states that he will back an openly gay hockey player, declaring "I will always stand up for my teammates."