On the first floor of Anaheim Convention Center, hundreds of tweens screamed as the cast of Lemonade Mouth appeared on the Disney Channel stage. Meanwhile up on the third floor thousands of baby boomers groaned with disappointment when they were turned away from Stage 23. Because there were no seats left for that night's performance by TV legend Dick Van Dyke and his singing quartet, the Vantastix.
On the second floor of the building, Disneyana fans from around the world viewed the items on display in the "Treasures of the Walt Disney Archives" exhibit area. Which included costumes & props from the Studios' most recent billion-dollar earners, Tim Burton's Alice in Wonderland and Pirates of the Caribbean: On Stranger Tides as well as TV favorites from the 1950s like The Mickey Mouse Club and Zorro.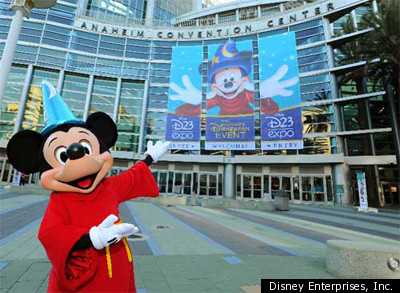 Copyright Disney Enterprises, Inc. All rights reserved.
In short, it was pretty noisy at the 2011 D23 Expo yesterday. Music filled the air as four of the women who provide the voices from Disney's contemporary princess-themed films stood together onstage and belted out "A Dream is A Wish Your Heart Makes" in four-part harmony.
Meanwhile, shrieks of delight were heard coming from the Disney Parks & Resorts pavilion, as the Great Destini, the robot that Imagineering's R & D department brought along to the Expo, which uses facial recognition technology, to predict people's future.
Yeah, the future was something that came up time & time again yesterday at the Expo. Whether it was Disneyland President George Kalogridis revealing that the park would be significantly expanding its Fantasyland area over the next few years or Walt Disney Animation Studios showing off characters from its November 2012 release, Wreck-It Ralph, the Mouse was eager to show its biggest fans what lies just beyond the horizon.
Why is that? The Walt Disney Company wants these thousands of people to then go out and evangelize for their brand. To tell their friends & family about how much they enjoyed watching Once Upon a Time (the pilot for this new Sunday night drama will be screened here on Saturday, a full two months before it debuts in primetime).
And the folks who work for Disney, they obviously recognize the importance of this huge, once-every-two-years promotional opportunity. This one chance to connect with the Company's biggest fans. But perhaps none more so than Leo Howard, the star of Disney XD's new action-comedy, Kickin' It.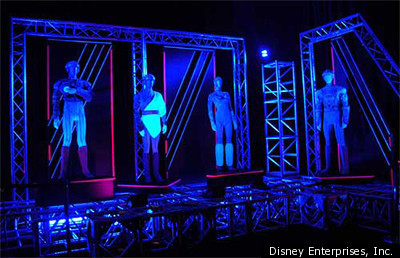 Copyright Disney Enterprises, Inc. All rights reserved.
Which is why on Thursday, as hundreds of workers scurried around this still-empty convention space, assembling 30 foot-tall versions of Jack Sparrow's pirate ship from The Curse of the Black Pearl or carefully positioning Walt's personal limousine -- this 14 year-old boy was out there on stage. Repeatedly going through the complex martial arts routine that Leo will be performing on Saturday. With the hope that some folks who have never ever seen this Disney XD show before will then think that they really need to go check this TV program out.
That in a nutshell is what the D23 Expo is all about. Cross pollination. As in: The folks from Walt Disney Studios Home Entertainment are hoping that fans of the Pirates of the Caribbean theme park ride are so taken with their display of props & costumes from On Strange Tides that they then spring for the Blu-ray of the fourth film when it hits store shelves on October 18th. Likewise Hallmark is hopeful that animation fans will be so tickled by Friday's Prep and Landing: Naughty vs. Nice presentation that they'll then want to buy some of the plush, Christmas ornaments and cards that this company has created in order to cash in on this upcoming holiday special.
And that then brings me to the loudest noise of all at this year's D23 Expo: The ringing of the cash registers. Judging by the huge lines stretching out of the Dream Shop, Mickey's of Glendale and the Small World Village, Disney fans were intent on scooping up as many EXPO-exclusive items as they possibly could. And let's not even talk about the serious coin that's sure to be dropped on Saturday night when that auction on Disney rarities gets underway.
But as for the folks running the D23 Expo, the only sales that matter are ticket sales. And given that this three-day-long event is already sold out for Saturday...Well, you know that they have to be pleased.
So if you're thinking about coming out on Sunday to catch the very last day of the Walt Disney Company's version of ComicCon, my advice is to bring along your wallet as well as some earplugs. Because it can get pretty pricey & noisy around here.
Jim Hill is an award-winning entertainment writer who lives in New Boston, New Hampshire. Over the past 30 years, he has interviewed hundreds of veterans of the animation and themed entertainment industry and written extensively about The Walt Disney Company. For his more immediate musings on movies, TV shows, books and theme parks, please check out his blog, jimhillmedia.com.
SUBSCRIBE TO & FOLLOW ENTERTAINMENT
HuffPost Entertainment is your one-stop shop for celebrity news, hilarious late-night bits, industry and awards coverage and more — sent right to your inbox six days a week. Learn more