Opa! Souvlaki Restaurant,
Astoria, Queens, New York City
Since 1969, the year man walked on the moon, Opa! Souvlaki Restaurant of Astoria, Queens, has been Greek to its core.
Astoria itself has become more diverse in those 40 years, but the legendary Opa! lives on - as if a time capsule for the neighborhood's new and often younger crowd fleeing the high rents of Manhattan.
As John Lee and I walked into the restaurant, the friendly and gracious owner Perdika greeted us. She ushered us to the dining room at the back of the restaurant. John, for the record, is a foodie. I am not.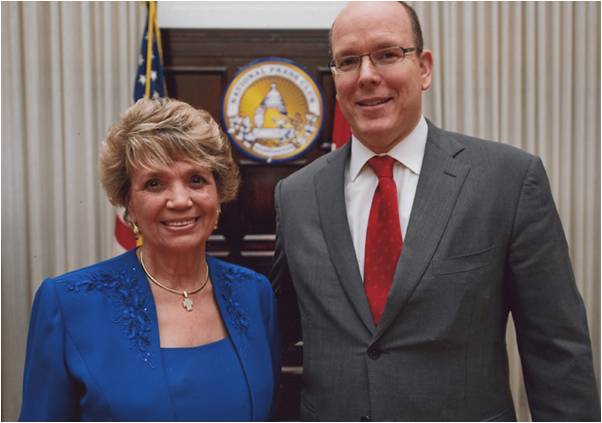 Perdika Zevlakis, the Greek-American community's Elaine, with H.S.H. Prince Albert.
I was amazed by this skylight-lit, man-made grotto, with potted plants and unpretentious decorations. I felt like I was in Queens, but more like someone's home not a restaurant.
I write on Thought Leaders and Global Citizens for the Daily Kos, the Huffington Post, and other publications. The fact that Perdika has "made it in America" -- in a big way -- excited me.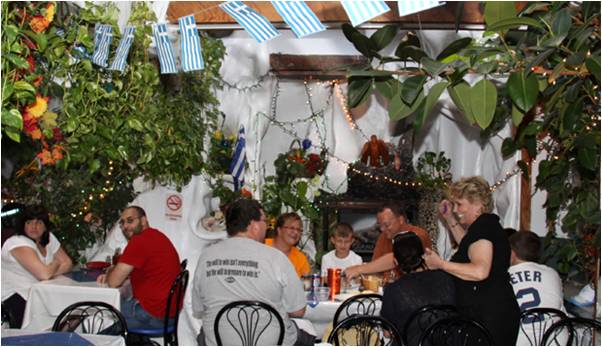 The back of Opa! looks the same as it did the day man walked on the moon in 1969.
I grew up in a family culture that did not appreciate food, but I have learned through my world travels that in other families and cultures food is extremely important. To Perdika, food is culture - and culture leads to power.
There were many appetizers and dips at Opa! of Astoria to share with friends, it was hard to know where to begin. The cold combination appetizers consisted of cheese salad, Russian salad, melizanosalata (eggplant salad), and taramosalata (fish roe salad).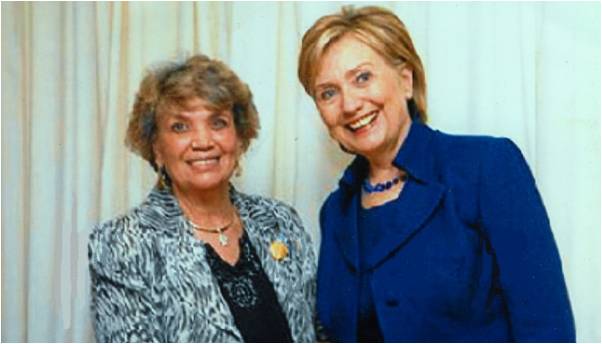 Opa! Souvlaki Restaurant of Astoria's Perdika Zevlakis at a reception with Hillary Clinton.
The taramosalata - a thick, pinkish creamy mixture of salted fish roe, lemon, and olive oil - was irresistible and delicious, served with fresh warm pita bread.
Opa!'s famous homemade (spanakopita) spinach pie was filled with rich and creamy feta cheese and spinach. The layers of phyllo pastry were light and fluffy, in good contrast with its filling.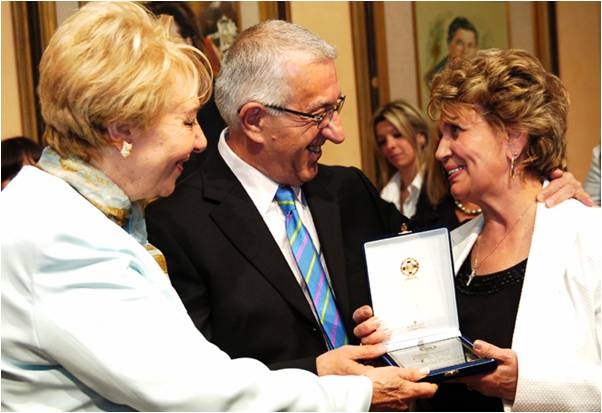 Perdika Zevlakis receiving Goddess Artemis Award from Athens Mayor Nikitas Kaklamanis.
Melitzanes tiganites (fried eggplant) sprinkled with crumbled feta cheese and served with a garlic dip was light and complimented the cold salata. All appetizers were fresh and authentic.
One of our dining companions ordered a whole grilled red snapper.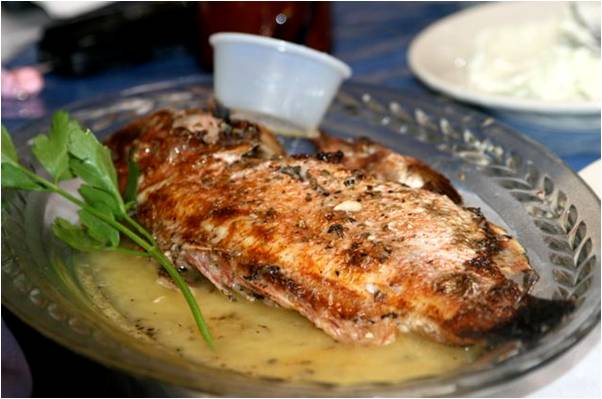 The red snapper was fresh, juicy, smoky, drizzled with lemon and olive oil.
The fish was cooked to perfection. The red snapper was fresh, juicy, drizzled with lemon and olive oil, the smokiness and citrusy from the lemon bring out the fresh flavors of the sea - scrumptious! The pork chops were charred broiled to perfection - juicy and flavorful, served on a homemade bed.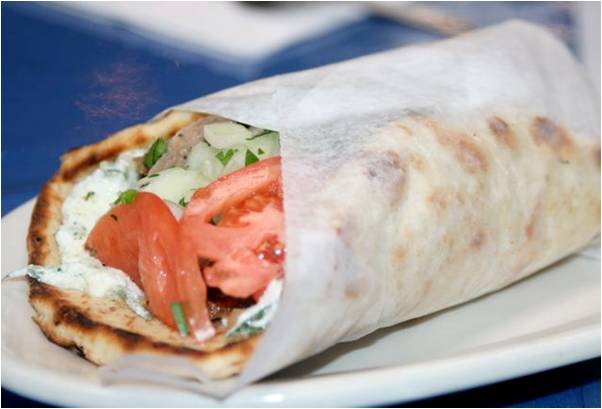 People have travelled across seas to get back to Opa!'s delicious souvlaki.
My order of souvlaki stick (lamb kebob) came with a Greek salad and lemon and olive oil-roasted potato wedges. The lamb was well marinated and went well with tzatziki (cucumber, dill and yoghurt) sauce.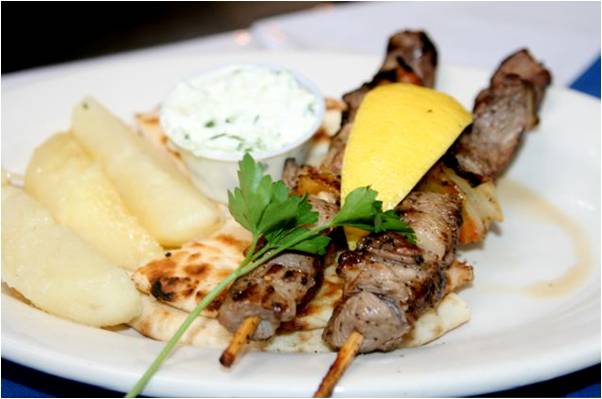 My order of souvlaki stick (lamb kebob) came with a Greek salad.
We ordered a side of the signature dish "Opa! Saganaki" which is imported Greek cheese flamed with brandy.
While we were there we witnessed a group from a play that had just closed at Queens Theater celebrating in the back room. I was lucky enough to capture them dancing on video (here).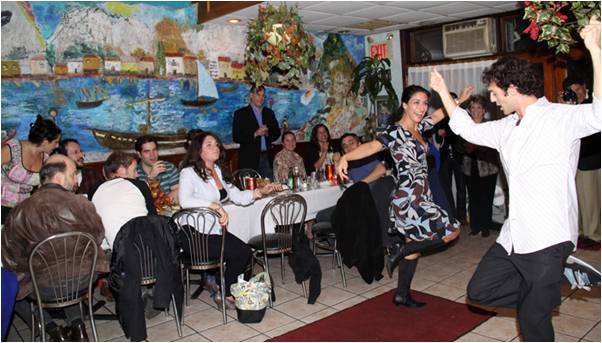 Actors from a play that had just closed at Queens Theater celebrating in the back room.
At the entrance, you will notice photos of Perdika taken with Hillary Clinton, Carolyn Maloney, H.S.H. Princes Albert of Monaco, and many other famous patrons.
You will understand why they keep coming back - for the warm hospitality and homey food in an unpretentious environment.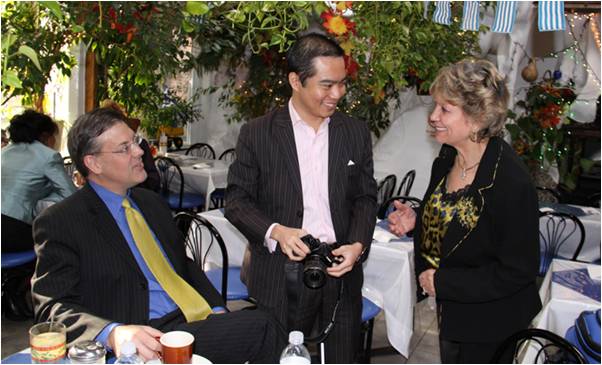 John Lee and I enjoy chatting with the indomitable Perdika Zevlakis.
Expect the always friendly Perdika will give you a big kiss and hug. In short, go to Opa! as a stranger - and you'll leave as member of Perdika's family.

Opa! Souvlaki
28-44 31st Street
Astoria, Queens, N.Y. 11102
Tel.: (718) 728-3638
"N" or "W" subway to 30th Avenue station