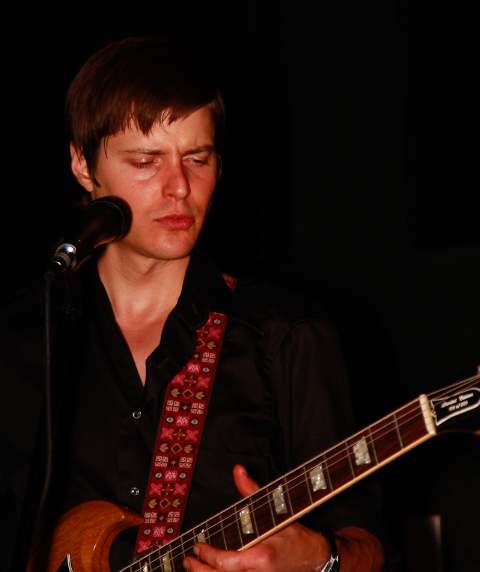 Fairy Tales Forgotten, the first album recorded by transplanted New Yorkers John Carpenter and his collaborator/drummer J. Explosive since beginning work in Los Angeles 11 months ago, will be overlooked by many, and hated by others, but should quietly begin to build a small, dedicated cult following for these quirky artists.
His voice and otherworldly melodies sometimes suggest David Bowie, but J.'s driving percussion and Carpenter's penchant for tearing off distortion-driven riffs on his Gibson SG often result in a bubbling cauldron of 60's style hard rock.
And then there's the quietly spooky vibe that many of his songs have. How a conservative-seeming man from South New Jersey finds his inspiration is unclear, but songs like "The Captain," listened to repeatedly, can conjure a sort of out of body experience -- the churning jam summoning, for example, images of a racing ship, sails billowing, driving through stormy gothic seas.
John Carpenter, J. Explosive, and band will be playing the Waved Out Festival, at the Echo, Sept 25; And the Abbot Kinney Festival, in Venice, CA Sept. 26. His music can be heard here: myspace.com/johnnycarpenter.
FOLLOW HUFFPOST