Speak Up With Jimmy: Ji Wallace, Part 1 (VIDEO)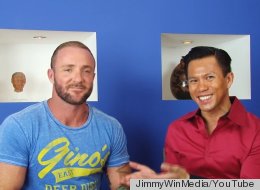 In this first episode of Speak Up With Jimmy, I talk with Ji Wallace, the 2000 Olympic silver medalist in trampoline from Australia. After coming out publicly as gay in 2005, Ji came out again last year as HIV-positive when he saw a TV interview with diver Greg Louganis during the 2012 London Olympics. In this episode Ji talks about running the L.A. marathon, online dating sites and speaking up for people who live with HIV/AIDS.
WATCH:
Speak Up With Jimmy, a Web series, is available at JimmyWin.com.
Follow Jimmy Nguyen on Twitter: www.twitter.com/jimmywinmedia