Speak Up With Jimmy: Ji Wallace, Part 4 (VIDEO)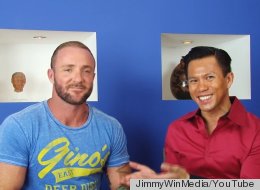 It's the final segment of my interview with Ji Wallace, the 2000 Olympic silver medalist in trampoline from Australia who came out as HIV-positive in 2012. Ji talks about creating his "Find Your Silver Lining" Foundation to educate people about HIV and help people living with HIV/AIDS. He plans to lead HIV-positive hikers on a seven-day trek on the Kokoda Track in Papua New Guinea to raise awareness about HIV/AIDS in that nation. Through such work, Ji is turning his HIV status into a platform to speak up.
WATCH:
Speak Up With Jimmy, a Web series, is available at JimmyWin.com.
Follow Jimmy Nguyen on Twitter: www.twitter.com/jimmywinmedia