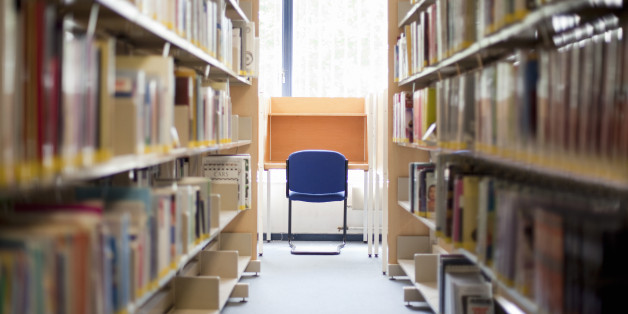 Our city's public libraries, the frontlines in the war against inequality, are life-changing institutions that are frequently championed but surprisingly under-supported. Over a century ago our city took the pledge to maintain our neighborhood libraries. The sad reality is our city has fallen behind on that pledge. The release of "Long Overdue: NYC's $1 Billion Library Fine," a detailed report of the current maintenance crisis plaguing our city's three library institutions -- New York Public Library, Brooklyn Public Library and Queens Library -- shows firsthand the extreme need communities throughout the five boroughs are suffering from. Today we can change course to address this tremendous need to ensure millions of New Yorkers continue to receive the free resources and services that helping lift them into the middle class.
Our libraries are critical community hubs located at the center of nearly every neighborhood in the city and offer some of the most needed services. As an employee of the Queens Library for 11 years, I witnessed firsthand the impact libraries have every day while providing childhood and adult literacy education, job training, English classes and much, much more.
As Chair of the City Council Committee on Cultural Affairs & Libraries, I recently led a joint hearing to examine the dire state of our public library infrastructure. The three public library systems were on hand to demonstrate the desperate condition of the city's 207 aging neighborhood branches and make the case for their urgent request for $1.4 billion in support from the city.
The three library systems showed images of decaying libraries, crumbling walls and leaking roofs. They illustrated the devastating effects of neglected library infrastructure. It disrupts the operations of talented, hardworking library staff to provided critical resources to the city's neediest residents.
Put quite simply: a child cannot learn to read if the children's room is closed because the walls are moldy and crumbling; a struggling single mother cannot search for a better job if she loses her only access to free internet when the library's computer bank is shut down because of a leaking ceiling; and a recent immigrant cannot learn English for free because the community room is closed when the library's boiler cannot properly heat the building in winter.
In the midst of the wildly successful launch of IDNYC -- Mayor Bill de Blasio and the City Council's signature municipal identification program -- our public libraries are once again demonstrating their immeasurable value. Over 300,000 people have applied to receive their IDNYC card, which carries with it the power to transform lives. Those who have been relegated to the shadows of our society will finally be able to document their identities and be given the means to access the services they need and deserve. Libraries have been integral in this process and host many of the IDNYC enrollment centers.
The de Blasio Administration selected libraries to house these enrollment centers because they are ideally positioned to promote the program and increase access. As libraries welcome tens of millions of visitors through their doors annually, they are known to and trusted by the communities they serve to be safe-havens, offering valued resources that are open and accessible to all.
At the hearing, the Office of Management and Budget acknowledged that the library systems' request for $1.4 billion is legitimate and justified. In spite of the obvious need to support our library infrastructure, the Administration's recently-released preliminary Ten-Year Capital Strategy offers just $62.3 million in support spread over ten years. It is terribly disappointing that the Administration proposes funding such a small fraction and fails to address the $1.4 billion in needs that exist today. As a result of inaction, libraries and the people who rely on them have suffered for decades.
As income inequality and a dearth of affordable housing plague our city and push millions of residents to the margins, libraries play as important of a role in addressing these problems as ever. Now is the time for libraries. Now is the time to invest in the foundation of our city's future.
Our public libraries are the bedrock upon which our communities are built. Time and again, our libraries have delivered for us, serving our communities when we need them most. This was the case in 2012 in the wake of Superstorm Sandy when libraries transformed into primary emergency response centers for many stricken communities.
Now, as the city's tax revenue is growing, we must reinvest in these cornerstones of society and further empower libraries to offer the resources and opportunities which underpin the heart and soul of our great city. Now it is time that we deliver for libraries so that they may continue to deliver for all New Yorkers.
SUBSCRIBE AND FOLLOW
Get top stories and blog posts emailed to me each day. Newsletters may offer personalized content or advertisements.
Learn more