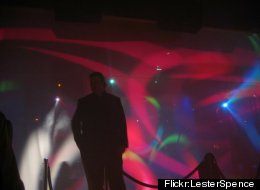 Do you long to have sexual adventures? Has 50 Shades of Grey inspired you to get kinky? As I've said before I've had plenty of threesomes and trips to the sex clubs. I'd like to pass along some helpful tips for making the most of your sexual exploration. Whether you're gay, straight, or anywhere in between, these 13 tips will help you have fun and stay safe in a sex club.
13 Rules For Having A Blast In A Sex Club
Finger foods? It may seem like a strange tip to start with, but I strongly discourage you from eating from the buffet at a sex club. Pretty much every sex club I have ever been to has a buffet; I think it's because the entry fees are usually high, so people want to "maximize that dollar." In addition to the food being gross, feeling overstuffed is not going to make you feel sexy. Eat a little meal before you go to the club.

Before you head out, do whatever rituals make you feel sexy. I have certain songs that I groove to that heat me up from the inside out. Whatever it is that gets you going, whether it's a hot bath or even a little self-pleasure, indulge before you go out. You will feel more relaxed and ready to get hot and heavy.

It may sound obvious, but do not go around groping and grabbing people at the sex club. Always ask permission before you touch anyone. Don't come up grinding on someone on the dance floor. Make eye contact first. If people are engaged in sexy time, make sure you politely ask to join.

Don't rely on anyone else to provide safer-sex materials. Bring your own condoms with you. And make sure that it's not the old, wrinkled-up emergency condom from your wallet. This tip goes for women as well as men. Lesbians/bisexual women: Bring dental dams if you want to go downtown, or just avoid mouth-to-organ contact. If you want lube or toys, bring them from home, too; that way, you know for certain that the item works for you and your body, and that it's free of bacteria.

Bring some cleaning wipes with you. Give a quick little swipe to any surface on which you plan to get it on. I know it sounds neurotic and very "Howard Hughes" germaphobe, but honestly, it's better to take a second to wipe than end up with an unpleasant rash.

The temptation to overindulge in alcoholic beverages will likely be increased while you are in the sex club. Take it easy on the cocktails, even if you feel uncomfortable. You will have to let yourself relax into the experience. If you drink too much, then you may make bad decisions or be less in control of your body.

Avoid lurking around. Don't stand in shadowy corners like a creepy person. Smile, chill out, and stand in the open. If you go sneaking around, you will make people feel weird, and you will be less likely to get action.

Exploring your sexuality is so much easier when you are able to communicate about it. If you're going to a sex club for the first time, it's a great idea to bring your partner or a friend with you; that way, you will have someone to hang out with, and you won't feel alone. If it freaks you out to have them watch you do the nasty, simply tell them beforehand that you might need a bit of solo time.

Don't feel like you have to push yourself to make things happen. If you only feel comfortable hanging out and observing, then give yourself permission to do that. You can always come back later and take a more involved role. If at any time you feel too uneasy, you can always leave. Monitoring your mood is key.

I cannot tell you how many times I saw cheesy outfits in the sex club. Wear something that makes you feel hot, but there is no need to go over-the-top with the sexy factor. Don't go in any sort of fantasy costume unless there's a theme party. Avoid mesh and see-through fabrics. Everyone will be there for the same reason, so it's not necessary to show too much skin.

Be nice to the bouncer and the security guards. If you feel nervous, ask them to keep an eye on you. It may make you feel better to know that someone has your back if you run into any overly pushy people. And again, if you start to feel overwhelmed, you can leave at any time.

You are responsible for your own pleasure. It is paramount that you discuss your boundaries, your likes, and your dislikes before you hook up. I understand that it's often difficult to communicate our sexual wants and needs. I also know that people often feel that talking about what they want takes away the passion. However, not expressing your boundaries may lead others to do too much too soon. You cannot and should not expect others to read your mind and give you what you want.

I've said it before, and I will say it again: Don't hook up with people to whom you are not attracted. There is often pressure in the swinger scene and sex clubs to have sex if all parties are willing and able. I have been swept into situations where I thought, "Hey, I don't even really like this woman, so why am I kissing her?" After such experiences I always ended up wishing I had just pulled the plug. Don't make my mistake. Let the fireworks light your path.
Follow Jincey Lumpkin on Twitter: www.twitter.com/juicyjincey