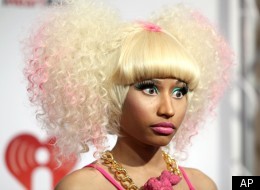 2011: it was the best of times; it was the messiest of times.
From celebrity sex tapes to rumors of secret trysts and sweet lady kisses... check out this slideshow and discover the 23 naughtiest lesbian scandals of the year! Vote for the most scandalous controversy!
Juicy Jincey's Top 23 Naughtiest Lesbian Scandals of 2011
Rap star Nicki Minaj really made the rounds this year. She made the headlines by exchanging flirty tweets with Rihanna, and earlier this month, she ran her mouth about kissing Madonna. [AP Photo/Jeff Bottari]

On a recent episode of Kourtney and Kim Take New York, Mama Kardashian busts Daddy Disick for watching lesbian porn. The episode then rolls through a glorious mashup of all of Kourtney's girl kisses from years past. On a night out, Kourtney flirts with a hot chick at a party, but Scott puts the kibosh on a menage-à-trois. Yet another reason to dislike Scott. [AP Photo/Dan Steinberg]

Charlie Sheen's ex, Denise Richards, spilled the beans on her "dip into the lady pond" on Howard Stern's show this past September. She said, "I just met her through friends and work and stuff. ... I was just curious. We were curious. She was a girly-girl. She's beautiful." [Peter Kramer/AP Images for Bravo]

"Alice" is a cheeky monkey! I guess we lesbians have to keep our tongues to ourselves. Leisha Hailey, a lesbian actress who starred in The L-Word, said she kissed her girlfriend and got escorted off of a Southwest Airlines flight for doing it on Monday, Sept. 26, 2011. [AP Photo/Dan Steinberg, File]

Evan Rachel Wood came out with guns blazing this year. She made no secret about her bisexuality, and chatted openly about it in Esquire and Marie Claire. Bravo, hottie!

OMG, if only Naya Rivera were a lesbian... Fans of the Fox TV show watched in rapt attention as Santana was outed this season. [AP Photo/Chris Pizzello]

Former Playboy Playmate Kendra Wilkinson got caught up in a lesbian scandal when a girl-on-girl sex tape surfaced this past January. [AP Photo/Matt Sayles]

Vanessa Hudgens got served a hot plate of scandal when photos of her kissing another girl surfaced back in March. Her make-out partner was teen actress Alexa Nikolas from Nickelodeon. [Shea Walsh / AP Images for AXE]

Little Lindsay Lohan just can't stay away from trouble. The on-again-off-again lesbian had more controversies than we can keep up with this year. Favorites: -Meth mouth or just bad hygiene? -Playboy photo spread retouched and leaked -Hawaii hijinks Someone help this girl get her act together. California courts, can you hear me?

Gaga debuted an Andrew-Dice-Clay-inspired trans man character at this year's MTV VMAs. Sadly, Britney Spears and Gaga did not swap saliva as Gaga handed Brit Brit the Video Vanguard Award. Instead, "Joe Calderone" planted a sweet kiss on the cheek of the pop princess. [AP Photo/Matt Sayles]

Chaz Bono and his finacée Jennifer Elia, who was with him before he began transitioning, broke up this week. No surprise here. The footage of the "happy" couple on OWN's Being Chaz was beyond awkward, and Bono did not paint a pretty picture of his bride-to-be in his recent memoir. [AP]

While on an Australian talk show, k.d. lang was asked if she thought Justin Bieber was hot. She responded that he "looks just like a lesbian," thereby making him "hot as shit." Hilarious.

In a recent episode of The Real Housewives of Beverly Hills, Camille Grammar and Brandi Glanville partied it up with Adrienne Maloof in Las Vegas. The two divorcées hit the dance floor and grinded on each other like two college girls in Cancún. Maybe there's a good plot line for next season... lesbian love affair. Enjoy that hotdog, Leann Rimes, because Brandi might love sushi. [AP Photo/Evan Agostini]

J Crew's much-lauded creative director Jenna Lyons split from her husband this fall, and the news set the blogosphere on fire. Rumors spread that Lyons was stepping out on her husband with a female friend. [Solange Knowles, Jenna Lyons, and Beyoncé -- AP Photo/JCrew, Kristen Somody Whalen]

It's been a landmark year for the cooky Zooey Deschanel with a hugely successful new TV show and big screen gems as well. In this year's Our Idiot Brother, Deschanel played a bisexual nutcase who cheats on her girlfriend with her roommate, thereby becoming pregnant. Her girlfriend is played by the extremely crush-worthy Rashida Jones. Cute movie, but it's a bummer that now the stereotype for femmes is even more reinforced, and straight men will think that every femme girl is really just a "lesbian waiting to be saved." [AP Photo/Dan Steinberg]

Hot femme lesbian Amber Heard was excited about her breakout role on TV, but sadly, the show was cancelled after only three episodes. Not even one girl-on-girl kiss. In this publicity image released by NBC Amber Heard, Naturi Naughton, and Leah Renee (left to right) are shown in a scene from The Playboy Club. [AP Photo/NBC, Matt Dinerstein]

Earlier this year, Tila Tequila was distraught over the release of a lesbian sex tape featuring her and two other women. OK, right, whatever. Next. [AP Photo/Richard Vogel]

In August a photo surfaced of Miss Kosovo, Aferdita Dreshaj, kissing/licking another really hot woman at a party. Apparently this tarnishes her reputation... Me! Want! More! [AP Photo/Andre Penner]

MTV's teen drama Skins lost a bunch of advertisers over a plot line involving teenage sex between two girls. Apparently the footage was so racy that it had to be edited so as not to break child porn laws. [AP Photo/MTV]

Actress Rutina Wesley got hot and heavy this season, as her True Blood character Tara Thornton discovered her sapphic side. [AP Photo/Matt Sayles]

Donald Trump hates Rosie O'Donnell. Always has, always will. He slammed her show, and she's been firing back on Twitter. [AP Photo/Charles Krupa]

Eva Longoria played a lesbian in this year's film Without Men. She even shared a (puny) onscreen kiss with Kate del Castillo from Weeds. [AP Photo/Chris Pizzello]

The Real L Word is an embarrassment. Nonetheless, Showtime has renewed the disaster for a third season, because the ratings are good. The decent ratings are most likely due to Whitney Mixter and her zombie dreads diving in between ladies legs in an apparent attempt at softcore porn.
Follow Jincey Lumpkin on Twitter: www.twitter.com/juicyjincey