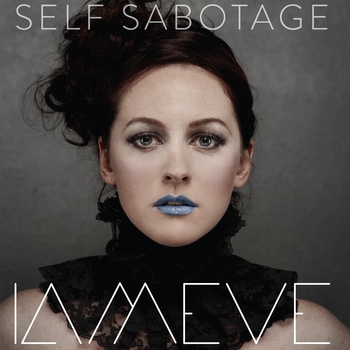 Today sees the release of Los Angeles based IAMEVE's third single off her concept album The Everything Nothing. The latest single, "Self Sabotage," takes us on the next chapter of our heroine's personal transformation as she continues along a path of self-destruction to self-love. Playfully, the lyrics begin "Sex and tricks and monkey bits, expectations that don't fit, sitting in a red sea with a melody and a cup of tea." The music shifts and takes on a dramatic and chilling blend as the piano keys are pounded with urgency, evoking a darkly melancholic musical landscape. Within a lyrical realm of intense melody, an emotional climax is reached with the proclamation: "I'm gonna self-sabotage, the Queen of self-sabotage, I'm gonna take it all and throw it all away, I'm gonna self-sabotage , the Queen of self-sabotage, I'll stand here on the edge until I fall and break." It is at once haunting and achingly honest.
EXCLUSIVE PREMIERE OF THE SINGLE "Self Sabotage"
One single is being released each month. Here you can listen to the previous two singles released off IAMEVE's album The Everything Nothing:
With the release of Self Sabotage, IAMEVE will be performing this Saturday June 09, 2012 at the Hotel Café in Hollywood.
Address: 1623 N Cahuenga Blvd
Los Angeles, California 90028
Doors open: 8.00pm
For tickets: Hotel Cafe
SUBSCRIBE AND FOLLOW
Get top stories and blog posts emailed to me each day. Newsletters may offer personalized content or advertisements.
Learn more