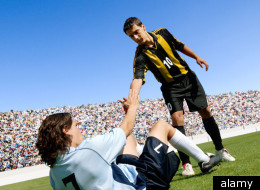 Congratulations! You made it through the holidays with minimal damage. Sure, your aunt got in her usual digs and your brother was impossible. But the traps were set and you didn't take the bait. That's what it means to be nice.
To hear America tell it, nice people are a dying breed. Nearly 70 percent of us think our fellow Americans are getting ruder by the minute. And we don't need a poll to tell us how ill-mannered, inconsiderate, and self-serving we can be. Take a look at Washington and Wall Street and the Republican run-up to the primaries, not to mention the shock jocks and acid-tongued pundits dominating the airwaves. (Surely signing Howard Stern to judge America's Got Talent was the death knell for family entertainment).
But Harvard psychologist Steven Pinker has been getting a lot of press for proposing a more upbeat view. In "The Better Angels of Our Nature," Pinker argues that humanity has become steadily nicer over the last 10,000 or so years. Before we get too excited, Pinker is talking about an overall drop in violence: declining death rates from wars, genocide, and murder. He's not talking about those little deaths we endure daily--the demise of kindness and common courtesy for two. Still, could there be something to what he's suggesting?
I wasn't optimistic when I started researching my book, "The Meaning of Nice" [Berkley Trade, $14.00]. Happily, I was in for some surprises. In a small, informal survey I asked participants to pick the adjectives they most associated with nice. Their first choice was kind, and the rest of the top 10 pretty much followed: helpful, courteous, considerate, compassionate, polite, gracious, attentive, friendly, and tied for tenth place, generous and thoughtful. Nearly everyone considered manners important, although almost none gave themselves good marks for performance. What we aspire to and how we actually behave aren't yet in sync, it seems.
There are hints, however, that a nicer, kinder person is emerging. Values and character are now conversational topics among people of all ages and persuasions. Empathy is the research topics du jour in fields as diverse as neuroscience and economics. Still, as one journalist recently pointed out, opening your heart to the plight of other people and actually doing something about it are two different matters. So are we really getting nicer--or just a little savvier about persuading ourselves that we are?
The good news is, we're all born with the basic equipment to be kind, generous, and the rest. Short of having some genetic screw loose, anyone can learn to be nicer. Being nice is as much about what you don't do as what you do. So here are some dos and don'ts to get you started:
Obvious, you think. So why, then, don't more people say them? If somebody holds a door for you, say thank you. If you want them to open the door for you--or help you dig your car out of a snowdrift--say please. It's that simple. Well, maybe not with the snowdrift: please and $20 would be nicer in that case. If you attend a party or receive a gift, express your appreciation promptly with a phone call. If you must, with a text or an email. (Anything is better than silence.) Even nicer is sending flowers or a handwritten note. Old fashioned? Sure. But good manners, according to the late Emily Post, grande dame of etiquette mavens, are nothing more than "a sensitive awareness of the feelings of others." And that never goes out of style. Flickr photo by MoneyAware

Nice people know how to turn down a request politely so nobody's feelings are hurt. The secret is: don't overexplain. If you don't want to make cupcakes for the school bake sale, or coach the Little League team, just say "Sorry, can't do it." Period. If you don't want to hold your best friend's hand through her MRI, say no, but volunteer to help in some other way--maybe taking her kids for the afternoon. If you're bled out from people hitting you up for donations to their favorite causes, say no, you've already planned your charitable giving for the year. Whatever the request, if you mean no, don't say yes, then back out at the last minute. Worse yet is to say yes grudgingly, then complain or act put upon the whole time. Nobody likes a martyr or a whiner. Flickr photo by Striatic

Bite your tongue when a snarky remark comes to mind. Quell the urge to gloat when a coworker's project goes south. Help people struggling with suitcases or heavy parcels. Hold coats. Don't cut ahead in line. Above all, be supportive. If somebody's dealing with a loss or disappointment, be there with the right words or a home-cooked meal. Put yourself in others' shoes. Friends, Thoreau said, "are kind to one another's dreams." Be the friend who assures others that yes, they can do it--and then offers a helping hand. If you think the idea might fail, keep it to yourself. Instead, put your energy into doing whatever you can to make sure everything goes according to your friend's plan. Flickr photo by Dominic's pics

Not in a position to endow a chair at Yale or adopt an orphan from Uganda? We can't all be Bill Gates or Angela Jolie. There are still a thousand ways you can help. Generosity is one of the clearest means of showing you care about humanity and other animals. Drop a dollar or a pair of warm socks in a homeless person's hat. Call your parents more often. Visit a friend in the hospital. Create a healthy dish for the soup kitchen. Instead of buying a pedigreed pooch, adopt one from a shelter. Pick up your spouse after a long flight, even if it's at one of those airports where you need a PhD plus a GPS to find the right terminal. Devote time to a worthy cause. Maybe that's your children. Flickr photo by respres

Seriously: cut the cord. Not forever, but at least for the duration of a meeting or the dinner hour. Or a day, if you can bear it. Turn off all technological devices. No calls, no texting. No checking messages or sneaking a look at incoming texts. If you must keep your phone on the dinner table, wrap it in that little napkin designed by Ingrid Zweifel that's embroidered with the message, My phone is off for you. The point isn't to inflict self-torture. It's so you can give undivided attention to yourself and anyone else around the conference room or dinner table. Listening to your own thoughts instead of the cacophony of digital input is one of the nicest things you can do for yourself. Flickr photo by functoruser

Living with less is good for the earth, good for your pocketbook, good for your soul. Think quality, not quantity. (Don't worry: the economy will survive without your overspending.) Cutting some of the clutter and changing the way you consume will give you a whole new perspective on life, maybe a renewed sense of purpose. Without all that stuff to worry about, you'll have time to develop a talent or interest, time to see who or what in the world could use your assistance or expertise. When you're not committed to getting and spending, you're free to make other, more rewarding commitments. Without having to live up to a certain self-image, you can finally be that person you've always said you wanted to be--relaxed, open, friendly, available. Nicer. Flickr photo by photosteve101

Cramped, closed spaces are not the place for loud and lengthy phone calls. So why do you insist on taking calls--even making them--as you step into an elevator? Nobody wants to be held hostage to what is bound to be an inane conversation. (Who would discuss anything meaningful in a 7' x 5' echo chamber full of strangers?) Pretend you're in the quiet car on the train and hold that thought for the next 15 floors. If you still insist on phoning, and someone asks you to please keep your voice down or, better yet, cut short the call, do not say "What's it to you, bitch?" or scream into the phone, "I can't hear you. Some crazy person is shouting at me." (This has happened, I swear.) You're the problem here, not your fellow passengers. Just stop. Flickr photo by robinsonmay

Life is so much easier now that we can take care of business via email and text, and get minute-to-minute updates on Twitter and Facebook. Easier, maybe, but is it nice? The subtleties, the emotional nuances, of personal relations are utterly lost in the cloud. To find out how your nearest and dearest and colleagues really feel, sit down with them face to face, in real time. Instead of exchanging 50 emails, walk down the hall to your coworker's office and see instantly how receptive he is (or isn't) to your idea. Extract a pledge from your family that you won't text one another when you're sitting in the same room. (I'd say same house, but that's a lot to ask the techno addicted.) Make a pot of tea or crack open a bottle of wine and practice the lost art of conversation. Flickr photo by SCA Svenska Cellulosa Aktiebolaget

No, I'm not talking about dying with dignity but ending a relationship with class. Breaking up is hard to do, whether you're 15 years old and dumping your best frenemy or 40-something and ending a marriage. Absolutely do not inform your spouse/significant other that it's over via email, text message, or an "I'm done here" Post-it on the bathroom mirror. And don't even consider breaking it off by changing your Facebook status, as is fast becoming the new norm. Plan an exit strategy that shows some respect for your ex. Keep in mind that you loved each other once. To be really classy, you might even consider the latest trend in breakups: throwing a party to announce your split and show the world that you're still good friends. Flickr photo by Tiberiu Ana
Correction: The piece originally stated that Steven Pinker had argued that humanity had become nicer "over the last 50,000 or so years." This has now been corrected to 10,000 years.