The reality of being an artist, with few exceptions, involves having a day job, something that pays the rent and, most importantly, buys the stuff -- paint, guitar strings, reeds, canvas, whatever -- that makes the self-expression you live for possible. For too many, the day job is a generally uninspiring affair that entails some manner of serving, teaching, or selling out.
Not so for Jon Herington, whose recent CD Shine (Shine Shine) has just been released. He hit the day job jackpot over 11 years ago when he landed, as he describes it, "the best gig in the world," as guitarist for jazz-rock legends Steely Dan. Anyone who knows Steely Dan's music, shaped with intense perfectionism by principals Walter Becker and Donald Fagen, understands that "best" is in no way synonymous with "easy." Start with the complexity of their compositions and arrangements, plus an uncompromising demand for excellence from their players; add to that the fact that many of Steely Dan's classics are practically defined by the signature solos of a veritable pantheon of modern guitarists; and it's clear that Herington is charged with a task that would be daunting to most musicians.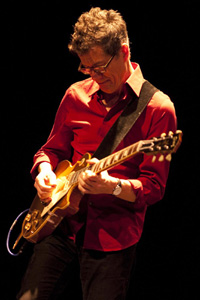 Image courtesy of Tony Kukulich
About those solos, Herington relates that it is a fine line to walk: He feels that diehard Steely Dan fans coming to their concerts might feel "violated if a guitarist went too far from the original, or cheated if it was played exactly like the record." His solution is to discover some signature characteristic about the original, from an amp setting to a general approach, and incorporate a bit of that into his own iteration, "in a way where I can come up with stuff that's my own but doesn't dishonor the original music."
The end result: From the "Reelin' in the Years" intro where, he says, it would be "inconceivable" to play unlike the recording, to a more slanted reference to the original with his "Peg" solo, his work is rendered with a stunning, crystalline precision, and consistently garners standing ovations. He has earned a loyal fan following and critical acclaim from those who know him only through his Steely Dan performances.
So powerful has his Steely Dan connection become that many of those fans are surprised to hear that he has his own solo career, one that involves not only songwriting but singing. They would also be surprised to know that guitar was not a first instrument, and that he wasn't necessarily a prodigy in childhood.
He did exhibit an early love for music, with grade school basement bands (he played piano, saxophone, and later, guitar), and his hunger for unlocking the design of rock/pop music he heard on the radio. "If I heard something I loved the sound of, I needed to take it apart and understand it, I was totally compelled to figure out how it worked." By high school he had a band that opened on several occasions for fellow New Jersey native son Bruce Springsteen, but by his own admission he played his three instruments "equally poorly" due to lack of discipline for technical practice.
The wakeup call didn't come until he began college. A freshman year dorm buddy at Rutgers, upon discovering they both played sax, suggested they have an impromptu jam session. In the space of 30 seconds of playing together, Herington found himself "staring into the void ... realizing this guy could play circles around me. I knew then I had to get my shit together."
He decided he needed to focus on one of his three instruments and learn to play it very well if he was ever to compete on a serious level. Guitar won out. He buckled down on studying jazz guitar in particular, studying first with Ted Dunbar at Rutgers, then privately with Harry Leahey and Dennis Sandole (who also was a maestro to John Coltrane, James Moody, and Pat Martino, among other luminaries).
He describes his first release in 1992, The Complete Rhyming Dictionary (rereleased in 2008 as Pulse and Cadence), a jazz-fusion instrumental conceived as an homage to the spirit of Weather Report, as "the end of a big era of music making for me ... the closing of a chapter."
After years of performing contemporary jazz guitar with the likes of "aggressive players" like Bill Evans, Michael Brecker, Randy Brecker, and the circle of players from Wes Montgomery's Indianapolis circle, he had decided that this realm of music "wasn't that promising," and went back into a singer songwriter role for his own work, eventually resulting in his 2000 release Like So.
In his latest outing, Shine (Shine Shine) Herington takes a less layered, "stripped down power trio" approach, which he describes as going back to his early blues-rock, bar band roots. His two bandmates, bassist Dennis Espantman and drummer Frank Pagano -- with whom he's been playing since the late 80s -- both contribute to the songwriting and singing in a club-friendly collection that also appeals to his fan base from the Steely Dan universe by featuring the guitar more prominently.
Steely Dan commences a new tour in July, but in the meantime Herington is promoting his own work, and already has a new Jon Herington Band release in the works for late 2011 or early 2012. His goal at this point? "To keep my own band going ... not just between the cracks of other gigs but to keep up the momentum and make it a viable thing on its own," he says. "It's the last dream frontier for me."
The Jon Herington Band will be performing Shine (Shine Shine) in its entirety on Saturday, April 23 at the Bitter End in New York City.

SUBSCRIBE TO & FOLLOW ENTERTAINMENT
HuffPost Entertainment is your one-stop shop for celebrity news, hilarious late-night bits, industry and awards coverage and more — sent right to your inbox six days a week. Learn more