France opened its heart to America yesterday, and Paris opened the doors of its magnificent City Hall to a jubilant crowd of 1,300 -- mostly Americans -- to watch the inauguration ceremony, transmitted live by CNN.
The flags of France, America, and the city of Paris flanked the enormous screen at one end of the huge reception hall. Overhead, the allegorical frescoes, the flamboyant sculptures, and the glittering chandeliers added a glamorous dimension to the event. It was a far cry from the chilly Washington Mall!
The invitation-only event was organized by the mayor's office, the American embassy, and the committees of Democrats and Republicans Abroad. French guests (and Republicans) were definitely in the minority, but the cheers from the crowd for Obama (and jeers for Bush and Cheney) were practically universal.
Paris mayor, Bertrand Delanoë, gave a welcoming address, saying Obama was "the hope of America and the hope of France" to open a new era of peace. He ended with a rousing "Vive l'Amérique! Vive le Président Obama!"
The outgoing U.S. ambassador, Craig R. Stapleton, managed to read a text in French, saying that "Obama symbolizes all that is positive in America." And he noted that it was his last day in Paris. There were cheers for Delanoë, but no tears for Stapleton, who has filled the post rather inconspicuously for the past four years.
No Parisian reception is complete without Champagne and hors d'oeuvres, this was no exception. Additionally, the venerable, wonderful Golden Gate Quartet performed old favorites and a jazzy version of "The Star-Spangled Banner."
All around town, there were parties at restaurants and bars: Joe Allen's, Carr's Irish Bar, the Scottish Bar, a discothèque, and a solemn prayer service at the American Church followed by rollicking music and drinks. Marseille, Toulouse, Strasbourg and Avignon also organized festivities. And France's two major television networks, one public and one private, carried the entire ceremony live. Quite exceptional.
In the French press today, Obama's inauguration filled the headlines. There hasn't been so much excitement over a presidential couple since the Kennedys. But neither has there been such a critical period for the world as the presidency of Franklin D. Roosevelt. The French are aware of this, and are wishing Obama, "Bonne chance."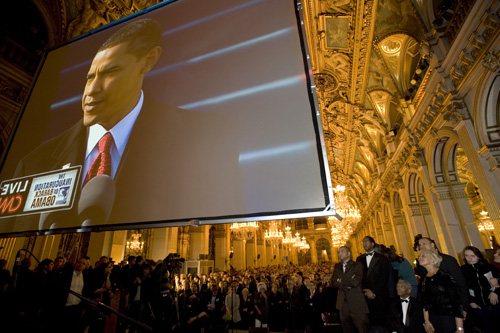 (Photo Credit: Sophie Robichon)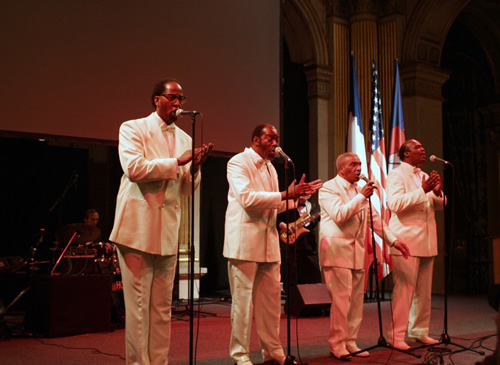 (Photo Credit: Marc Jeanneteau)

This Blogger's Books and Other Items from...
SUBSCRIBE AND FOLLOW
Get top stories and blog posts emailed to me each day. Newsletters may offer personalized content or advertisements.
Learn more