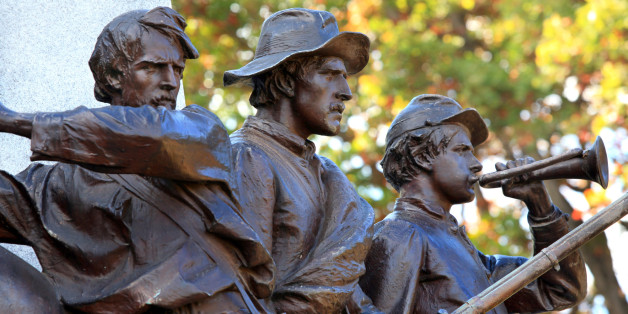 Today, Gettysburg is an American pilgrimage for more than one million people each year seeking to understand the importance of the Battle of Gettysburg and its place in American history. The story of Gettysburg is a collection of the experiences from the people who lived here, fought here, died here and rebuilt their lives in the years of the aftermath.
The stories of service and sacrifice at Gettysburg are about those who played a role in charting the future course of the nation during its greatest crisis. Whether political, military, social or cultural -- through their words, decisions and actions -- they sculpted a new nation. Whether it was high in the saddle, behind a desk, on the front lines, in their war-torn homes, in a Civil War field hospital tent or in the town hall -- the individuals at Gettysburg experienced their own rite of passage through their service to their country and their sacrifices at home and on the field.
Men and boys from all walks of life marched onto the fields of Gettysburg over those three violent days that marked American history forever -- among them lawyers, carpenters, accountants, shopkeepers, farmers, sons and fathers. Some fought for a home, a sweetheart, a country or a way of life, but all fought with extraordinary conviction that drove them forward into the bloodiest battle the continent has ever known.
The men were hardly alone in their sacrifice, and some of the bravest acts were performed by women. Margaret "Maggie Bluecoat" Palm led countless African Americans out of slavery through Gettysburg's Underground Railroad. Anna Garlach, a young Gettysburg teenager, tirelessly cared for the staggering number of wounded and dying soldiers after the battle.
Nearly 51,000 were killed, wounded, missing or captured, but the memories of their service and sacrifice remain on the fields of Gettysburg
The Meaning of Gettysburg
Four months after the battle, President Abraham Lincoln arrived in Gettysburg to address the crowds gathered to dedicate the Soldiers' National Cemetery. His immortal Address, famously delivered in about two minutes' time, uniquely captured the profound role that Gettysburg played in American history and the nation's "new birth of freedom." His words to "never forget," and to make sure that "these dead have not died in vain," remain a call to action us today.
In the decades following the battle, Gettysburg became a symbol of healing and reconciliation.
Today, 151 years after the battle, over one million individuals make the pilgrimage to Gettysburg each year. Some come to explore the place that transformed America as we know it today. Some come to walk the fields hallowed by the blood of Americans willing to give their lives for a greater cause. Some come to discover the important lessons of leadership and sacrifice that Gettysburg has to teach. But all who come leave changed, having stood on America's sacred ground. And on June 4-6, over 300 individuals will come to Gettysburg to attend the Aspen Institute Franklin Project's Summit at Gettysburg -- to show how our country can "create a common expectation and opportunity for all young people to serve our nation."
The Gettysburg Foundation, The Legacy Continues
The Gettysburg Foundation is a non-profit educational organization working to enhance the preservation and understanding of the heritage and lasting significance of Gettysburg and its national parks through its strong partnership with Gettysburg National Military Park and with others. The Foundation has reached millions of individuals through its financed initiatives and public outreach campaigns, fostered lasting partnerships with academic institutions and private organizations through educational and leadership programs, facilitated extensive monument and land preservation projects, and funded acreage and property acquisitions deemed pivotal to the historical interpretation of Gettysburg.
The stories of service continue through the Friends of Gettysburg -- the membership arm of the Gettysburg Foundation -- with more than 22,000 members across the country, who have given countless hours towards building fences, painting barns and other historic structures, clearing historic landscapes of brush, planting trees and demonstrating their devotion for Gettysburg. These labors of love, and the sacrifice of time, talents and treasures, have made it possible for us to share the stories of Gettysburg with visitors from around the world in a setting that is well cared-for and beloved.
All of this and more has been accomplished so that this national treasure will be sustained for years to come -- ensuring that the soldiers who fought here "shall not have died in vain." Yet the unfinished work at Gettysburg remains in the areas of preservation, acquisition and education.
The history of Gettysburg is vibrant. In its reach and relevance to our national narrative, Gettysburg has already taught much about our national character and it has much more to convey. What we do often defines who we are. The sacrifices made on this hallowed ground are not only made known, but are cherished and should be passed on for the next 151 years and beyond.
A little more than 150 years ago President Lincoln charged the people of this country with the solemn responsibility to "be dedicated here to the unfinished work which they who fought here have thus far so nobly advanced." The call to action for service to the unfinished work at Gettysburg remains before us -- the chance to define ourselves and leave a lasting legacy for future generations.
This post is part of a series produced by The Huffington Post and The Franklin Project at the Aspen Institute to recognize the power of national service, in conjunction with the latter's Summit At Gettysburg (June 4-6, 2014, Gettysburg, Pennsylvania). The Franklin Project is a policy program at the Aspen Institute working to create a 21st century national service system that challenges all young people to give at least one year of full-time service to their country. To see all the posts in this series, read here. To learn more about The Franklin Project, read here.
SUBSCRIBE AND FOLLOW
Get top stories and blog posts emailed to me each day. Newsletters may offer personalized content or advertisements.
Learn more