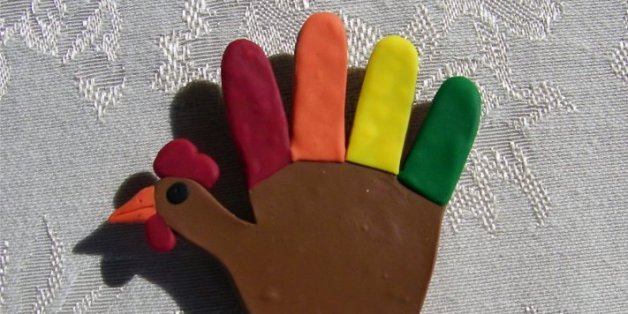 Thinking back to my days of classroom show-and-tell and hand-traced turkeys, I remember feeling an awesome sense of pride each year when I took my turn to share with the class what I was thankful for. I would stand out in front with my masterpiece and read a chicken-scratch list off multicolored paper feathers.
No longer so artistically inclined but equally excited to share, I decided to take a more pragmatic approach to giving thanks this year. This post is about sharing the voices of some amazing LGBTQ community leaders, allies, and friends -- and they are thankful for a lot. I hope this assemblage of thanks is as awe-inspiring to you as it is to me.
"I am thankful for all the gay allies who take time out of their lives to stand up for the rights of total strangers. They do this because they know we all deserve to love who we want to love, we all deserve the chance to be happy, and we as humans all deserve the same rights."

--Lauren Bedford Russell, jewelry designer, founder of Lyon Fine Jewelry and cast member on The Real L Word
"I am thankful for all of the men in my life: those who accept me for who I am and claim me as their 'wingman.' And I am especially thankful for all of the vulgar, pompous, and pretentious men that are constantly reaffirming for me that, yes, I am definitely a lesbian. I am thankful that I've never had to feel uncomfortable asking my family if I can bring my girlfriend to dinner."

--Marissa Yorkshire, student at Florida State University
I'm thankful for the LGBT youth in my life who constantly challenge and expand my ideas of what our community can and should become. Their passion, courage and humor fill my work (and life!) with endless droves of inspiration.

--Maggie Keenan-Bolger, teaching artist, sex educator and LGBT youth advocate
"I'm thankful for accepting families, mine specifically, that took my girlfriend in when her mother wasn't as accepting, and love her and treat her like their own!"

--Danielle Day, high school senior and founder and president of Bullhead City, Arizona's only LGBTQ alliance
"I am thankful for my cousin opening up to me and helping me to expand my knowledge about the LGBTQ community and for putting up with my (almost) ignorance at times."

--Stacy Feldman, labor and delivery nurse at Winnie Palmer Hospital
"I am thankful for Edie Windsor for not giving up the fight and defeating DOMA, and for the Supreme Court for doing the right thing. It was a watershed moment in the history of civil rights, and state by state, we are now seeing the effects of this landmark decision. Loving, committed couples are now being able to get the same rights as their straight counterparts and, more importantly, fulfill their dreams of being married and having it be recognized on every level."

--Stacy Lentz, co-owner of the Stonewall Inn
"As an entrepreneur, I'm thankful for being able to bring my 360-degree self to work, a right not available to many who aren't their own boss."

--Natalia Oberti Noguera, founder and CEO of Pipeline Fellowship
"I am sincerely thankful that my gay friends can marry if they like. Many of them have stronger and longer marriages than a lot of my straight friends, including my cousin, Julie, who didn't feel comfy coming out to us until she was 40. Crazy! So it's happy times! And I'm sincerely thankful for all the gay weddings I'll get to go to now! Party!"

--Cindy Gold, actress and professor at Northwestern University
--Nick Gilyard, student at Western Kentucky University
"I am thankful for the work that queer people and allies are doing in their hometowns and states to educate voters on why same-sex marriage is a civil rights issue. Even if you don't think marriage is worthy of our main focus within the queer community, I'm thankful that when it comes down to it, we all are working toward the same goal of equality and the happiness we all deserve."

--Trish Bendix, editor at AfterEllen
"I am thankful for my first gay friend, Becky. She shared David Levithan's beautiful gay romance novel Boy Meets Boy with me when I was younger. It made me feel less alone in the world and gave me the courage to come out to my family. His books still continue to remind me of all the ways that someone can be loved."

--Joey L., actor and activist
"I am thankful for DOMA being overturned on my birthday! This year my wife and I gained the same rights as our straight friends. I am also thankful for all of my friends and family in the 16 [marriage equality] states who can now also get married. A big year for LGBT equality is something we should all be thankful for."

--Jenn T. Grace, LGBTQ marketing consultant
"I am thankful that everyday more and more individuals, religions, and governments are accepting LGBTQ civil and human rights."

--Gabrielle Lindau, filmmaker
"I am thankful for my parents' enthusiastic support of my advocacy work, and for their ardent Facebook sharing. My mom has proven, officially via Facebook Insights, that she really is my biggest fan! I am thankful for my big sister, the most impassioned ally I could ever have.

"Looking to the past, I am thankful for my high school experience, for being able to come out and stay out without ever feeling threatened or bullied. I am thankful for my teachers, debate coaches, and one very special media specialist who actively supported me, and many other LGBTQ students at Nova High School, long before the days of Glee or the It Gets Better Project.

"Finally, I am especially thankful for the editors at HuffPost Gay Voices and at HuffPost Live for giving bloggers the opportunity and freedom to bring progressive and provocative stories to the LGBTQ community. And to the bloggers, I'm thankful that y'all never stop making noise!"
SUBSCRIBE AND FOLLOW
Get top stories and blog posts emailed to me each day. Newsletters may offer personalized content or advertisements.
Learn more