Review: Controversial Cloning Start-Up 'My Little Me'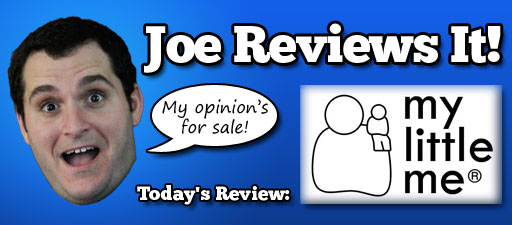 There has been a lot of buzz in the press recently about controversial genetic startup, My Little Me. Recently, My Little Me reached out to ask if I'd review their products and services. I enthusiastically accepted, excited to get into the review game!
If they're lucky, I'll give them my full endorsement...
I open my front gate to a shoebox sized package...

I tear the box open and inside is a... miniaturized Joe!? A miniature me!?

I'm stunned! When I sent the little tube of my saliva to My Little Me a couple weeks ago, I had some idea of what was coming, but never did I imagine this kind of detail! He was like me in every way! For the first hour, we did that mirror-game thing...

I tried throwing away Little Joe's box, but he insisted he take care of it. What a little gentleman! After a quick tour of my house, we settled in and had a drink together...

I turned on Honey, I Shrunk the Kids thinking the irony would be enjoyable to Little Joe, but he quickly pointed out the inherent flaws in miniaturizing a person without the proper DNA replication and miniaturization processes. Little Joe states that for miniaturization to work, one would need the technology to simultaneously shrink every vital organ and appendage, whereas, if someone were to replicate a human in a replicating cloning process, but make everything smaller, it would be a whole hell of a lot easier! His hang-ups were mostly with potential disturbances in brain function, but he didn't show a lot of his work so it's hard to tell...

"So wait," I say to Little Joe, "You're not saying that creating miniature versions of people has the potential for disastrous consequences, are you?"

Little Joe quickly points out how funny it is that Rick Moranis used to be a leading man...

I laugh and agree...

After a great first day with Little Joe, I helped him into his Hot Pocket bed, and then retired to my own bed...

With day one in the books, I have high hopes for My Little Me, and don't really understand the national outcry that is currently enveloping their company. You'd think Little Joe was some kind of evil genius! Ha-ha! Yeah right!

I awoke to find Little Joe brewing a pot of coffee...

I ask why he's up so early and Little Joe informs me that it was his first time seeing the sunrise. I agree that it's a truly beautiful sight and turn to look out the window myself...

Little Joe says he wants to see all that Burbank has to offer, so we drive to a nearby 7-11. Little Joe promptly set about examining the merchandise...

Embarrassed, I helped Little Joe off the hot dogs and assist him in quenching his thirst...

Little Joe asks the 7-11 attendant for a pack of Marlboro Reds. The attendant asks for some identification, which Little Joe gladly provides...

We leave 7-11 and head home. I have a big date to get ready for! Little Joe, despite being created only a few short weeks ago, is super smart. He has this idea of sitting in my ear and telling me what to say so my date, Jessica, will like me! I think he said it was from the movie Cyrus. I don't know, I've never heard of it. Little Joe and I finish getting ready. We are super excited about having a good time...

We get to the restaurant and sit down with Jessica. Little Joe has the most clever things for me to say, like, "I can't believe how expensive cheese is."

Obviously, Jessica is nothing but entranced...

We finish up dinner and Little Joe pops out, pretending he has just arrived. "Am I late?" he asks.

I told him no -- he was right on time!

Little Joe says we should go sing some karaoke to impress Jessica and I totally agree. I suggest Randy Newman's "Short People," but Little Joe doesn't care for it...

Little Joe suggests something by Elton John. I think it's a great idea! After a quick outfit change, we're ready to go... I tell Little Joe I'm nervous because I really want to impress Jessica. He pulls a tiny candy out of his pocket and tells me to eat it, because it will calm me down. Little Joe is ALWAYS looking out for me. We start singing "Don't Go Breaking My Heart," but everything starts getting a little hazy...

I just woke up totally dazed and confused. What the heck happened last night, and what's with all these empty liquor bottles... I head downstairs to find Little Joe, but something is very wrong. The house has been ransacked. I call out for Little Joe but he's nowhere. As I turn the corner, I see Jessica. Oh my God...

She has trouble speaking because she's so close to death, but manages to get a few words out. "Little Joe drugged you last night, " groans Jessica. "After you were out of the picture, he tried to... cough... put the moves on me... "

"What did you do?" I ask.

Jessica shrugs and says she was kind of into it...

Jessica continues, "It was actually going well until we got back here and threw you upstairs. We started getting down to business, but I quickly found out he was... ya know... not quite complete." "He's not complete?" I question. Jessica, barely alive at this point, grabs me by my lapels and pulls me close...

"Little Joe was engineered not to reproduce. When he unzipped and saw he had no genitalia, he freaked out. He started drinking and kept going on and on about 'unfinished business.' He's gone crazy with depression and murderous rage. You have to stop him, or the results will be dire!" And with that, Jessica was dead. She was a bit cliché, but dead nonetheless. I mourned her death...

...briefly. I mean, I only met her yesterday, and if I understand her story correctly, she started hooking up with Little Joe after she explicitly knew he drugged me. Maybe Jessica wasn't the girl I thought she was...

There was no time left to waste. I had to find Little Joe and figure out what was going on. I looked through Little Joe's things, hoping there would be some kind of clue. I open the box he came in and out drops an envelope...

That was odd. Why had I not seen this before? I remember back to when Little Joe first got here... he never let me look in the box! Oh boy, this could really be cashews for me! The letter reads: "While adorable, your Little Me should never be left alone, given alcohol or trusted. Their tiny genetic makeup makes it very hard for them to process alcohol, trust and freedom the way we do. Do not give your Little Me any of these things." Crap! I did all of those things! I continue reading and find a number to call if Little Joe goes "berserk." That's their word, not mine. I dial and prepare for the worst...

It rings a couple times and a message starts playing: "So you're having some problems with your Little Me, 'eh? Not to worry, there are several simple solutions that can get your life and your city's life, back on track! Let's go over a few things to get a better understanding of the problem. If your Little Me has gone berserk, please press one."

"You've selected one, meaning your little me has gone berserk. If he went berserk because he is self-aware, press one. If you gave him alcohol, please press two. If he's realized his genitalia is missing, please press three. If all of the above has happened, please press four."

"Holy God, you've pressed 4? No need to panic yet, but if the whereabouts of your little me are currently unknown, please press 1."

"You've selected that yes, the whereabouts of your Little Me are currently unknown. Not to worry! We've just alerted your town's local authorities, as well as local SWAT and local FBI. They should be there shortly, and hopefully, in enough time to prevent any vandalism, murder and/or mayhem. However, please be advised that you are currently NOT SAFE. Your Little Me, while tiny in stature, has the strength of three normal sized men. We know what you're thinking and yes; this was dumb. We know that now. We would suggest getting out of your home, because odds are, your Little Me, who by now is drunk on murderous rage and alcohol, has probably fashioned a makeshift bomb and/or firearm out of your household materials. You are not safe. In fact, if you've had your back turned for a while, he's probably behind you now. Good luck!"

This is a disaster. My place is trashed, my clothes are torn, there is blood everywhere...

I wake up, even more dazedier and confusedier than the day before. The last thing I remember is turning around in the fear that Little Joe would be there. Given that I was knocked out and somebody changed my clothes, I have it on good authority that that's exactly what happened...

I step out my front door and it's a wasteland. Chaos is in charge now. Life as we know it is coming to a screeching halt...

I can't help but feel partially responsible. I have to do something. Little Joe can't be indestructible. There must be a way to stop him! I go back inside to look for anything I may have missed. Oddly enough, there's another small envelope near the box he came in! How do I keep missing these? I pop open the letter and there are a couple suggestions on what to do if all else has failed, and the end is near. Option one is terminating Little Joe. They suggest using a garbage disposal. Honestly, despite all he's done, I don't think I could do that to him. He's really not ALL bad. He's just confused. I hear what sounds like gentle sobbing coming from the living room, and to my surprise, it's Little Joe...

"Little Joe, what happened?" I ask. "I got stuck!" exclaims Little Joe. "I was sad and drunk, and I thought, 'Hey, I should get in this hurricane glass', but now, the sides are super slippery and I can't get out!"

"It's ok," I reassure Little Joe, "I'll help you out of your tiny glass prison."

"You're not so bad, are you Little Joe?" I said. "You're just like me. Only little."

"And with no genitalia," responds Little Joe.

I tell Little Joe it's ok. "Ya know what, little buddy? I think we're gonna be just fine if we... wait a second -- what, the hell!?"

"Where did you get that gun, Little Joe? You're not gonna kill me, are you?" Little Joe giggles and shouts, "Of course I'm gonna kill you!" While the tiny bullets ripped through my flesh, I realize Little Joe was merciful and just, avoiding any major organs but effectively sending a little message. As I lay on the ground, life flowing out of me, Little Joe scampers to the door...

Sure, I could give the people at My Little Me a bad review, but honestly, they have quite a product on their hands. If they ever work out all the kinks, man oh man, watch out! And, yeah, did Little Joe shoot me? Sure, but I truly believe in my heart of hearts that he has a fundamentally good soul, and... Little Joe, c'mon, I know you wouldn't do this to me. We're pals! I love you Little Joe! Let's work this out! If we just...

BANG!
Follow Joe Cristalli on Twitter: www.twitter.com/joecristalli