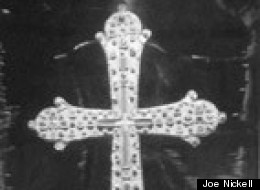 The word miracle is much used--and abused. It comes from the Latin miraculum, meaning "wonder." It is usually defined as an event that is inexplicable by natural laws, and is therefore attributed to the supernatural, usually to divine intervention. But the definition depends on negative rather than positive evidence, and represents a logical fallacy called arguing from ignorance (that is, from a lack of knowledge).
Here are examples of this fallacy: "We don't know why this statue is weeping; therefore, it is a sign from God." Or, "Her doctor can't explain why her condition suddenly improved, so it is surely a miracle." Or yet again, "The stigmata of this person are inexplicable and can only represent a true miracle."
Thorough investigation of such cases, however, does usually reveal a naturalistic explanation--or at least a probable one. When mystery remains, it is usually because of a lack of evidence (the event may have happened long ago) or lack of access to it (permission to examine or test an object may be withheld).
Now in my fifth decade of investigating and explaining miracle claims, I attempt to avoid the approach of either "believers" or "debunkers" who typically start with the desired or expected answer and work backward to the evidence. Instead, I employ my skills as a former stage magician, private detective, and science writer as well as a scholar with doctoral studies in literary investigation and folklore. The character played by Hilary Swank in the 2007 movie The Reaping was based partially on my work as a miracle detective. (Warner Brothers even invited me onto the movie set to watch some of the filming and to meet the engaging actress.)
I use some basic principles. One is the old maxim that "extraordinary claims require extraordinary proof"--that is, that the evidence must be proportional to the claim. Another principle is that the burden of proof lies with a claimant--not on someone else who must attempt to prove a negative. Still another principle is known as Occam's razor (named for fourteenth-century philosopher William of Ockham). It holds that the simplest tenable explanation--the one with the fewest assumptions--is to be preferred.
I apply these principles in my new book, The Science of Miracles: Investigating the Incredible. While "miracles" are often attributable to illusion, confusion, or even delusion, some are deliberately faked, like the historical sampling presented here in photos and text.
Unfortunately, while a few are now merely curiosities of the past, others continue to deceive, promoted by pseudoscience and zealotry. They obscure the otherwise overwhelming evidence that we live in a real, natural world.
Faked Miracles in History
From the most ancient times, snake charmers have performed tricks and stunts with snakes, like the performance I once sketched in Morocco (see accompanying drawing). Indeed, the first publicly performed magic feat in the Bible involves snakes. It occurs at the Egyptian pharaoh's court, where brothers Moses and Aaron seek to free their fellow Jews from slavery. "And Aaron cast down his rod before Pharaoh . . . and it became a serpent." But the ruler called forth his sorcerers, each of whom duplicated the feat (Exodus 7:8–12). Now this event has been considered a miracle from God (doubtful, since the Egyptian magicians could also perform it) or a fairy tale. That appears to be a false dichotomy, because snake charmers have used the feat in their performances. Ancient conjurers likely carried staffs that resembled the serpent of choice, so a clever switch could be made. Then—as described by my late friend Premanand, the Indian magician and skeptic—the performer holds the tail and head of the snake, stretching it straight, while pressing firmly on the head with the thumb and forefinger. This causes the snake to go rigid and so resemble the rod—until it is thrown to the ground.

Related in a fourteenth chapter of Daniel (found in Catholic Bibles) is an illuminating account of a Babylonian miracle-working statue of Bel (or Baal). Each day it devoured twelve bushels of wheat, forty sheep, and fifty gallons of wine. Daniel, however, expressed skepticism, angering King Cyrus who proposed a test. After the offering was placed again, seals were affixed to the doors. Still, when morning came, the seals were intact but the food and wine were gone! As it happened, however, Daniel had had ashes scattered over the floor. They preserved the footprints of the priestly families who entered through secret doors to partake of the daily feast. Although the tale is historically questionable, it nevertheless served to motivate the Jews to resist idolatry.

The location of the "True Cross"—that upon which the Christ of the Gospels was crucified—was allegedly revealed to Roman Emperor Constantine's mother, Helena (later St. Helena) by divine inspiration. Subsequently, alleged fragments of the cross proliferated, and a story spread that regardless of how many pieces were taken, the cross never diminished in size—a claim compared with Jesus' multiplying of the loaves and fishes (Matthew 15:32–38). (I have seen several pieces, including four mounted in a reliquary cross in Genoa, shown here.) Helena's supposed vision came almost three centuries after the crucifixion. In fact, there is no credible evidence that Jesus' cross was found. John Calvin, the Protestant reformer, joked that there were enough alleged fragments to "form a whole ship's cargo." Calvin specifically disparaged a piece known as the Titulus Crucis (cross title board) that bore the inscription, "This is the King of the Jews" (Luke 23:38). However, radiocarbon dating of the Titulus to between 980 and 1146 CE disproves its alleged first-century origin but is consistent with the period when the artifact appeared.

Although John Calvin observed critically that the reputed blood of Jesus "is exhibited in more than a hundred places," one of the most celebrated specimens is that in the Basilica of the Holy Blood in Bruges, Belgium. In 2006, on my second visit to the site, I was able to hold in my hands the reliquary that—allegedly—contained the actual blood of Christ (see photograph). I twice stood in the pilgrim's line (making a donation both times) supposedly to pray over the reliquary. In fact, I used the occasions to get a good look at the substance. It did not pass the visual test: The contents had a waxen look, bespeckled with "coagulated drops" that have suspiciously remained red—unlike genuine old blood which blackens with age. Moreover, the relic lacks a credible provenance, having no record for some twelve centuries after Jesus' death, and, corroboratively, the "blood" is contained in an eleventh- or twelfth-century Byzantine perfume bottle.

Although there have been some forty "true" shrouds of Jesus, the Shroud of Turin, a 14-foot length of linen, bears the front and back images and bloodlike stains of an apparently crucified man. (It reposes in a cathedral in Turin, Italy—see photo.) When the shroud was first photographed in 1898, the glass-plate negatives showed a more lifelike quasi-positive image (though certainly not indicating that the image of the cloth was a "perfect photographic negative" as often claimed). The cloth was the subject of a secret study that began in 1969, a further examination (by mostly religious believers) in 1978, and radiocarbon testing in 1988 which yielded an age span of 1260–1390 CE. Shroud proponents questioned the devastating tests, pointed to what they believed were realistic anatomical elements and bloodstains, and insisted the faint image could not have been painted by an artist. Instead, many have argued, it must have been created by a miraculous burst of radiant energy at the moment of Christ's resurrection. Actually , the radiocarbon date is consistent with the time the shroud first appeared in Lirey, France, in the middle of the fourteenth century. A later bishop reported to Pope Clement VII in 1389 that the shroud was being used as part of a faith-healing scam and that it was the work of a confessed artist. World-famous microanalyst Walter McCrone discovered that on the image—but not the background—were significant amounts of red ocher pigment and that the "blood" consisted of red ocher and vermilion tempera paint. (This explains why the "blood" is suspiciously still red and "picturelike" and why it failed batteries of sophisticated forensic tests.) Shroud proponents offer contrary claims, but it is clear that "Shroud science"—like "creation science" and other pseudosciences in the service of dogma—begins with the desired answer and works backward to the evidence, picking and choosing.

One of the most famous embodiments of the legendary "Holy Grail"—popularly the chalice from Jesus' Last Supper—is preserved in a cathedral in Genoa. It is Il Sacro Catino, "The Holy Basin" (the word grail originally meaning "dish"). Actually a fifteen-inch diameter, emerald-green, hexagonal bowl, it was brought to Genoa by a crusader in 1101 (depicted in a fresco shown in the photograph). Early accounts reported it was made from an actual gigantic emerald. Unfortunately, the Catino was broken when Napoleon I carried it as war booty to Paris. The accident revealed it was of ordinary green glass. That realization shattered the Grail claim as well, because its link with Jesus had only been asserted after its arrival in Genoa, and then only because of a tale that an emerald vessel had been used to collect Jesus' blood after he was crucified.

San Gennaro (St. Januarius) was supposedly martyred in 305 CE during the persecutions of Christians by Diocletian. A container of Gennaro's alleged blood is preserved in a Naples cathedral, where, since the fourteenth century, it has periodically liquefied. If the phenomenon fails to occur, disaster is said to be imminent. (A church at nearby Pozzuoli has a bloody stone on which Gennaro was supposedly beheaded, although the red spots are believed to be traces of old paint. I visited both sites in 2004.) Actually, Gennaro's historical existence has not been verified, and the "blood" lacks provenance before 1389. Forensic analyst John F. Fischer and I replicated the phenomenon using a mixture of olive oil, melted beeswax, and pigment. When slightly warmed (as by body heat or nearby candles), the mixture suddenly liquefies. Italian chemist Luigi Garlaschelli (shown at Pozzouli in 2004 in my photo) produced similar results using a thixotropic gel, one that liquefies when agitated but then resolidifies. He was able to test our differing hypotheses on the "blood" of another saint, one of twenty exhibiting the liquefying phenomenon. He first agitated the ampoule, but without effect; then he immersed it in warm water, whereupon a "miracle" occurred.

According to pious legend, in 1531 (a decade after Cortez conquered Mexico), the Virgin Mary appeared to a new convert named Juan Diego. She asked that a temple be built where the Aztecs had had one to their own virgin goddess, Tonantzin. As a sign to a skeptical bishop, Mary miraculously imprinted her image on Juan Diego's cloak. Alas, the tale derives from a Spanish legend, and the image's iconography is that of traditional Spanish art (see illustration). During a formal investigation in 1556, it was stated that the image was painted by "the Indian painter Marcos" (a known Aztec artist). In 1982 the cloth was studied by an art expert whose microscope revealed sixteenth-century paints and methods. Nevertheless "Juan Diego" was subsequently made a saint.

Named for Lourdes, the famous healing-spring grotto in the French Pyrenees, Belgium's Shrine of Our Lady of Lourdes (where I have twice visited) claims numerous miracles. Its most celebrated one was the nineteenth-century healing of a laborer, Pierre De Rudder, whose lower left leg was broken by a felled tree in 1867. Reportedly, he refused amputation and for eight years endured pain from an open and festering wound. Then in April 1875, De Rudder visited the shrine and was, allegedly, healed instantaneously. Unfortunately most of the important testimony in his case went unrecorded for eighteen years, suffering the effects of memory distortion and the legend-making impulse. Nevertheless, in 1908, the Holy See of Bruges declared the healing supernatural. Now, seeming cures may be due to misdiagnosis, psychosomatic conditions, prior medical treatment, the body's own healing power, and other effects. Also some illnesses—multiple sclerosis for instance—are known to show spontaneous remission. In Pierre De Rudder's case, however, it was rumored about his village that he was simply malingering in order to have a life of ease. It was after his pension was stopped and his wife and daughter had to work, that he went to the shrine and claimed a miraculous cure. However, he returned home with a scar that, according to a doctor, was "such as one finds a long time after a healing." Besides, the bones (see photo) grew back in a very imperfect manner, hardly suggestive of a miracle.

At the time of the Spanish Conquest of the 1530s, the sacred Inca citadel of Pachacamac was a dominant pilgrimage center that featured a great oracle. (The photo shows my Peruvian guide identifying one of the stepped pyramids there.) The working of the oracle is unknown, but perhaps a priest "channeled" the deity in the presence of its Janus-like, dual-faced idol, or possibly a hidden person delivered the pronouncements. Likely they were given in figurative language that could later be interpreted as necessary. Significantly, the oracle assured the Inca king Atahualpa that he would be victorious against the bearded white men who ventured into his land. He was so confident of victory that, in meeting with Francisco Pizarro's 170 men, his 5000 warriors were ceremonially dressed and only lightly armed. Accompanied by trumpets blaring and cannon exploding, Pizarro launched a surprise attack with armored men on horseback. Many of the panicked Incans were soon slaughtered, while others were trampled and suffocated. The oracle of Pachacamac had failed not only to see the empire's defeat but the fate of the king: Threatened with death unless he yielded their gold and silver treasure, Atahualpa was betrayed and killed anyway. He agreed to baptism to avoid being burned at the stake, and was hanged.