I walked into PR firm Jack + Bill's loft, and it was almost too much to handle. Loud dancy music blasted from the speakers, blinding sunlight streamed in through the expansive windows, and everyone else was dressed and coiffed to the nines. The only thing that kept me was the thought of Penn.
I went on a tip from the PR company: they told me that Penn Badgley, Dan Humphrey from Gossip Girl (duh), would be coming at seven to support his mom as she tried out for PR representation for her jewelry line Badgley/Sneed Designs. Penn, they said, would be happy to give interviews.
There was no way I was going to pass up an opportunity to meet one of the Gossip Girl kids. The show gets notoriously mediocre ratings, but I feel like almost everyone I know watches it -- the opposite of Two and a Half Men. And a solid chunk of the appeal of the Gossip Girl lies in the sense that the actors on the show really are their characters; they seem to feud and date each other off screen as on, with Gawker filling in for the eponymous blog.
I went up to the front desk and was directed to sit and wait for Penn to arrive. I inspected my surroundings. It was the middle of the casting call; all around me were aspiring models, fashion designers and stylists. They were there to make an impression, and for the most part, they succeeded. I spotted sequined boots, thick eyeliner, a rainbow sweater ... and that was just the men. The stunning view of Jersey City across the Hudson only underlined the importance of the event to the careers of the people here: if they did not succeed, the "sixth borough" might be their next stop.
40 minutes went by, in which time I sat anxiously checking my e-mail and looking over my interview questions.
"He'll be here in five minutes! I just got a text message from his mom," said Erin of Jack + Bill.
Penn and Lynne Badgley, Blake Lively, and Jan Sneed; Photo by Marcos Rivera Photography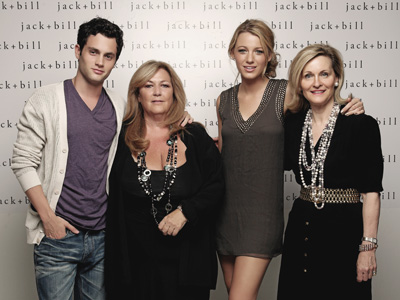 Now I was really nervous. A few minutes later, they walked in: Penn, his mom Lynne Badgley, his godmother Jan Sneed -- and his girlfriend and costar Blake Lively. Penn and Blake put all the aspiring talents in the room to shame; there's a reason they've already made it. I was expecting them to look somehow unlike they do on the show, but they failed to meet my low expectations, instead managing to look even more glamorous. Blake was wearing an olive grommet-necked minidress and beige pumps, while Penn sported a cream cardigan, purple V-neck and faded Acne jeans. Lynne and Jan were matching in all black with their own jewelry around their necks.
They sat down a few feet from me, doing their best to pretend they were the only ones in the room. Penn was toting a large brown Louis Vuitton suitcase full of Badgley/Sneed jewelry, and it took some time to find a place to set it down.
I went into panic mode. All my questions were designed for Penn alone -- I had no idea Blake would be there too. As much as I wanted to just sit there and think about how close I was to Dan and Serena, I realized that I had to come up with some new questions to deal with the new circumstances.
I was flipping through my reporter's notebook trying to think of new questions when Erin came back.
"What are your questions about, for the most part?" she asked.
"Um, well, the show..." I said.
"Yeah... they're saying can't actually talk about that... I'm sorry... I can definitely get you pictures and everything..."
I felt duped. I came all the way to the casting call and wasn't even going to get to talk to the people I came for. I sat and waited in disbelief. Blake and Penn had joined Lynne and Jan across the room to show the PR agents the jewelry. From where I sat, they could be seen enjoying a brief, tame kiss.
But a few minutes later, Erin called me over and said I could have two minutes to talk to them -- but only about the jewelry line.
After meeting them, I mentioned that I was a big fan of the show, and that I had just seen the last six episodes, to which Blake responded, "they get better throughout the first season. And the next season is even better."
Lynne added, "And it's in the Hamptons!"
I asked them whether we'll be seeing any of the designs in the show, and Jan said, "They're looking at it, yes."
Penn, who seems more supportive of his mom's endeavors than Dan is of his dad's, said, "Yeah, I think it would work really well. There's a wide range of looks - from something staid for Blair to something regal for Lily..."
"There were definitely pieces that I saw that I'd like my character to wear," Blake added.
Penn said, "it really says a lot, since they're so specific about the look of the show. There might even be something for Dan..."
He laughed, gesturing facetiously to his ears and belly button, but denied Dan having any hidden piercings.
And then -- they left. And so did I. But I'll see them again -- maybe together, if Nate and Serena don't work out -- on the CW. That's where they belong.

SUBSCRIBE TO & FOLLOW ENTERTAINMENT
HuffPost Entertainment is your one-stop shop for celebrity news, hilarious late-night bits, industry and awards coverage and more — sent right to your inbox six days a week. Learn more