I watched Sarah Palin's interview with Katie Couric and learned that living next to another country and/or being on a flight path to another country constitutes foreign policy experience. I learned that her foreign policy experience included not only Russia but Canada as well. I watched John McCain "race" to Washington by appearing with Katie Couric (she seems popular with Republican national figures lately), going to a dinner hosted by Bill Clinton, and then sleeping in a hotel in New York. The next day, he arrived in DC in the late morning, just in time for the agreement almost in place to collapse. This show of leadership necessitated demanding that a scheduled Presidential debate be postponed. More importantly, it required cancellation of an appearance on the David Letterman show, who could not stop talking about it. The media seemed more interested in Letterman's wrath than in the financial crisis threatening our welfare. Not to be outdone, the Democrats engaged in a squabble in a meeting with the President and announced a deal that had not been consummated and which then fell apart. Keith Olbermann appeared on David Letterman in place of Senator McCain where his function seemed to be to uncomfortably listen while Letterman vented. Letterman thanked him the next day by noting that he had a huge head. In the meantime, Senator Biden explained how Democrats had shown leadership in the past by reminding us that President Roosevelt had appeared on television to reassure the nation during the Great Depression. That TV was not in use until decades later did not seem to faze him. Apparently, Roosevelt was an even more forward thinker than we had realized. Obama went to Washington to save the country from the financial crisis, which he did by commenting on the meetings during breaks.
All of this has inspired me to offer new leadership for this country in the form of my sons Liam and Aiden. Unlike Sarah Palin, they have actually been to foreign countries by traveling in airplanes such as she observed flying over Alaska. This past summer they visited Germany and Austria. They engaged in diplomacy in airports, restaurants, and cities and had their picture taken several times with dignitaries ranging from waiters to senior scholars from universities. One of them even carried my younger son on his back symbolizing the new friendly and close relationship our two countries can forge with proper leadership (with us on top of course). The boys sampled local food, and so became expert in foreign customs. They even learned some of the names of the people they interacted with and some of the language. In this way, they have improved upon and become expert in foreign relations. They have also visited Canada, where they have relatives, and attended important meetings there. They toured a science museum in order to encourage scientific cooperation between our two nations and to demonstrate their belief in scientific progress and human ingenuity. In both locations (Germany and Canada) they increased the popularity of our country and learned about the people. Moreover they purchased goods, thereby becoming expert in foreign and domestic trade as well as the worldwide monetary system.
But they are not simply adept at foreign policy and trade. They have also mastered domestic issues and government. Last year they visited Washington DC. Without racing, they were able to get to the capital in hours rather than in a day, demonstrating their mastery of transportation issues. They visited museums at the Smithsonian. At the Museum of Natural History, they viewed dinosaurs and so became expert in fossil fuels and the dangers of global warming. They visited the Space Museum becoming expert in technology and science. They also walked along the mall and visited the Lincoln Memorial and Washington monument. Thus, their patriotism has been clearly demonstrated.
One of the divides of this country is between rural small town and large city. The boys are expert in both and comfortable in both. They have relatives in Iowa and have visited there. They therefore know about Middle America and its values. They even went to the Iowa State Fair thereby qualifying as Presidential candidates. And yet they live in New York City, which gives them an expert understanding of urban issues and multicultural breadth. Also, as New York is the main city of 9/11, they understand the issues of security and terrorism.
I realize that the boys are too young by our rules to run for President at this time but it is also implicit that our candidates actually have some of the experiences and knowledge they will need to face the issues of our times. It is also expected that they will show common sense and appear before the people so they can be compared and contrasted. Since these expectations are no longer valid, I would like to propose that we do away with age requirements as well. I therefore place in nomination for President and Vice President my two sons Liam and Aiden. I do so without blinking, as hesitancy is a sign of weakness and to be shunned. They are ready. I know this because I asked them. The particular office each will occupy is not important as they will serve together and use their experiences and knowledge for the good of our nation.
Why wait? Why worry about qualifications? Serve now! Liam and Aiden for President. Their slogan, to be placed above their photograph: Not Ready to Read; But Ready to Lead.
Liam and Aiden: Not Ready to Read; But Ready to Lead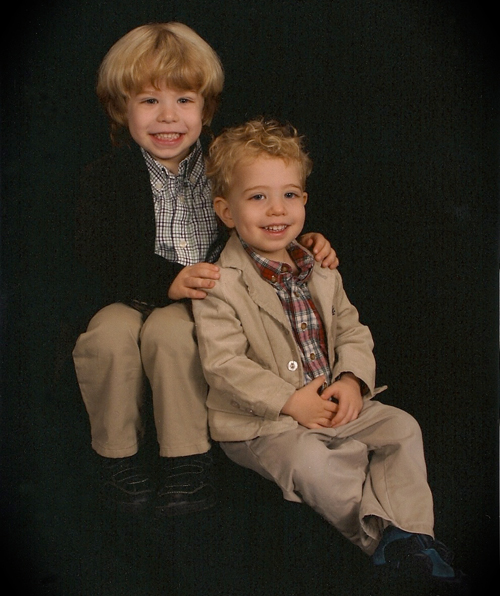 SUBSCRIBE AND FOLLOW
Get top stories and blog posts emailed to me each day. Newsletters may offer personalized content or advertisements.
Learn more