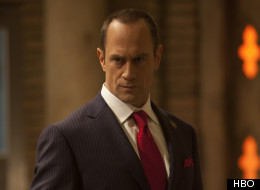 Watch out Sookeh and Beel -- Stabler is in the house. Christopher Meloni made his first "True Blood" appearance as Roman, a member of the vampire Authority, in the second episode of Season 5 this week.
Also in the episode, entitled "Authority Always Wins," Tara -- and Sookie and Lafayette -- struggled with her newfound vampire-hood, Terry got creepier and in one of the most exciting parts of the episode, viewers finally got a flashback to how Pam and Eric met. Period costumes! Hookers! Human Pam! "True Blood" also began exploring religious fundamentalism -- albeit vampire religion.
Relive the best moments from "Authority Always Wins" in the GIF slideshow below.
True Blood: Authority Always Wins Recap
Pam takes control of the situation when new vamp Tara gets a little too handsy.

One of the weaker (as of the second episode) storylines has Terry being a major creep.

Tara goes on a destructive rampage and it's rather entertaining.

As part of their captivity by the Authority, Bill, Eric, and Nora are subject to intense UV rays.

Andy and Jason share a lighthearted moment.

Lafayette is so overridden with guilt that he nearly stakes Tara in order to relieve her of her impending suffering.

Finally, viewers are treated with the backstory to Pam and Eric, and we are ever so thankful.

One of the most interesting parts of the episode was the introduction of the vampire Bible and the story of Lileth, the first vampire. Also, God, a vamp?

And with one small dance number, Steve Newlin has become one of my top three favorite characters.

Maxine Fortenberry was the one good thing in this tired subplot.

Christopher Meloni makes his first appearance as Roman, a member of the Authority, and we are not disappointed.
Follow Joey DeAngelis on Twitter: www.twitter.com/joeydeangelis