THE BLOG
Inside Fashion Week: Calgon!!! Take Me Away!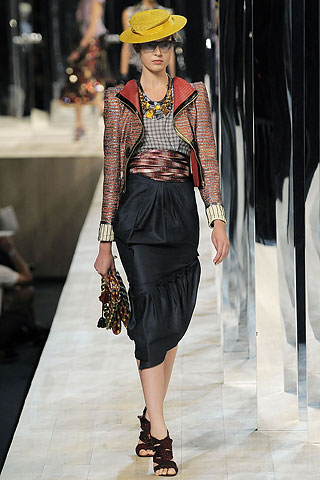 The Marc Jacobs show is always my "Wednesday" so to speak. It's the hump in the week where everything thereafter is a downhill trek. Granted, it's a LONG downhill trek, but at least it's downhill. Over the past seven days, I've attended 30+ shows and parties which is only a fraction of what an actual working fashion editor goes through. (Don't forget I have a day job!) If I see one more dress or eat one more piece of chicken on a stick, I'm going to freak out and burn down the tents (which, by the way, are completely fire retardant.) Actually, I'm quite fortunate to be able to be a part of this, and I'm not complaining.....just venting. I'm done now.
SO.....Monday was Fashion Week's big night with Marc Jacobs showing at 9pm at the 69th Regiment Armory, a cavernous 31,000 square foot space with a barrel ceiling normally used by the New York National Guard. This show is always the most anticipated and always draws the most star power.
I don't normally consider myself a Jacobian (one who follows every move Jacobs makes), but this collection and its show had me reeling! The raised runway was made of natural wood, and it was lined with over 100 mirrored panels. The start of the stage was a curved backdrop of mirror lined with "fitting room" doors from which the models emerged and which were reminiscent of Coco Chanel's original boutique at 31 rue Cambon in Paris. The chicness!
The collection was a throwback to the 1930s and 40s America which was clearly evident from the first look out. Flattened straw hats, below the knee prairie skirts, wide shouldered jackets and gathered waistlines were prevalent throughout. My favorite part was the eight or so looks inspired by middle America featuring apron skirts, plaid shirts cut on the bias and tightly wrapped head scarves.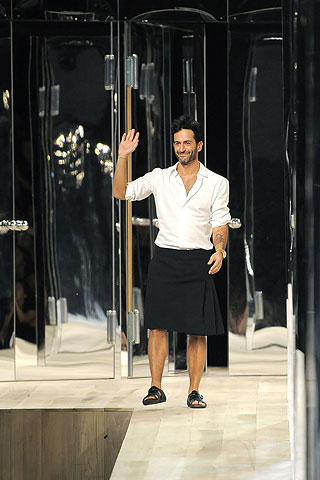 From the satiated stares in the front row, which included Jennifer Lopez, Victoria Beckham (who sported a new pixie cut hairdo), Winona Ryder, Elijah Wood, Anna Wintour, Nicole Richie, Kim Gordon of Sonic Youth and Helena Christensen, looking spectacular in black hot pants and a blazer, I'm sure that Marc is returning to Paris a happy man.
On Tuesday morning, I swung by the tents to check out what has been quite the buzz all week. I had heard that American Express went and built a private "sky box" for Gold, Platinum & Black Amex cardmembers on the inside with bird's eye views overlooking two of the runways but undetectable to show goers, so I popped by to take a look! The corporate giant commissioned Frank Carfaro from Desiron to design the box to make it look as chic as possible, and I don't have to tell you how much streaming swathes of fabric can add to a room! I didn't get to see anyone of note while I was there but word has it that Diane von Furstenberg, Lisa Mayock and Sophie Buhai of Vena Cava, Barney's Julie Gilhart, designer Phillip Lim and Style.com's Candy Pratts Price have all made cameo appearances, making the $200-$700 each cardmember spent to gain access totally worth it. I was invited back tonight to check out the Anna Sui show from the box, and you know I'm not passing up that offer!
After putting in a few hours at the office, I headed over to Iceland's latest stateside addition, Kisan, which was launching its first American concept store. There I ran into my favorite man about town, Sam Shaffer, DJ Sky Nellor, House of Diehl's Roman Milisic and MJ Diehl, designer Elise Overland, artist Hope Atherton and social spawn, Tallulah Harlech, who was hiding behind a gorgeous pair of oversized sunglasses. She's my favorite new chicette.
I then swung by the new Y-3 store opening which was right down the street to congratulate our peeps. The store is bigger and brighter than its meatpacking counterpart, and I'm very excited to wreak some havoc in there soon. I devoured three little mochi ice cream balls (vanilla, red bean and green tea), and I pushed my way through the crowd inside and only to be met outside with a crazed pack of Y-3 fanatics frantically trying to get in. I guess people will do anything for a free cocktail or a free Y-3 thermos which is what they were giving out as thank you gifts.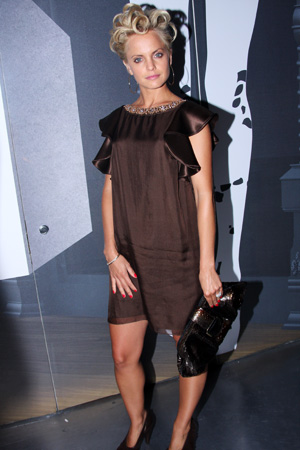 By this point, I was slowly dragging my Gucci clad heels over to the Prada Epicenter for their party and screening of their latest short film "Fallen Shadows." As usual, the Rem Koolhaas designed store was packed beyond comfort, and I could feel my eardrums slowly start to emit a small stream of blood from the blaring music. Besides that, I had an amusing time. Perry Ferrell hung out in the outdoor smoking section with legendary photographer, Mick Rock while Kanye West, Cassie, Claire Danes, IMG's Peter Knell, actors Hugh Dancy and Heather Graham made their way through the crowds to get into the makeshift screening room to watch the 6-minute short (which is a magical tale of two sisters, one represented by a shadow).
On my way out the door, I ran into Mena Suvari, who was wearing the most decadent little Alice + Olivia number in chocolate silk. When I asked her who had given her such luscious cranial curls, she pointed straight in front of her to Alex Dizon, proudly saying, "He did." And with that I bid her adieu because I had one final stop to make.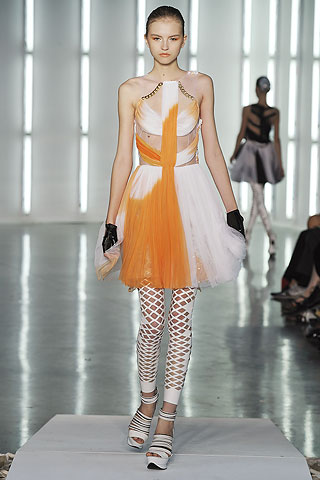 I had missed the Rodarte show earlier that day, but there was no way I was going to miss the party which Moet & Chandon threw for sibling designers Kate and Laura Mulleavy at Chinatown's latest watering hole, Apotheke. Rodarte followers including Keira Knightley, Bjork, LA-based filmmaker Liz Goldwyn, and Visionaire's Cecilia Dean all were blown away when Moet surprised Laura with a jeroboam of champagne for her birthday, complete with a scarlet L in Swarovski crystals, silver spikes and a custom crystal mesh casing. I was going to steal it, but I'm not a fan of manual labor and lifting that huge bottle would have been more work than I would have wanted to put in.
Fashion Week Day 5 down, and only two to go. Must. Stay. Awake.