This post is part of the Global Mom Relay. Every time you share this blog, $5 will go to women and girls around the world. Scroll to the bottom to find out more.
No matter who you are or where you're from, at some point in your life someone has given you a second chance. And that second chance created opportunities to learn, grow and live a better life.
In developing communities around the world, women farmers work to feed their families, communities and countries. Yet many don't own the land they farm and don't have access to credit and other essential resources to be successful.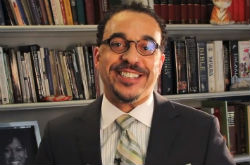 When we give them a second chance -- by investing in them with training, credit and other resources -- we make powerful strides to fight both hunger and the poverty that fuels it.
Easter is a day of new starts and new beginnings -- of realizing we are worthy of second chances because God loves us. Let us celebrate second chances by investing in women, who are powerful agents of global change.
I invite you to watch this video as I recount the story of a second chance given to me by two gracious women in my life. Then I invite you to share this video and unlock a donation that supports, empowers and affirms the vital role of women everywhere. Happy Easter!
Each time you share this Global Mom Relay piece on Facebook, Twitter, or Email, or donate $5 or more through clicking on the above graphic, a $5 donation (up to $62,500 per week or $125,000 every two weeks) will be donated by Johnson & Johnson and the Bill & Melinda Gates Foundation to the Global Alliance for Clean Cookstoves. Join us by sharing it forward and unlock the potential for women and children around the globe. For more information, visit www.unfoundation.org/globalmomrelay. The United Nations Foundation, Johnson & Johnson, BabyCenter, The Huffington Post, and the Bill & Melinda Gates Foundation created the Global Mom Relay, a first-of-its-kind virtual relay with a goal of improving the lives of women and children around the globe.