Gaze/Mirada: to look for a long time with a fixed stare.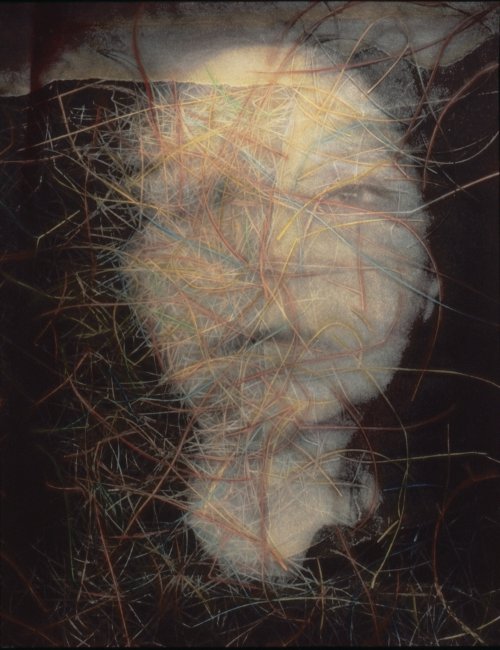 "The Living Move: Self Portrait" by Kathy Vargas
Late afternoon, on the last day of a recent visit to Denver, Colorado, we headed from the architecturally stunning Denver Art Museum to Museo de las Americas on foot. As a Latino artist, I was determined to make it there before returning home. With our trusty visitor's map we embarked on our journey and were pleasantly surprised to be greeted by gallery after gallery as we strolled down Santa Fe Drive. After a healthy (you might want to cab it, if staying downtown) but well worth it walk, we found ourselves at El Museo's storefront entrance. The institution may be modest in size but quite grand in content.
"My grandmother used to tell me that when she looked at people she could see what they were made of, she saw people as tentacles of light and hints of transcendent realities. 'Women are seers, not lookers' she used to say."
This quote greets visitors as they enter Museo De Las Americas' front gallery. "Her Gaze" features impressive works from Graciela Iturbide, Flor Garduno, Kathy Vargas, Delilah Montoya and Yesika Felix. Individually touching and insightful, the work of these five fine photographers comes together in a seamless narrative that packs a great collective punch; not to be missed.

"Sed/Thirst: Migrant Campsite, Ironwood AZ" by Delilah Montoya
Museo de las Americas educates about the diversity of Latino Americano art and culture from ancient to contemporary through innovative exhibitions and programs. With the Latino population growing exponentially in Denver and wider communities, Museo plays an important role in building pride in the Latino community's heritage and promoting understanding among cultures. Other history and art museums in Denver cannot focus on one segment of the community in a sustained or comprehensive manner. Museo was created to fill this important niche in the cultural milieu.
Her Gaze/Su Mirada is on exhibit until May 27, 2011

SUBSCRIBE TO & FOLLOW CULTURE SHIFT
Every Friday, HuffPost's Culture Shift newsletter helps you figure out which books you should read, art you should check out, movies you should watch and music should listen to. Learn more