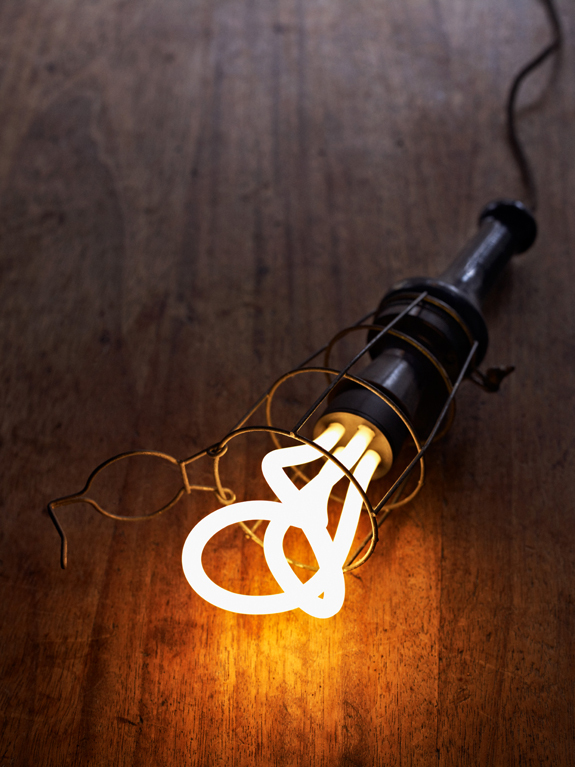 A recent addition to the MoMA store, the Plumen low-energy lightbulb has lit up [if you excuse the pun] the design fraternity in its native Britain, winning the Brit Insurance Design of the year 2011. The joint project between Hulger and furniture designer Sam Wilkinson was an obvious choice, marrying a thoughtful design with a great awareness of functionality.
"The idea is kind of obvious," explains Nicholas Roope, Hulger's Creative Director. "The motivation for the design brief came from frustration -- we're all being told to behave ourselves and to reduce our consumption but many of the light bulb alternatives aren't compelling. Design is usually a tool to inspire more consumption but in this case we tried to rewire the equation. We wanted to make the boring, utilitarian low-energy light bulb cool, beautiful and desirable. We wanted to use design to inspire people to consume less for once."
The plumen, which gets its name from the decorative plume of a bird, and lumen, the unit of light, certainly performs its function. The flowing form of the tubing is a beautifully organic design and the satisfaction of the light coursing through is as great as watching the electricity tap-dancing through the filament on Thomas Edison's original light bulb. One of the Plumen's greatest strengths was put succinctly by Deyan Sudjic, the director of the Design Museum in London, which housed all the winners of the competition, when he noted that the Plumen "is a bulb that doesn't need a shade and so goes a long way to make up for the loss of the Edison original."
The winner of the Design of the Year award has had one drawback for Hulger however, bringing the company into the discussion about the state of design and manufacture in the UK. The financial downturn brought the UK's economic constitution into sharp focus. Numerous factors have led to a decline in manufacturing and while the decline of manufacturing in the UK is consistent with the rest of the economically-developed world, the fact that the manufacturing sector only accounts for 11% of the UK's GDP has caused worry amongst many. Is the UK still capable of making things that the rest of the world covets?
"I think so," Roope says with little hesitation. "Nothing is really conceived, designed and built in one place these days though. The point is in offering the key elements to the larger process and the UK certainly offers those, including the innovation and the design ideas." The one unanswered question is whether the British coalition Government is doing enough to guide designers and manufacturers, but that is best left to ponder under a beautiful light.
SUBSCRIBE TO & FOLLOW LIFESTYLE
HuffPost Lifestyle is a daily newsletter that will make you happier and healthier — one email at a time. Learn more