Dear John 2010,
Hey man, how's it going? It's me, you. Well, you from the future. Four years in the future, to be exact. Right now you're probably reading this on your iPhone 3G while Stevie is rubbing cocoa butter on her belly to help prevent stretch marks from the basketball of a daughter she's carrying in that tiny body of hers. That doesn't really work, by the way. You know what does? Telling her you love her stretch marks, kissing them, and thanking her over and over for making a baby. Do you know why it works? Because you aren't lying. You are truly grateful, and she'll know it.
Don't believe this letter is from me? Well here, I'll prove it. Right now is a pretty exciting time for you. Every time you close your eyes you picture a different version of your daughter. No matter how you squint your mind, you can't quite make out what she is going to look like. It's cute. You try and take your wife's face and make a baby version of it, but it just ends up looking like her head on a baby body -- which causes you to laugh -- which causes her to ask what you're laughing at... and you say "nothing." Well I know what you're laughing at, John. You are laughing at the ridiculous thought of your wife's head on a baby body. Want to know why I am laughing, John? ::spoiler alert:: Because that is exactly what your daughter looks like when she comes out, just with less hair. She is a tiny, squished, hairless Stevie. And in those first few minutes, you cry more than she does.
Need more proof? OK. You're scared all the time. You are terrified that something is going to go wrong. You're afraid of birth defects. You're afraid something is going to happen to Stevie during the delivery. You're afraid that you're not ready to be a dad.
I know what you're thinking right now. You're thinking, "Whatever dude, none of those things are proof. They are generic things that all dads are afraid of." You're right. That is very observant of you, past me. They are. You're pretty smart. How about this? Every morning in the shower, where no one will see you, you get down on your knees and pray to a god you don't necessarily believe in, just in case, and beg for your daughter and your wife to be OK. You've done it every day since the miscarriage scare in November.
I'll give you a second to pick your jaw up off the floor.
OK. So now you know it's me. And now come your questions. Yes, you have another kid. Yes, it's a boy this time. No, you're not as excited as you thought you'd be about him being a boy because, by the time you find out, you are already so ridiculously in love with your daughter that another daughter would have been fantastic too.
In fact, the lack of excitement worries you (because worrying is what you do). Don't. Once your son shows up, you fall nutty in love with him too. It's pretty awesome. Here's why: Just when you think your love is at maximum capacity, just when you think that there is no way to fit any more love in a heart that feels so full, you discover something that changes everything. Your love is not a finite resource. It is infinitely replenishable. While your daughter's gift will be to make you a father, your son's gift will be this knowledge: When you are tired, your love is not. When you are angry, your love is not. When you are Jimmy Olsen hanging from the side of the Daily Planet, your love is Superman. You are going to fail so beautifully at so many things in the next four years, but your love for your family will not fail you once. It will pick you up. It will straighten your path. It will make you whole again.
Look, I could fill this letter with parenting advice, but I'm not going to. You need to learn those lessons in the field. I will say that changing diapers isn't nearly as hard as everyone makes it out to be, and the "Terrible Twos" are more like the "Irritating Twos," while the Threes should be called the "You-Might-As-Well-Be-Hitting-Yourself-In-The-Face-With-A-Hammer Threes." But even then, in the aggregate, they are awesome.
So if there's no parenting advice, why am I writing you? Well... because I can. Because I know you need to hear it. The roller coaster is going up the first hill right now, and all you can hear is the click, click, click, click. Your hands are sweaty and you're trying your best to keep a brave, happy face, but I know that all you want in the world is someone you trust to tell you that everything is going to be OK -- and that silly pride of yours makes you too stubborn to ask. Well, you don't have to ask. I'm just going to give it to you, 'cause you're a nice dude and so am I. John, Everything. Is. Going. To. Be. OK. Stevie and your daughter are going to be fine. Your son is going to be fine. And like I said before, even when things aren't fine, your love will carry you through -- because it is relentless. And you know what else? You're going to be a pretty good dad.
Enjoy the ride, buddy.
John 2014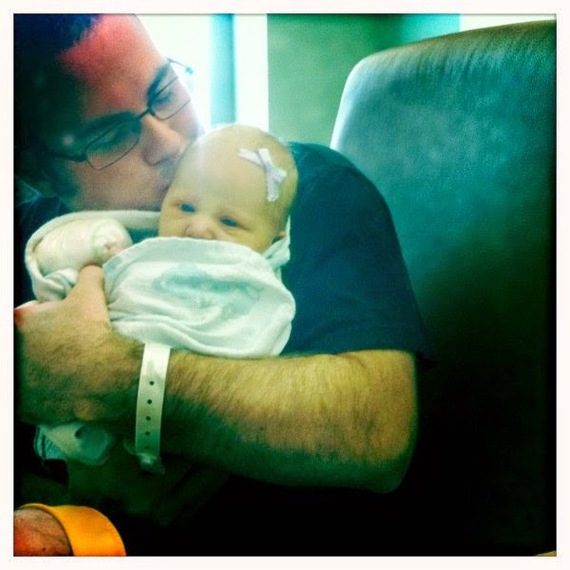 P.S. Now go to sleep and quit playing with your iPhone so much. It's a bad habit and it only gets harder to break.
P.P.S. Wednesday, July 29, 2010 Powerball Numbers: 38 - 2 - 43 - 5 - 59 Powerball 8
P.P.P.S. Your daughter is going to pour an entire bottle of waterproof sunscreen on the carpet in her room. I'm not going to tell you when or how to prevent it. I'm just going to laugh at you in the future. Ha. Ha. Ha.
An earlier version of this piece appeared on John Kinnear's personal blog, Ask Your Dad. You can also find his blog on Facebook.
Like Us On Facebook |

Follow Us On Twitter |

Contact HuffPost Parents

Also on HuffPost:
First Photos Of Dads And Babies
"What was I thinking at this moment? Everything from the super emotional 'I'll stand in front of a speeding train for you yet I only just met you' to the pragmatic 'So this is what a combination of me and my wife looks like.' I felt more pure happiness than I can describe."

"Gwyneth's due date was 9/11/01. Thankfully, she waited another six days until she made her appearance in the world. She'd had to be resuscitated due to the cord being wrapped around her neck, so at this point we were just thrilled and ready for a nap."

"What is this thing and why do I love it so much?!"

"I'm gonna eat you up."

"She's a redhead! She's a redhead!"

"This was the first nap I had with our boy, Leo, after we got him home from the hospital. I was thinking how delighted I was that he was here, in our lives; that my wife was safe and healthy, and that our baby was so lovely and sweet and perfect, and that maybe neither one of would ever sleep again, so better grab it while it was available."

"To preface, I am a nervous wreck most of the time so I was totally 'freaked out' about the baby. But the first time I held Emmy, the first time she opened her eyes and gave me the once-over, the first time she grabbed my finger as if to say 'hey, Daddy,' all that worrying and freaking out ... it's all so worth it. Five and a half years later, the worrying never ends but is far surpassed by the fun, the joy, the pride, the unconditional love (well, at least most of the time)."

"Since the day my oldest daughter was born, I had been totally obsessed with her. So much so, that I worried I could never love another child as much as her. And then Zoe was born; she gave me that same initial stare; and then that first smile (maybe it was gas?); and we bonded in an instant. A friend once described to me that it's as if your heart just opens up to make room for another. And that is a pretty good description. Now I am obsessed times two (and still in a constant state of worry)."

"I'm going to give this kid the best life ... Don't think this coffee is going to be strong enough ... Never thought I could love someone this much."

#1: Nicholas. "Holy sh**." #2: Natalie. "Wait a second, I've been here before." #3: Noelle. "I think I got this down." #4: Nicole. "I'm a pro."

"When I first met my daughter, I was overwhelmed with happiness. Usually love is an emotion that takes time to develop and grow, but when I laid my eyes on Ella for the first time, I was hooked immediately. I knew life would never be the same, in the best of ways."

"I really don't remember what I was thinking in that moment only vividly what I was feeling ... complete joy."

"Wow, I'm a dad. Too bad he looks so much like me; hope he grows out of it. I can't wait to take him to his first Texas Longhorn football game in a few months!"

I had left my wife and my first child, Carlos Miles, at the hospital and was wandering home. I was in a daze, a swirl of emotions. Suddenly a thought occurred to me: "I am man. I make son." For a moment, I was in the grip of something primal. It was heavy: as though I was experiencing something that men of all cultures and all epochs had experienced: I created a son. I felt like a caveman --dumb and in awe. Ok, it was silly and slightly overwrought, but the feeling was undeniable. Now my son is 8, and I still sometimes feel the same way.

digamama:This is the very first picture I have of my son and pop. Three years later, they still cuddle in like this.

thekaogirl:Sheer amazement and unconditional love. I remember thinking that she was the most beautiful person I've ever seen. And then I thought of my wife, Erika, and I was in total astonishment.

"You run through a flood of emotions when you see your child for the first time. It's a surreal feeling knowing that you've created a life."

Melissa Mulvaney:No words. Just amazing love.

"My pride and joy. I was speechless, basically and in awe."

"Ten toes- thank goodness!"

"My life just started."

Miriam Alkazzaz:I cherish the photos I have with my late husband and our twins. I am blessed that he was alive to see the birth of our twins. We miss you Daddy!

Miriam Alkazzaz:Happy Father's Day Daddy! RIP We miss you. We know you are watching your twin girls up in heaven!

"It was love at first sight!"

Angela Reynolds:First thought was that I loved him so much and I couldn't wait to take him to a Red Wings game!

la renard:To free up Mom on weekends, we retreat to the man cave together.

HuffPost Blogger Charlie Capen:"I wonder if I could keep my hand here on his head, like a helmet, for the rest of his life." -charlie, howtobeadad.com

Katybeth McClelland:Lizzie is about to celebrate her birthday, right after her Daddy celebrates his first Father's Day. We love you Daddy!!

shoelvr32:submitted by Mommy: I remember my hubby's first thought seeing our girl 2 years ago "Wow she's really here" She slept on Daddy's chest nearly every night from the hospital until she was 2 months old

keiffer30:Our first child Matthew was born in fall of 2007 & my wife & I were so excited. I am a big Goo Goo Dolls fan and to this day every time I hear "Better Days" lyric, "Cuz tonight's the night the world begins again", I think of all the potential & love Matthew brings us.

bananabean12:Real love at first sight is when a daddy meets his baby girl.

Rose May Tubo:Smiling together for the first time :)

Myra York:James, Bri & Kya...Kya is a Christmas baby!

Sheryl Kaufman:Griffin was born the day before and Travis was 2 1/2 and the adventure was just getting started .They are 8 and almost 6 now and get cuter and smarter every day. Dada Tim is a very proud Dada !

Jeremy Gast:I couldnt believe how pretty she was. Amazingly beautiful even with her swollen eyes and cone head. I asked her why she gave her mother such a hard time coming out. It finally dawned on me that that huge belly my wife had and all those kicks and bumps actually was a real baby. And now she was here. And my life changed forever

singing to his newborn baby daughter

Craig and Ty un-seperable

Father's first picture with his newborn baby girl!

Janet2379:

marcelomelo:"Hey, he's looking at me!" Gabriel was in this world for about 40 minutes when my sister-in-law took this picture last September. I was also thinking of the challenges we'd face together as a family: Gabriel, his mom, and me: "It will be great be on this journey with you, guys!"

kderush:It's hard to imagine what to say about this photo.

astrumluminarium:She came a day before Daddy got home from Iraq. It was nearly midnight, I was exhausted, and he walked in from the airport, carrying his gear, pale faced and shaking so hard he couldn't pull his jacket off. He was still shaking when I snapped this first picture, and he's been wrapped around her finger ever since.

Yesenia Betance:

TradeGreetings:The moment she was born, I was overwhelmed by how much I loved her.

Julie SandersMartinez:I had My baby girl C-sec, but due to complications I was immediately rushed on to 4 hours of emergency surgery. Emma was 6 hours old before I got to see or hold her. Only thing I can remember about the first meeting of my now soon to be 4 year old and her daddy was when he whispered to her "Im going to be worthy of having you call me Daddy.-I promise" I spent a month in the hospital and daddy would come from work to the hospital so I could have her in room with me and every night they would fall asleep in those awful daddy chair beds and snooze in almost identical positions. It was a tough time but Id never change because I got to learn a lot about my husband as a father, a partner in the new adventure,And I loved him even more deeply and completely every time our eyes met over our precious little gift.

philli1102:He was the happiest man alive! I never had anyone support me more =) When he held him for the first time he cried tears of joy.

cunnitr:This is my favorite picture. He's seeing her for the first time in amazement. She's just born minutes earlier and looking like she needs her dad already!

kellymac1019:UT's newest fan!

Karen Torres N:

Penny Leal Ffrench:This is the first picture taken of my husband and our first born baby boy. It was wonderful to see him carry our baby for the first time, he was so proud of him.

ruca333:Happy Birthday buddy!!!

abennett17:

Orianna Alfred:I remember when my little man was born, I was surprised!! that's when I knew my life had just started! instant bond and Love!
Follow John Kinnear on Twitter: www.twitter.com/AskDadBlog