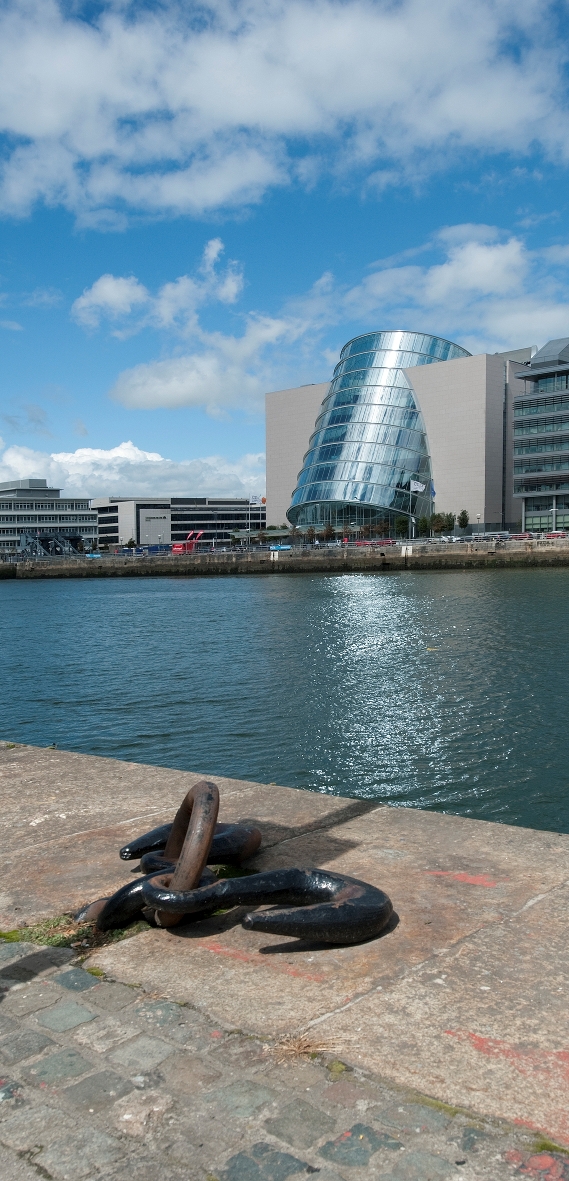 Curse you trend-setting Frank Gehry designed museum in Bilbao! Curse you gorgeous seaside and mountains setting of Cape Town with your peppy BRICSA economy! Dublin is right back at you with the Kevin Roche designed Convention Centre Dublin! Ireland has been pulling off a few upsets in international sporting competition (rugby, okay, but cricket?), and has already confounded the odds by making the shortlist of three, along with Bilbao and Cape Town, for the international designation in 2014 of "World Design Capital," an honor previously bestowed on Seoul and Torino and which will next go to Helsinki in 2012.
World Design Capital is a biennial designation awarded through a competition held by The International Council of Societies of Industrial Design (ICSID), which will make the official announcement of the 2014 World Design Capital designated city on October 26.
The vision of the World Design Capital project is to promote and encourage the use of design to further the social, economic and cultural development of the world's cities. As a World Design Capital, designated cities have the opportunity to showcase accomplishments in design and urban policy and can expect to:
gain visibility as a center for creativity and innovation
attract investment and creative people
stimulate new partnerships
strengthen knowledge-based economic development
improve the quality of life in the city
position the city as a leading center of design
build global image as a must-see travel destination
take part in an international network of design
foster citizen pride in their city's accomplishments
A city of one million people, Dublin is a hospitable, lively and eccentric city known to be open to ideas and creativity. With its wide connectivity and strategic geographical location, the capital of Ireland has become a busy crossing point for global flows of people and investment, as well as an international hub for large technology companies such as Facebook, Google, Intel, Microsoft and IBM. With its unique design heritage, the Unesco City of Literature is host for influential and distinguished design events such as the ATypI 2010 conference and the World Craft Council Europe conference in 2011.
City of Literature? Sure... but design? Writer Mick Heaney lays out the case for a burgeoning Irish design sensibility in an excellent Irish Times article called "Look of the Irish: why we're now a visual culture." After acknowledging that many thought even to place a bid in the competition was foolhardy, he wrote, "But things are changing. The visual imagination is not only alive and well in modern Ireland but is arguably more vibrant than some its more illustrious creative cousins."
He looks beyond "official art" and sees, "There has been a surge of grassroots activity, with young artists staking out creative territory in exciting new ways... Visual creativity in Ireland is thriving across a host of areas, from fashion and graphics to animation and video games"
No surprise he'd note the heritage of the Book of Kells, but he also recalled a new design sensibility that fell from the skies, when he referenced the observations of Professor Luke Gibbons on the "strong look created by Aer Lingus in the 1960s and beyond, from its livery to its uniforms and posters, which not only promoted the airline but projected a definite idea of Ireland: bright and friendly, homely and green."
Ireland's World Design Capital bid is called PIVOT Dublin 2014 and it states its case eloquently at its -- what do you expect? -- creatively designed website:
PIVOT Dublin is our response to Dublin's unleashed potential to use design as the vehicle to turn things inside out; to become something else. We want Dublin to become World Design Capital 2014... 'PIVOT Dublin' is a declaration of our intent to offer Dublin as a test-bed for design solutions to local, national and global challenges. A pivot creates a departure point, a fulcrum, an angle from which to proceed. It is a step in the process of lining up for the next move. It suggests success, urgency and decisiveness... Dublin, from swerve of shore to bend of bay, is design. In 2014, PIVOT Dublin will turn design inside out.
Fingers crossed on Oct. 26!
This Blogger's Books and Other Items from...
SUBSCRIBE AND FOLLOW
Get top stories and blog posts emailed to me each day. Newsletters may offer personalized content or advertisements.
Learn more