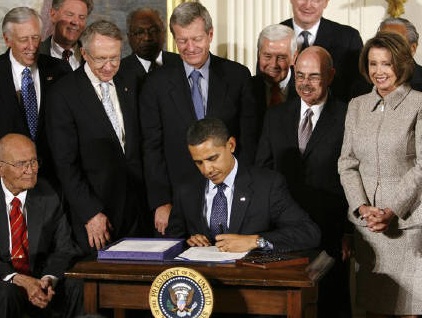 If you're happy with your history, you get to keep it. If you want to revert to pre-historic conditions, that might be problematic.
WASHINGTON - In the wake of President Obama's historic signing of the health care bill into law, Republicans in a number of states are signalling they will mount lawsuits against History itself.
"The Constitution is very clear that federal law supersedes state law," said one law professor, "but it is not at all clear that federal history supersedes state history."
"No one's ever brought a civil action against me," said History, "although in the Supreme Court, with the campaign finance thing, one was successfully brought against Democracy."

History's opponents say they hope to forestall a move to socialism. Reached for comment, Socialism said, "I don't see anyone moving toward me. This health care law is capitalist, not socialist. But what do I know? I'm a discredited economic doctrine."
Calls were repeatedly made to Capitalism for comment, but it did not return calls as it was out drinking with Insurance.
Although the anti-History lawsuit is widely considered frivolous and without merit, those very qualities may help it succeed if it comes before the Supreme Court. "They've been pissed ever since Obama called them out in the State of the Union," said the law professor. "They could easily take it out on History."
"They might have it in for me," said History. "But I can't talk about the case until it's over. You'll have to talk to Current Events."
"History might be history," said Current Events. "I'm partly to blame. Right now history is what happens in-between tweets and status updates."
"I'll be all right," insisted History. "I can survive anything, except maybe the Texas school system."