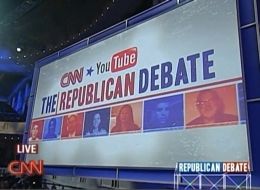 Hello, and welcome to sunny Tampa, and the much-heralded CNN/YouTube debate, where the GOP candidates will laugh and sing with snowmen, fuzzy animated characters, and gay people wanting to know what they'll do as President to protect their rights. Okay, maybe Okay, maybe not so many of those! In between, we'll see fisticuffs between Rudy Giuliani and Mitt Romney, position-entrenching by new up-and-comer Mike Huckabee, straight-talkin' by John McCain, DA-like dignity from Fox-hating Fred Thompson,and the wild applause of Ron Paul Nation — because honestly, people, it's Ron Paul's Internet, we're just blogging on it. Oh yeah, somewhere in there remains Duncan Hunter and Tom Tancredo. One of them can get the snowman question. In the meantime, Anderson Cooper and his fetching pout will guide us all through this uncharted new digital-debate universe, as millions look on, CNN fervently hopes. Join us now as we liveblog every last America-loving second, because we are today's HuffPo Debate Liveblog Team: HuffPo mainstay Glynnis MacNicol, communications analyst John Neffinger, viral video pioneer Phil de Vellis, plus your trusty HuffPo media team of Jason Linkins and your moderator, Rachel Sklar (me!). Together, we'll bring you all the glories that are even now unfurling on a stage somewhere in Florida, that state where nothing weird happens, ever. Come one come all! Sorry, we stole that one from the Republicans - it's their immigration slogan. Here we go!
Rachel
(8:04:09 PM): Here we go! Where are the videos? Oh, look, Anderson! Where are John Roberts and Campbell Brown? What this debate really needs is a Canadian.
Phil
(8:04:31 PM): First things first: I should point out to everyone across HuffPo land that I work for Governor Richardson's media consulting firm.
Phil
(8:05:09 PM): Big dime got dropped on Rudy right before the debate.
Phil
(8:05:41 PM): The Politico reports that he billed security costs to NYC while visiting his then-mistress
Jason
(8:06:39 PM): All of which is
currently running on our homepage
!
Phil
(8:06:56 PM): Yes, I saw. Huffpo knows a good story when it sees one.
Rachel
(8:07:10 PM): A few notes at the top: Duncan Hunter is still in the race? Huge applause for Ron Paul! Pundits at the top of the show....yikes, more glitches. WE WANT DEBATE! WE WANT SNOWMAN! Here come the videos...and here we go!
Phil
(8:07:31 PM): Romney's adversary the snow man is on the screen
Phil
(8:08:03 PM): Shame that CNN is taking out the fun questions.
Rachel
(8:09:03 PM): Touting the game-changing and revolutionary YouTube debate — but with no unsettling animation, fuzzy animals, or threatening snowmen! Can't believe they dissed the snowman.
Phil
(8:08:12 PM): Chuck Norris in the audience supporting Huckabee.
Jason
(8:08:53 PM): Well, here we go.
Phil
(8:09:07 PM): It starts with a song. This probably the most awkward thing. Even Ron Paul doesn't know how to handle himself.
Rachel
(8:09:47 PM): Wow. Even I'M uncomfortable here. This has like, fifty-zillion stanzas! Where exactly is the question?
Phil
(8:10:40 PM): Oh that wasn't a question
Jason
(8:10:50 PM): But this is! Ernie Nardi, Brooklyn: Will you continue to aid and abet illegal aliens?
Phil
(8:10:57 PM): Oh this is good. New Yorkers hate Rudy. Rudy only believes in education as a form of crime prevention
Phil
(8:12:17 PM): Chuck Norris seems skeptical
Jason
(8:12:36 PM): I will deploy a virtual fence.
Phil
(8:12:45 PM): What is a virtual fence? Is he proposing building a fence in Second Life?
Jason
(8:12:51 PM): He will keep the aliens out of second life.
Phil
(8:14:03 PM): Is Sanctuary City the sequel to Sin City?
Jason
(8:14:08 PM): Oooh. Sanctuary mansions!
Jason
(8:14:30 PM): He funneled them out of his own home!
Phil
(8:14:57 PM): How about Sanctuary Hottubs
Jason
(8:15:03 PM): Mitt and Rudy are giving us the GOP version of the Hillary/Obama catfight.
John
(8:15:16 PM): This is the least animated thing I can remember Rudy saying in the entire campaign - very subdued as he talks about taking 70,000 children of illegal immigrants into New York city schools. He seems to be looking down - contritely -- toward the podium or somewhere on the stage, rather than out into the audience. Could be the camera angle, but it makes him look weak.
Phil
(8:15:23 PM): The sexual tension between those two is wonderful to watch
Jason
(8:15:44 PM): I know! Get a sanctuary lovenest! Like Kerik and Regan!
Phil
(8:15:56 PM): Rudy employed a convicted pedophile priest
Phil
(8:15:59 PM): I think that's worse
Jason
(8:16:20 PM): Yes. I agree.
Phil
(8:16:58 PM): http://www.youtube.com/watch?v=NuQXS-AP_to
Glynnis
(8:16:58 PM): Romney needs to stop smiling into all his criticism.
Phil
(8:17:04 PM): Rudy is a big cult fan
Phil
(8:17:15 PM): I like the Godfather 2 lighting
Glynnis
(8:16:58 PM): Giuliani has switched up his mantra...a noun, a verb, and "New York is not a sanctuary city."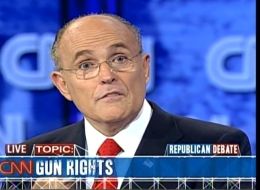 Jason (8:17:25 PM): Michael from NJ. Will you pledge tonight to veto amnesty?
Phil (8:17:42 PM): He obviously shot it in the dungeon where he keeps all the illegals he captures
Jason (8:17:48 PM): I know!
Jason (8:19:28 PM): Oooh. Dig at Rudy?
Jason (8:19:44 PM): People we've hired that turned out to be a bad decision?
Phil (8:20:41 PM): No love for McCain
Jason (8:20:47 PM): Uh-oh. Sad McCain.
Phil (8:21:09 PM): Name checks local politician -- check
John (8:21:29 PM): This is the first angry frown we have seen out of Mitt Romney as well. He is standing very strong here, looking righteous, and Rudy hesitated... until Romney backs off and puts on his usual big, jocular grin to shrug it off. This turns into a draw, but the booing Rudy gets at the end suggests Romney has scored here.
Phil
(8:21:35 PM): McCain being honest
Phil
(8:21:42 PM): Rare thing for a GOP candidate
Jason
(8:22:28 PM): Yes.
Phil
(8:22:34 PM): Nice tie, buddy
Jason
(8:22:55 PM): He'll be performing at the local Days Inn after the debate.
Jason
(8:23:18 PM): You can't out-Tancredo Tancredo!
Phil
(8:23:35 PM): Are they building a nuclear reactor there?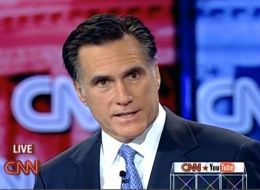 Jason
(8:24:09 PM): Jack Brooks: Cambridge, MD: How will you help bring us guest workers to keep our business alive?
Phil
(8:24:15 PM): Tancredo is flummoxed by a legitimate contribution of immigrants
Jason
(8:24:36 PM): Hey, you feel like working in a strawberry patch? I won't do that job! Will he force Americans to do those jobs?
Phil
(8:25:18 PM): Yeah, Tancredo, should do the SEIU day in their shoes thing and see how he likes cleaning bathrooms
Jason
(8:25:28 PM): True story: I forgot all about Duncan Hunter this week. He is the new Jim Gilmore.
Jason
(8:27:16 PM): Ashley, San Antonio: Will you back a law to give military families the same tuition breaks as illegal immigrants?
Phil
(8:27:50 PM): The beautiful charcoal rubbing of Reagan's face added immensely to that video.
Glynnis
(8:28:26 PM): Joining now - technical issues. John and I are here, Rachel is standing by and editing out our typos. Summing up what we've missed. Immigration! Also, nobody wants to admit that they've been nice to illegal aliens.
John
(8:29:40 PM): Huckabee is brave here - he defends his scholarship program - quietly, moderately, trying to keep things calm.
Phil
(8:30:05 PM): Huckabee giving a passionate defense
John
(8:30:19 PM): Mitt isn't letting him get away with this offering scholarships to children of illegal immigrants business: "That's not your money!"
Glynnis
(8:30:45 PM): Huckabee is the voice of reason here: "We are a better country than to punish people for what their parents did."
Jason
(8:31:15 PM): I hope that some YouTuber, rather than asking Mitt a question, attempts to administer the Voight-Kampff Test instead. (Look it up!)
Glynnis
(8:31:38 PM): But Romney says NO! Forget the children.
Phil
(8:31:39 PM): Does this guy really need the telemarketer headset?
Jason
(8:31:59 PM): Arlington, TX: To Ron Paul: Why do you believe in these crazy urban legends?
John
(8:32:02 PM): Romney again comes back strong, but again undermines himself by backing down to a goofy grin.
John
(8:32:22 PM): I used to work at CFR! It exists, I swear.
Jason
(8:32:41 PM): How's the highway coming?
Jason
(8:33:08 PM): I support it, because how else will we combine Mexican and Canadian cuisine?
John
(8:33:21 PM): Hmmm... Never heard of it. Maybe that's the other CFR. Council For Roads?
Glynnis
(8:33:36 PM): This conspiracy question to Romney is making me think a Romney/Kucinich platform might be viable.
Jason (8:34:12 PM): QUESTION: Sarah from Scottdale, PA:What measures will you take to tackle the national debt and control spending?
John (8:34:33 PM): Two questions in a row not about illegal immigrants (so far).
Phil (8:34:46 PM): Another boring YouTube vid. The questions are valid, but the use of YouTube is incidental.
John (8:34:58 PM): I dunno man, she was kinda cute.
John (8:35:27 PM): Sorry, Glynn! Owch!
Rachel (8:35:38 PM): Ahem! I'm here too. AND I'M EDITING. So watch it.
Glynnis (8:35:49 PM): McCain is dragging out the GOP spending skeletons. Something about Wyoming, bears and paternity. I'm sure there's a punchline here somewhere...Jason?
Jason (8:35:54 PM): But will McCain waterboard spending? Will he send spending to Syrian prisons?
Phil (8:36:58 PM): Does anyone think the Republicans have any credibility on fiscal responsibility?
Rachel (8:37:04 PM): Republicans do!
Glynnis (8:37:10 PM): Giuliani says the GOP needs to be like Reagan (do we still get to drink on this?) and cut across the board.
Jason
(8:37:34 PM): QUESTION: Emily from L.A. What federal programs would you cut to reduce spending?
Glynnis
(8:37:56 PM): Getting the sense that we are in for questions on a theme. Right now, it's all about college girls asking about government spending.
Rachel
(8:38:04 PM): College Girls Asking About Government Spending Gone Wild!
John
(8:38:10 PM): If these questions are representative of anything, blonde co-eds are very concerned about deficit spending.
Glynnis
(8:38:50 PM): Leave it to a GOP debate to debunk blonde co-ed stereotypes!
Jason
(8:39:16 PM): Washington didn't change Ron Paul.
Phil
(8:39:18 PM): Washington did not change Ron Paul, but the Martians did
Jason
(8:39:48 PM): Ron Paul will destroy the Capitol Hill tavern economy.
John
(8:40:06 PM): Ron Paul somehow got around to bringing our troops home in that answer about the debt.
Glynnis
(8:40:10 PM): Huckabee will destroy the IRS.
Jason
(8:40:12 PM): Mike Huckabee wants to get rid of the IRS.
Phil
(8:40:29 PM): Tax illegal aliens to make up for the loss of revenue!
Glynnis
(8:40:47 PM): Since audits are more terrifying than muggings (but apparently not illegals).
John
(8:40:51 PM): Rudy Guiliani wants to automate the bureaucracy! That will make us love government even more.
Rachel
(8:40:59 PM): Aaaaaaand....scene.
Jason
(8:41:16 PM): QUESTION: Ronald Lanham, Mobile: Do you support the elimination of the income tax in favor of a national retail tax ("Fair" tax)?
Phil
(8:41:44 PM): McCain is really desperate. He's taking on Ron Paul.
Phil
(8:41:56 PM): McCain fighting to get into 5th place
John
(8:42:00 PM): McCain is looking down and around and looking very hesitant addressing the issue of revising the tax code, which he should own. Not on his game here.
Glynnis
(8:42:04 PM): McCain says Ron Paul's isolationist thinking is what caused WWII.
Phil
(8:42:10 PM): Uh-oh. McCain drops a Hitler bomb
Rachel
(8:42:20 PM): Oy, Godwin's Law. Why, McCain, why?
Phil
(8:43:01 PM): Good point. Ron Paul gets the most money from active duty personnel
Rachel
(8:43:01 PM): AMAZING point. And the most in-your-face aggressive stance I've heard him take thus far. Ron Paul smacking down from a position of strength.
Glynnis
(8:43:20 PM): Ron Paul wants to know: If the troops want to stay as McCain suggests, then why is all his money coming from them?
Glynnis
(8:43:45 PM): Strong mix of cheers and boos on this. But this audience is giving the Dem Vegas one a run for its money.
Rachel
(8:43:45 PM): I know! They are so unruly! What is this, a football game? A karaoke bar? A strip joint? Oh, look, Anderson, a pole!
John
(8:43:48 PM): A serious chill here between McCain and Ron Paul, who are standing next to each other but not meeting each others' gazes in this exchange