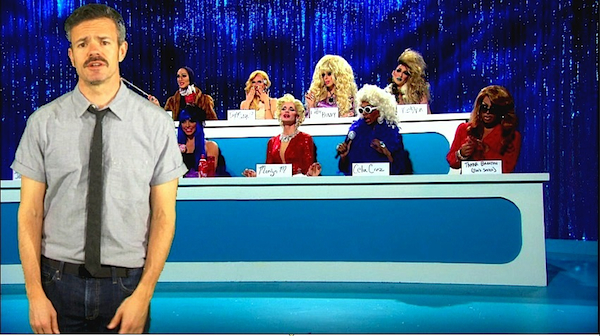 Another RuPaul's Drag Race season, another "Snatch Game" challenge. Who soared? Who bored? Let me (above, left) give you the basics.
Do you know your queer icons? Are you a Grey Gardens queen or a Braxton Family Values fan? Hopefully there's room for us all to peacefully coexist. Either way...
This week on RuPaul's Drag Race, it was time for the annual rite of draggage that is the celeb-impersonation fest known as "Snatch Game." This mad little challenge has been a landmark moment of the last three seasons (Chad Michaels' Cher! Pandora Boxx's Carol Channing!), but it can get real rough too ("Kenya Michaels, playing Beyoncé was not your destiny, child..."). You have to be funny, transcend expectations and crack Ru's ass up! How'd it go? This week's Extra Lap Recap breaks it down.
Watch this week's recap and be on the lookout for a Smash mention, a little Angela Lansbury, a Joy Behar impersonation poached from SNL, and some Grey Gardens, "Mother Darling." (Props to Graham Greenlee for his mad editing skillz.) And if you've missed past recaps, catch up, kittens. And lastly, in homage to Alyssa's big Twitter amends to Katy Perry, here's mine to you all: #JohnPollogy. Mwwaaaahh!
SPOILER ALERT: If you've not seen this week's episode yet, scoot your cooter over to LogoTV.com, pronto!
For more inside dirt on Drag Race and all other manner of reality TV and pop culture delirium, visit the WoW Report, coming your way from the productive folks at World of Wonder.
SUBSCRIBE AND FOLLOW
Get top stories and blog posts emailed to me each day. Newsletters may offer personalized content or advertisements.
Learn more