On World Water Day (March 22) a coalition of nearly 30 organizations from the public and private sectors, including foundations and faith leaders, came together at "Uniting for Safe Drinking Water and Sanitation," an event at the National Geographic Society in Washington D.C. to spur stronger commitments to address the global water, sanitation and hygiene (WASH) crisis.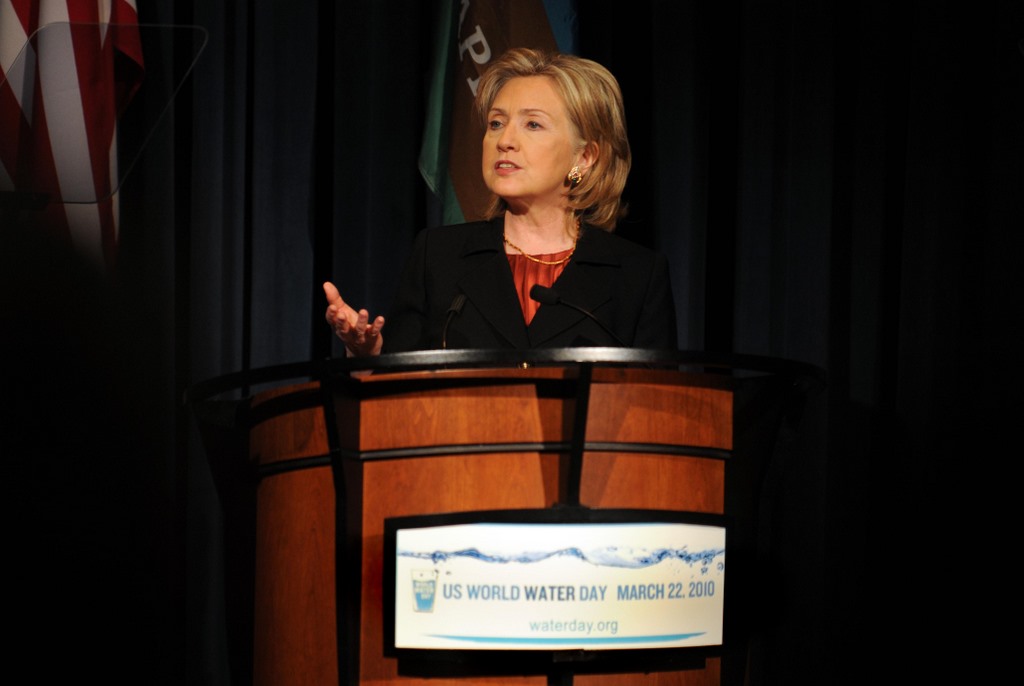 (Thomas Brown/waterday.org)
U.S. Secretary of State Hillary Rodham Clinton joined Under Secretary of State for Democracy and Global Affairs Maria Otero, Congressman Earl Blumenauer, former U.S. Ambassador to the Organization of American States Harriet Babbitt, National Geographic Society Chairman Gil Grosvenor, former Environmental Protection Agency Administrator and Global Water Challenge Chairman Bill Reilly, other key civic, corporate, philanthropic, faith and nonprofit leaders, and Kenna, the Grammy-nominated artist behind "Summit on the Summit," to call for immediate action to ensure access to safe drinking water and improved sanitation in the developing world.
Secretary Clinton delivered an inspiring keynote address to a standing-room-only crowd. "Access to reliable supplies of clean water is a matter of human security. It's also a matter of national security. And that's why President Obama and I recognize that water issues are integral to the success of many of our major foreign policy initiatives," said Secretary Clinton. "The United States is making major investments to combat preventable diseases and improve child survival through our Global Health Initiative. Increasing access to safe drinking water, sanitation, and hygiene will help save lives that are now being lost to preventable diseases." Elsewhere in her speech she pointed out that "inadequate access to water supply, sanitation, and hygiene cause the deaths of more than 1.5 million children each year." The Conrad N. Hilton Foundation provided support to make the event possible; it was co-hosted by Water Advocates and the National Geographic Society.
This World Water Day event was part of a series of events in Washington, D.C. on March 22-23. Other events included strategy sessions hosted by the Center for Strategic and International Studies (CSIS) called "Paths Forward for Global Water, Sanitation and Hygiene" and a Capitol Hill advocacy day called "The Ripple Effect of Water, Sanitation and Hygiene on Global Health and Development" sponsored by WaterAid, P&G Children's Safe Drinking Water Program and PSI.
Also, Natural Resources Defense Council and American Standard organized the Washington, D.C. segment of "The World's Longest Toilet Queue" which drew out the celebrities Alexandra Cousteau and Mandy Moore. Metro D.C. schools participating in H2O for Life's programs, Oyster-Adams and H-B Woodlawn, were among those standing in the queue. These students also hand-delivered letters in support of Water for the Poor Act appropriations to Senator Kerry.
Key partners, including PATH, Global Water Challenge, Church World Service, Water For People, InterAction, Water.org and the consulting firm GMMB, played a big part in the communications and social media efforts surrounding all the World Water Day events.
Senator Dick Durbin also delivered a statement on the floor of the Senate on March 23 to call attention to World Water Day and the global water and sanitation crisis.

The events in Washington, D.C. happened in tandem with UN events in both New York and Nairobi, Kenya. Other events by water and sanitation advocates far and wide helped draw media attention to World Water Day, the global water and sanitation crisis and the solutions that exist to solve it. Together these global actions made World Water Day one to remember and provided a good foundation to enhance and expand advocacy efforts going forward. For more information on all of the global World Water Day events please visit these links, here, here and here.
SUBSCRIBE AND FOLLOW
Get top stories and blog posts emailed to me each day. Newsletters may offer personalized content or advertisements.
Learn more