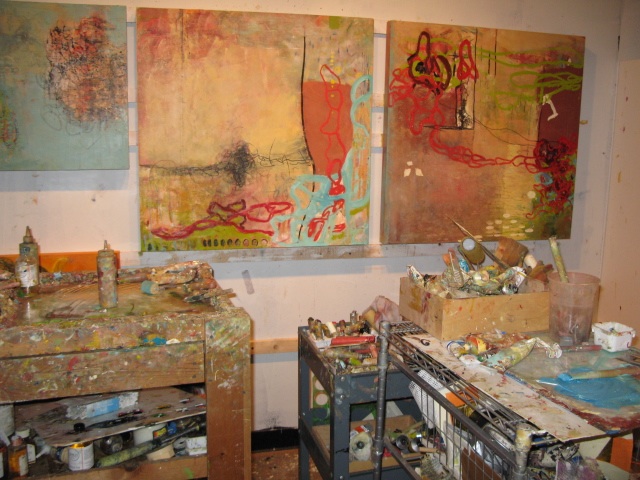 Above: The lively chaos of artist Lisa Pressman's studio reflects her creative energy
Looking into an artist's studio is a bit like opening a friend's refrigerator: you are going to learn a lot about them very quickly Since I began blogging on the topic of painters and their palettes I have been floored by the variety of materials my artist friends use, and have also been seduced by the allure of their creative spaces. In this slideshow, there is a painting for every taste and an intimate array of palettes, and studio shots. Looking it over myself, I couldn't help thinking that looking over this slideshow is like eating a 10 course meal prepared by 10 great chefs who let you glimpse their kitchens. Enjoy
PS: If you get addicted to these, check out artist Farrell Brickhouse's "Tables, Shelves and Palettes" on Facebook.
10 Great Paintings, 10 Studio Visits
Lisa Adams "In Advance Of Aberrancy," 2009 oil on panel 48 x 60 inches www.lisamakesart.com

Lisa Adams: "The two glass palettes, ringed by a jumble of supplies, are the main focus of my work station. Everything happens there and the pile of confusion around the palettes actually help direct my attention to the only clean, still area on the whole work surface."

Jeff Gola "Frozen Meadow," 2010 Egg Tempera 18 x 24 inches www.jeffgola.com

Jeff Gola: "I'm an egg tempera painter, so my palette and setup reflects that traditional medium. For water, I use old coffee mugs which are the same as my Dad's and Grandfather's, which always helps me get into a contemplative mood when working."

David Rich "Local Implications" 64 x 58 inches Oil on Canvas www.davidrich.net

David Rich: "The table was the only thing in the warehouse space I rented in 1977, and the landlord said I could have it. He also told me with a wink, 'no living.' I said I like to receive my mail there, have my music there, some food, a place to lie down, my toothbrush. He said, 'of course it's your space. Just remember: no living.' I put a masonite panel on the left side, and originally that was the palette. Gradually the whole table became the palette. It looks like a lot of paint, but its actually many thin layers from years of work. I do not throw paint scrapings into the garbage, as we do not want pigment ending up in landfills or incinerators. So the palette simply reflects the everyday activity. I mean, you gotta mix your paint somewhere. I use oil paint, and I set up a few colors somewhat ritualistically, so that I know where to reach for certain densities and intervals of tone. A palette is kind of a painter's external nervous system." Photo: Farrell Brickhouse

Damian Elwes " Matisse's Studio- Collioure, 1905," 2009 64 x 86 inches Mixed Media on Canvas www.damianelwes.com

Damian Elwes' studio is filled with bright jars of paint and an orange ladder. It has the same lively energy as the series of paintings he has executed of the studios of modern artists including Matisse and Picasso.

Lucinda Luvaas "At The Met," 2010 imprints/relief on wood panel using oils, acrylics, wax and gel 34 x 54 inches www.lucindaluvaasnewwork.com

Lucinda Luvaas: "When I worked with a muralist friend in NYC he turned me on to using paper plates, coated with gesso because then he could use each palette for an individual tone. I've been doing it ever since. However, my palettes are thick and heavy with paint. Most people tell me that I should sell them as works of art in and of themselves."

Lisa Pressman "Walking the Line," 2010 36 x 36 inches oil on board http://www.lisapressman.net

Lisa Pressman: "My palette was built by my husband in 1986. It has a glass top, a place for turps that can be covered up , a draw for paints, two shelves underneath and it is on wheels. The scraped paint tells the story of many paintings. These days I use Gamblin, Wiliamsburg, and Charvin paints, R & F pigments sticks, or whatever I can afford. After painting with encaustic for a few years I am loving the richness and freedom of the oil paint."

Lorena Kloosteboer finds that yogurt lids are the perfect palettes for the small controlled color mixes that she creates.

Lorena Kloosterboer "Tibetan Gold," 2010 acrylic on canvas 15.75 x 15.75 inches www.art-lorena.com

Altoon Sultan "Crossed Green," 2010 Egg Tempera on Parchment, 4 3/4 x 6 1/2 inches www.altoonsultan.com

Altoon Sultan: " I am the author of The Luminous Brush: Painting with Egg Tempera, now out of print but available on Google books. I've been painting exclusively with egg tempera for several years, now painting on stretched parchment panels (visible behind the pallette) using glair, beaten egg white. I grind powdered pigments with water and mix those with the egg. I get my pigments from Kremer Pigments. My favorite brushes are Stratford and York Rydal Gold, with synthetic bristles."

"Rose," 2010 Oil and mixed media on wood panel 26 x 26 inches

Jim Morphesis: "Whether I am painting with big gestures or small precise strokes, my work table always reflects an orderly mess."

Rod Penner "House with Trampoline," 2010 acrylic on panel 12 x 18 inches www.rodpenner.com

A rainbow array of Liquitex acrylics fit neatly in the drawer of Rod Penner's palette table.
Follow John Seed on Twitter: www.twitter.com/seedhuffpost