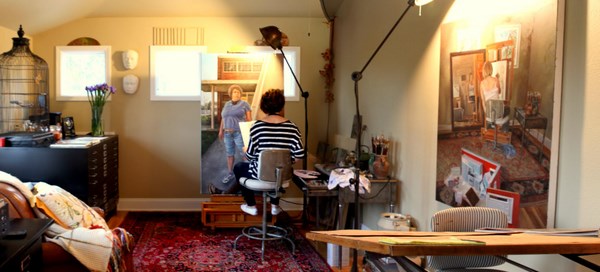 Artist Cynthia Sitton at work in her studio.
Panoramic photo by Keaton Siomkin
This week, my series on paintings and palettes continues, with a few added touches. My e-mail box has been filling up with remarkable paintings, and one of the trends I couldn't help noticing is that many of them are paintings of women: an eternal and universal subject. The range of roles and meanings behind these paintings is dizzying and inspiring. Nine of this week's featured images are women painted by women, and three are women painted by men.
To whet your appetite, I should tell you that you can expect to see an allegorical figure in Betty Shelton's "Remembrance," a saint in Cynthia Sitton's "St. Dyphna," and in Margaret McCann's stunning painting "Rotary" you will see a giantess reclining on a traffic circle. Add a passive aggressive mother, a diva, a muse and a Hollywood stylist, and you get some idea of the range you can expect.
Each of this week's diverse paintings is accompanied by a studio photo: in some cases it is the artist's palette along with some technical information, and in some cases the artists have provided studio views. There are also informative commentaries with many of paintings, meant to help all of us understand the ideas behind each image.
To each of the artists who provided images and text I say "Thank You."
If you are an artist -- or if you know of an artist -- who would like to be featured in a future slideshow, please email me at: johnseed@gmail.com
12 Paintings of Women, 12 Studio Visits
"Peace and Harmony," 2010 160 x 90 cm Acrylic and pencils on polyester Simon Hennessy: "The people I use in my paintings all have a common factor that connects them, individuality, appearance and visual attitude. Consistently throughout all of my works there's the element of physiognomy, the study and act of judging a persons outer appearance, primarily the face, which serves as an insight into their personality or character. A lot of my images arise by chance and are sourced through meeting people unknown to me whilst out and about. If I notice someone interesting and they have a certain quality that I consider would make a good source image for a painting then I ask them if they wouldn't mind posing for me, so a majority of my photographs I work from are quite spontaneous and not pre-planned. The painting "Peace and Harmony" is one of these images. I took the original source photograph whilst on a trip to New York City visiting galleries and gathering inspiration. I met this particular model inside the Adidas originals store on Wooster Street, Soho. There were a lot of style conscience people working in the shop but I was drawn to her straight away because of her striking appearance and charismatic nature. As I recall it was a pleasant sunny day so I asked her to come outside the store and into the natural sunlight. She was very relaxed and kept pulling lots of different poses without much encouragement from me, so I just let her do as she pleased and her relaxed bubbly character definitely comes across in the painting. Eventually she started making peace signs at me which I stuck with and choose for this particular painting. I thought her friendly smile coupled with the peace sign and her 70's retro style was quite apt and all integrated well together as a composition." www.simonhennessey.co.uk

Simon Hennessy: "My process involves laying down a mid range tone of acrylic paint which I then work into with lighter and darker tones of colour, building up layers of pigment as I go along. these lighter and darker shades then stand out against this mid ranged colour and help distinguish detail. As well as the airbrush I utilize paint brushes and water colour pencils which assist with the level of detail I require. These layers are sealed in with the extensive use of a special sealer which stops any of the pencils marks shifting around and causing smudges or contaminating the overlay of colour I apply. I repeat this process building colour and detail over the top of the previous layer until I am happy with the image. I work from a computer screen which allows me to zoom into the exact size / ratio of my source imagine in comparison to my working surface and I tend to work in small gridded sections, getting them to a nearly completed level before moving onto the next grid section. Once the work is completed I apply a liquitex gloss medium and varnish which is sandable and work the painting until it has a smooth and glossy surface."

"Mother's Darts," 2009 24" x 36" Oil on panel Heather Neil: "Mother's Darts" is a portrait of Passive Aggressive-ism, laying bare a truth, which I suspect is universal, that those apron strings are sharpened daily. The figure, we shall call her Mother, turns innocently away from the dart she has just thrown -- attached ever so lovingly to her apron strings -- as if to say 'Oh my: what dart would that be dear?' Our heroine, reaching out defensively from off stage right, has learned that oven mitts can protect from more than a hot pot boiling away on the stove."

Heather Neill: "The view behind my easel: a somewhat distorted shot so I could get in the important bits. I use mostly Old Holland, Gamblin, and Williamsburg Oils and separate them in the tower of drawers in rainbow fashion. The brushes... oh the brushes. I do go through brushes but have narrowed them down to some faves.Maxie Mop in 5 sizes are the best blenders and can usually last through three washings.Silver Renaissance sable cat's tongue brushes hold up pretty well and WN Monarch Flats are the go to brush for cedar shingles.The WN series 7's are gold and I treat them with reverence in the hopes they will make it through all those details. For my panels I adhere portrait grade canvas to Dibond (an aluminum panel recommended by Ross Merrill) and after several coats of a basic acrylic gesso I put on a final coat of Art Board gesso. It can be wet sanded to provide a silky smooth surface while maintaining a hearty tooth. Two other notes about this pic... upper left you can just make out where the "darts" live. Framed above the paint drawers is a photo of my high school art teacher Jim Gainor in his studio. He's gone now but he's always got my back."

"Diva 3," 2011 18" x 12" Oil on panel Kathryn Jacobi: "Diva #3" is one of a series of 15 paintings of mezzosoprano Geeta Novotny singing arias from the opera Carmen, by Bizet. She is a perfect Carmen, passionate and strong, with a beautiful and powerful voice. While these paintings are not faithful portraits, they attempt to capture the inspiring qualities of her infinitely nuanced performance." www.kathrynjacobi.com

Kathryn Jacobi: "My palette is glass taped over a white board. I use a relatively simple cast of colors, most of which get mixed with the basic flesh tones I prepare every week or so. The arrangement is a fairly traditional portrait palette: cremnitz or titanium white, jaune brilliant #2-4, naples yellow; then earth tones -- mars violet, indian red, umbers, ochres, mars yellow; then reds: alizerine and cadmium, cobalt violet, alizarin purple; blues -- permanent, cerulean; greens-- terre verte and pthalo. I mix my own black with alizarin crimson and pthalo green, so that I have control of the warmth or coolness of my darks and greys. Occasionally I'll put out other colors as needed. Usually I use Liquin (by Windsor & Newton) as a medium. Working on panel, I prefer working with sable or synthetic soft, fairly small brushes."

"St. Dymphna," 2009 24" x 30" Oil on linen/panel Cynthia Sitton: "The sources and ideas for this painting -- part autobiography, part myth and part documentary -- germinated for several years and fell into place one day while I was walking through a fabric store. Dymphna was the daughter of a Celtic King, a pagan, and Christian mother. After the tragic death of her mother, the Celtic King, Damon, roamed the world in desperation seeking a woman as beautiful and pious as his queen. To no avail, he returned defeated to find his 14 year old daughter as beautiful as his lost wife. Driven mad by grief and mental illness, Damon wished to force Dymphna to replace her mother as his queen. Together with her confessor, the elderly priest St. Gerebernus and the court jester, she fled to Gheel, Belgium. There in a chapel they took refuge. Soon Damon's spies found them and the King confronted them ordering his soldiers to slay Gerebernus and begging Dymphna to return with him to Ireland. When she refused, he decapitated her in a rage. The burial place of St. Dymphna has long been associated with accounts of miraculous cures of mental illness. She is often seen in imagery holding a sword or a lantern. To this day the town of Gheel, near Antwerp, hosts one of the largest populations of mentally ill anywhere. People have made pilgrimages to touch St. Dymphna's relics in hopes of a cure." cjsitton@gmail.com

Cynthia Sitton: photo by Keaton Siomkin "I fill my studio with the things I love; my cozy thinking chair, a blanket for naps, music, books and whatever else inspires me at the time. I mix my oil paints and mediums on a piece of plexiglass that covers a small work table and then transfer paint to a hand held palette. I try to mix the colors for the areas that I will be working on for the day. I work from photos, drawings and images on the computer most of the time and sometimes have the wonderful luxury of working straight from life. Nothing compares to live observation."

"Summer Siesta," 2010 50" x 63" Acrylic on wood www.bernaduccimeisel.com

Bernardo Torrens, whose work begins with photographic references, in his Madrid studio with Jesi, his model and muse. Bernardo Torrens: "About my process I have to say that it has changed during the years. At the present time I use the photographs more like a 'live model' than a flat image to copy. I work from photos taken by me and I print them in full color despite doing achromatic paintings in the last years. I print the photos in life size: this gives me, somehow, the feeling of a real model in front of me. Also I use acrylics with airbrush. It doesn't mean I don't use other tools if necessary like brushes, pencils, watercolors...."

"La Femme en Bleu," 2010 30" x 36" Oil on canvas Nicholas Petrucci: "'La Femme en Bleu 2' is titled after the 1973 French film in which a Parisian music critic becomes infatuated with a women he has seen only once. It is that first glance from across the room that causes us to hesitate. A warm rush clouds our ability to reason. Who is she? Do we hesitate or take that ten mile walk? This is the mystery of a woman." www.nicholaspetrucci.com

Nicholas Petrucci: "I generally use products from Old Holland, Winsor & Newton and Utrecht, Kolinsky mink brushes for the shadowed areas and China bristle for the highlights. I use refined linseed oil but I prefer to mix my own formulas based on the Old Masters ingredients for special applications. I chose the Hughes Easel Model #4000 because it was designed for the comfort of the artist. Although I have ample natural light from northwest-facing windows, I installed the Pro Aim lighting system with Osram MR bulbs because they are the closest to sunlight currently available. This system works well throughout the day to control the changing and bouncing ambient light. Currently I am working on the Guardians of the Everglades project which will feature portraits of ten prominent individuals, each on six foot wood panels. In preparing the panels I spray several coats of gesso using Goldens airbrush medium for a smooth factory-like finish that best suits my portrait work."

"Remembrance," 2010 34" x 26" Oil on linen Betty Shelton: "'Remembrance' is an allegory of lost love The use of the yellow iris and the fleur de lis serve as symbols of love and silent grief. The birds are representing departed souls, and the moon and stars represent peace." email: bshelton@lagunacollege.edu

Betty Shelton: "This is an image of the structured palette that I use at each painting session. I also use a second palette to mix individual areas that I'm focusing on. I am using an expanded Carlous Durand Palette, with the addition of Perelene Maroon, Baroque Red, Gold Paint, Lead Tin Yellow, and Cadmium Green. I use Flemish White to pre-mix my tints, and I sometimes expand the white mixture with the addition of Calcite and Amber Medium. For 'Remembrance' I used a Tiepolo imprimatura (Mars Violet, Charcoal Black, Yellow Ochre and Lead White) over a double oil-primed Claussen Belgian Portrait Linen. I drew out my composition in detail before I began painting in sections, starting at the focal area. I worked loosely at the beginning, laying on at least 3 or more layers of paint toward refinement."

"MUSHI, MUSHI?" 2010 100 x 100 cm Oil on canvas Duma: "Mushi, mushi?" is the Japanese expression they use on the phone like Hello? www.dumaarte.com

Duma Arante: "My paintings begin with a photograph. I study the figure in the photo and start by drawing lines to designate all the various levels of shade and light, so the painting will look like an illustration made with vectors by a computer. I draw directly on the canvas as precisely as possible. All the areas of shadow and light become forms that create the character. I measure constantly to be sure that everything is in the right place. I then start to paint the first layer. After that, if I feel the work needs it, I do some corrections of color, glaze, form, etc. and later I give a second layer of paint, sometimes a third one. I only use oil paint, so it's a slow process. I love to work with large scale because I want my characters to always be larger than life."

"Lisa," 2006 48" X 68.5" Oil on canvas www.bestbookmarks.net "Artist Rebecca Campbell combines realism and abstraction to create paintings that look like pictures from our past. Memories from our childhood get triggered but then are combined with more present day experiences. In her words: time becomes a circle and it is both sad and sweet at the same time. " Image Courtesy of La Louver

Rebecca Campbell: photo by by Erik Torregroza.

"Ginnifer Goodwin," 2010 40" x 30" Oil on linen Kimberly Brooks: "This is a painting I did for a series of portraits that I've been working on called "The Stylist Project" where I paint well known stylists styling themselves. For the opening night of my show LA show last March, I agreed to paint a painting for a great charity, P.S. Arts , which restores arts education programs in the under-served schools in Los Angeles. Ginnifer Goodwin, a supporter of the charity, sat for this portrait. I'll be having a show of the NY stylists next year. www.kimberlybrooks.com

Kimberly Brooks: "Within a painting, I try to limit my palette. However, on the palette is another story. I work on a glass palette and use a razor to scrape off what's left over. I used to use a wax paper palette and save them. They're quite pretty. I miss that and might resuscitate the practice. I'm fascinated by finding tools that weren't initially intended for artists and finding great use for them. My palette is on a stainless steel kitchen cart with shelves and wheels from Ikea. Smart and Final also may as well be my art supply store. I get tubs for kitchen utensils for my brushes. I use the little plastic disposable tubs for my linseed oil. And I use those plastic sealable containers (like the kind you buy for some tuna salad at the deli) to save mixed colors I'm going to use a lot. I bought one of those wheelable trays that hair stylists uses to put their blow dryer and brush from a beauty supply store and this is where I keep my most often used paint rags and supplies. I wheel it around with me like a flying saucer. Since I paint directly on the wall, I'm always walking back and forth so this is very useful. "

"Rotary," 2000 40" x 40" Oil on canvas on panel Margaret McCann: "Rotary was a reaction to the whimsical signage on Route 1 near Boston, and the traffic circle in Portsmouth, NH. It was started soon after I returned from Italy, where I'd lived 8 years. I was feeling nostalgic for the gravity of Roman monuments, and found this excellent, substantial model who looked like a classical Picasso figure." www.margaretmccann.com

Margaret McCann: "I paint in my oddly-shaped apartment near the Boardwalk in Atlantic City, which is inspiring in an anti-Rome kind of way. My work is getting more ambitious as I try to coordinate realism and abstraction, and say something about the world around me. The initial idea often changes as I move things around, scrape things out, and the painting's true identity emerges. I like the history of the painting process to be evident in the final image; as in Cezanne and Abstract Expressionism."

"Woman with Tulips," 2010 24" x 30" Oil on canvas Patricia Cole: "For three years now I've been painting each year in South Africa. Residencies have provided support and studio space. It's fascinating to work in an energetic emerging art culture. Trained in the Western tradition, I reflect on what these traditions mean in a global context. I paint the female figure. I paint myself. Here, I've appropriated from Picasso as source. The figure is now under my gaze. I analyze his male sense of privilege. In this image, 'Woman with Tulips', I am the woman and the artist. I identify with and revisit images of women in Western art, Mary Magdalene, Eve in the garden of Eden." www.patriciacole.net

Paticia Cole: "Traveling, it's convenient to use a disposable palette. My paints are varying quality as I can afford, Utrecht, Williamsburg, Gamblin. My palette layout is somewhat random but anchored generally by Naples Yellow in one corner, Titanium White in another and Ivory or Lamp Black in another."
Follow John Seed on Twitter: www.twitter.com/seedhuffpost