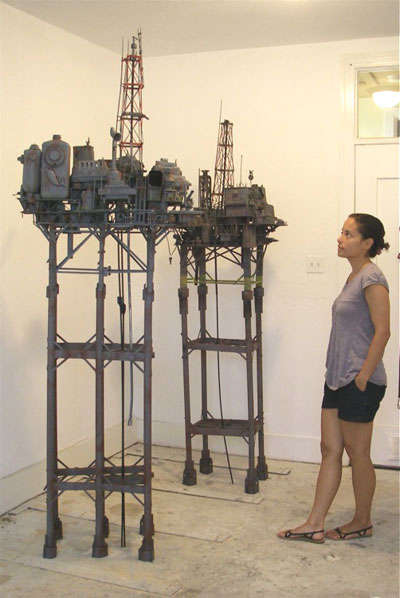 Above: Artist Elyse Pignolet contemplates two sculptures of oil platforms that she created with her husband, Sandow Birk. The sculptures, which have been acquired by the Long Beach Museum of Art, will be on view through August 29, 2010.
Southern California artist Sandow Birk is known for creating works of art that deal with unlikely and unsettling issues. His eclectic subjects, which have included inner city violence, war, politics, prisons, skateboarding, and surfing, have gained him a reputation as being both "fascinating and unpredictable." Never timid when it comes to fusing ideas, Birk has demonstrated a knack for developing images that are challenging and ironic. One ongoing project, for example, is an American Qur'an.
Birk and his wife Elyse, also a socially conscious artist, have been collaborating on several projects in the past few years, including a powerful pair of oil platform sculptures made of objects found while beach-combing in Southern California. Completed a year before the BP oil spill in the Gulf of Mexico, they were initially meant to be read as looming, industrial presences, and also as a sardonic comment on just what kind of flotsam and jetsam is washing up from the Pacific these days. In the wake of the BP oil spill in the Gulf of Mexico, they now seem at least a bit more sinister than before.
In an email interview, I asked Birk how the two oil rig sculptures, ironically titled "California Dreaming," came about and what they were meant to say. I also learned more about Elyse and Sandow's most recent collaboration, an artist's shack, now on view at the Laguna Art Museum.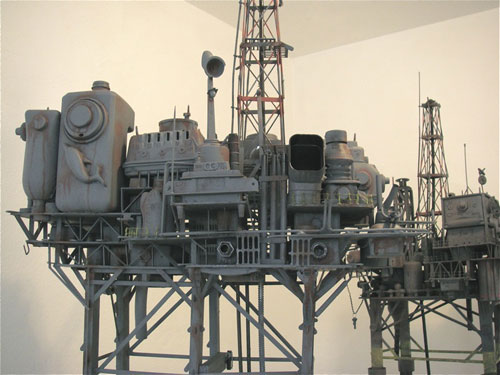 Above: a closeup view of the two "California Dreaming" Oil Platform sculptures
Q and A: John Seed interviews Sandow Birk
JS: I understand that the "California Dreaming" sculptures were made in collaboration with Elyse Pignolet. Tell me more about your collaboration.
SB: Elyse Pignolet is an artist and now my wife. Over the past decade we've collaborated on several things, from large scale public murals to our puppet film adaptation of "Dante's Inferno" and including an installation now up at the Laguna Art Museum. So collaborating with her comes easily. Usually we discuss ideas and work them out conceptually, and then we work together fabricating and building things. Since she has a background in ceramics and I'm mostly a painter, our skills combine pretty well.
JS: How did the sculptures come about?
SB: We both surf all around here in Southern California and at the local beaches we can see about five or six offshore oil platforms. In the past I've included them in paintings and drawings, and at some point we had the idea to make three-dimensional models of them. Using objects we collected on the beach - mostly plastic trash that washes up every day - seemed a perfect fit between form and function and content. And this was more than a year ago, long before the Gulf of Mexico BP disaster that's going on now.
The sculptures were initially shown at the Torrance Art Museum here in Los Angeles, then they were shown at the Mesa Art Center in Arizona, and most recently they're up at the Long Beach Museum of Art, which will be purchasing them for their permanent collection.
JS: Did the sculptures lead to the drawing titled "The Tempest?" What kinds of ideas, fears and sources are reflected by that image?
SB: Like I said, I had done several artworks that featured oil platforms because they're a part of my surfing experience here in L.A. There's actually one oil platform that has surfable waves in huge winter swells: Oil Platform ESTHER off of Seal Beach.
My drawing "The Tempest" is part of an ongoing series of large scale drawings. It was a continuation of my interest in the oil platforms as elements of industrialization in the urban surfing experience. Since I've spent so much time surfing near oil platforms in California, I didn't necessarily associate them with environmental disaster when I was making these artworks, but I saw them more as huge, ugly, looming factory like structures. With the recent events in the Gulf, obviously they have taken on an even more ominous sense of dread and disaster.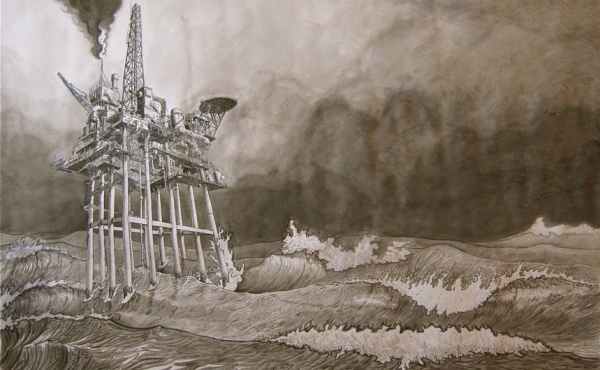 Sandow Birk "The Tempest"
2010. Sumi Ink, India Ink, Shoe Polish on Paper, 46" x 72".
Courtesy of Koplin del Rio Gallery, Los Angeles, and Catharine Clark Gallery, San Francisco
JS: Do you feel a bit prescient in having depicted oil rigs?
SB: I guess I sort of do, but I didn't think of it that much. But it is weird that I had done these works recently and then the oil platform caught fire in the Gulf. Its been a sort of slow growing disaster, from the first days of the fire, to the collapse, to the ever increasing estimates of oil flowing out and the ever increasing time passing and damage accruing.
In the past I had done a big series of paintings about inner city strife in Los Angeles, and just a couple of months after I had a big exhibition of them the riots broke out and lead to 4 days of unrest. At the time, people were saying my paintings had been prescient as well, so maybe I have a history of things like that tied to my artworks. Or maybe I just make works about social things that are so pressing they're about to explode.
JS: Do you have any comments you have about the BP spill?
SB: Well, I'm appalled and dismayed, obviously, at the inability of BP to get a handle on it, and at their constant assertions of estimated numbers that are increasing every time they make a statement. I wasn't aware that the potential for a disaster at this scale was even possible with an offshore oil platform. I can imagine that if the same thing happened off the California coast how devastating it would be, especially since the Pacific Coast is so much more "open" ocean, in the sense that its more constantly moving with swells and storms and the beaches have much more wave activity - it seems like it would be much harder to protect the beaches and harder to clean up water at sea. It seems like it would be much worse and more out of control, which is very sobering to me, as someone who's at the beach almost every day.
JS: Tell me about your most recent collaboration, which I understand is included in a show of artist's "Shacks" at the Laguna Beach Museum of Art.
SB: Actually, Elyse is doing a shack and I'm collaborating with her and assisting her. She's done a series of ceramic sculptures based on those elaborate chrome car rims, and we've done two miniature environments that go along with them, which are hidden inside the walls of the museum and only visible through peep holes in the walls.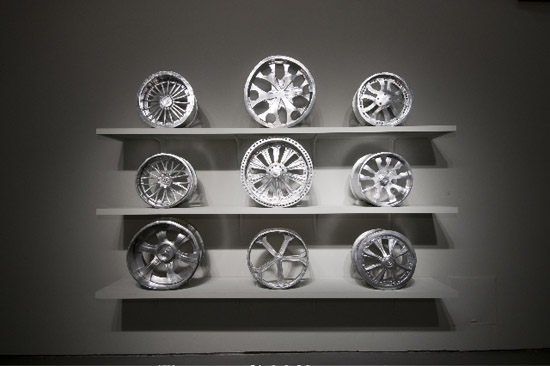 Installation view of ceramics by Elyse Pignolet at the Laguna Museum
Artist's Shacks at the Laguna Art Museum
The Long Beach Museum of Art
SUBSCRIBE TO & FOLLOW CULTURE SHIFT
Every Friday, HuffPost's Culture Shift newsletter helps you figure out which books you should read, art you should check out, movies you should watch and music should listen to. Learn more